Pilot, Entrepreneur Builds on Success She Started at Embry-Riddle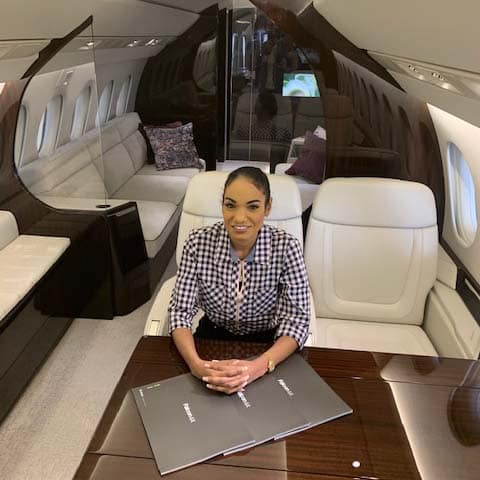 Building on the Embry-Riddle degree she earned a decade ago, Stacey Henry Cohen has combined her love of aviation with her skill as an entrepreneur to forge success as a pilot and businesswoman.
"I got great fundamentals at Embry-Riddle," said Cohen, 37, who received her B.S. in Aeronautics from the Worldwide Campus in 2011. "I have been able to apply them to my businesses and to my life."
Today, Cohen is an accomplished pilot with more than 2,900 hours of flight time and president and CEO of Aviation Capital & Management, a thriving Orlando-based air charter and aircraft brokerage company.
Cohen also holds interests in several restaurants around Central Florida and continues to dabble in real estate, which was her initial profession before she started her flying career.
"I like being engaged and finding new opportunities," said Cohen, who also holds an MBA from Florida Institute of Technology and did doctoral studies in Business Administration at Capella University. "But I am concentrated full steam ahead on Aviation Capital & Management."
In the early 2000s, Cohen was a successful commercial and residential mortgage broker who dreamed of becoming a Naval aviator. But her plans to ship out to serve her country were derailed when her mom was badly hurt in a car accident.
Enter Embry-Riddle, which offered her everything she needed to launch an aviation career.
"It has such a great reputation," Cohen said. "I loved my professors, and I loved the school."
She also credits the university with "laying down the law" and helping her develop the additional discipline she needed to earn her bachelor's degree as she was working on her pilot's license.
"They taught me to do things by the book, which is how I was raised," Cohen said. "In aviation, that approach is really important because one slip-up could be your last."
Since graduation, Cohen hasn't slipped up at all. She went to work flying for a charter company and learned the ins and outs of a competitive industry, lessons she applied when she formed Aviation Capital & Management in 2018.
"I had learned pretty early on that you start to make real money when you start working for yourself," she said.
When the pandemic hit in 2020, Cohen had to work through the initial "trauma" caused by the outbreak until she found a unique opportunity: She began selling charter flights to golf professionals who were playing on the tour but couldn't take commercial flights.
"The pandemic taught me to be even more adaptable and to use my resources well," she said. "You have to keep marketing no matter what."
By October 2021, her air charter business had rebounded almost in full – "we have charters pushing back every hour" – and Cohen is continuing to search for new opportunities in aviation and beyond.
To Embry-Riddle students seeking a similar level of success, Cohen offers this advice:
"Do your research. Know your market and competition, and then find out what you can do better than anyone else. Take advantage of whatever slow moments you have and never, ever give up on your dreams."
For more information about Aviation Capital & Management LLC, call 321-662-0698 or email scohen@aviationcapitalmgmt.com.