Physicist Peter M. Hoffmann, Author of 'Life's Ratchet,' Accepts Academic Leadership Role at Embry-Riddle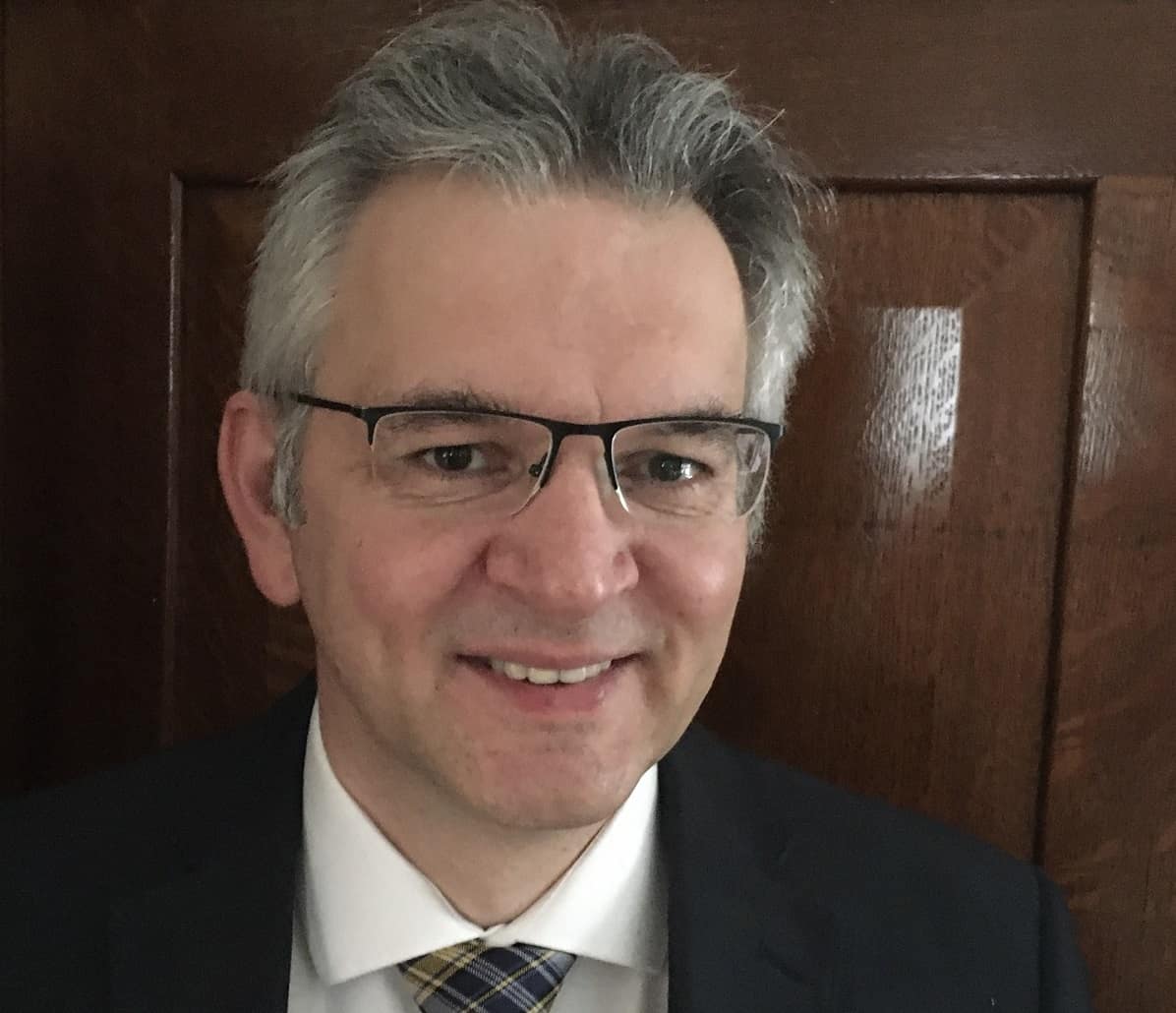 Peter M. Hoffmann, professor and chair of physics and astronomy at Wayne State University (WSU), has been named dean of the College of Arts and Sciences at Embry-Riddle Aeronautical University's Daytona Beach, Florida, campus. He will begin his new role in time for the start of the fall 2022 semester.
Hoffmann, an accomplished physicist whose popular science book, "Life's Ratchet,"explains how naturally occurring molecular "nanobots" create order out of chaos, has deep expertise in the areas of nanomechanics, biophysics and atomic force microscopy. In addition to his many published scientific papers, Hoffmann has focused throughout his career on promoting excellence in teaching, undergraduate research, effective mentoring strategies, and diversity and inclusion. He also strives to make science, technology, engineering and mathematics (STEM) more accessible to everyone.
"I'm honored and excited to be joining an exceptional team at Embry-Riddle," Hoffmann said. "I was impressed by the quality of Embry-Riddle's research and programs as well as its commitment to student success. My wife and I look forward to becoming a part of the Embry-Riddle community."
Embry-Riddle's Senior Vice President for Academic Affairs and Provost Lon Moeller noted that Hoffmann's extensive experience in higher education has encompassed all aspects of leadership, from faculty and student retention and fundraising to oversight of research in a large arts and sciences college, as well as financial management.
"Peter has successfully served in leadership roles for most of his more than 20-year career in academia," Moeller reported. "As an educator, he is deeply devoted to his students, and he will bring a wealth of professional insight to his new position at Embry-Riddle. We are delighted that he has agreed to become an Eagle."
As dean of Embry-Riddle's College of Arts and Sciences, Hoffmann will provide leadership for five departments: Human Factors and Behavioral Neurobiology, Humanities and Communication, Mathematics, Physical Sciences, and Security Studies and International Affairs. The College includes the nation's only undergraduate Aerospace Physiology program as well as well-regarded doctoral degrees in Engineering Physics and Human Factors.
Career Highlights
Hoffmann has previous experience as associate dean of academic programs and research at Wayne State University, a leading (R1) research university, as well as department chair of the physics and astronomy department at WSU. An amateur guitarist and hobby astronomer, his book, "Life's Ratchet: How Molecular Machines Extract Order From Chaos," explores the fundamental nature of life by looking at how physics and biology converge at the nanoscale. Described by one reviewer as "a masterwork of making the complex comprehensible," the book focuses on molecular machines inside our cells. Hoffmann tells the story of how these 'nanobots' act like tiny ratchets by converting random motion at the microscopic scale into the purposeful motion that allows living cells to function.
Hoffmann earned his Ph.D. in materials science from The Johns Hopkins University of Baltimore, Maryland. Born in Germany, he double-majored in physics and mathematics at the Technische Universität Clausthal before receiving a master's degree in physics from Southern Illinois University in Carbondale.
In 1999, with his Ph.D. in hand, Hoffmann became a research fellow at the University of Oxford in the United Kingdom before joining the faculty at Wayne State University in 2001. He worked his way up the ranks, moving from assistant professor of physics and astronomy to professor. In 2008, Hoffmann became the founding director of Wayne State's biomedical physics program, which tripled enrollment in the department of physics and astronomy. In 2012, Hoffmann became associate dean for academic programs within his college, being responsible for undergraduate programs in all 20 departments in the college. That role included both creating and supporting new degree programs, setting up an online teaching fellows program, establishing a college-based student council, supervising the college's IT structure and responsibilities for student affairs in the college.
Beginning in 2015, he was appointed associate dean of research and, later, senior associate dean of Wayne State's College of Liberal Arts and Sciences. In this role, Hoffmann became responsible for research activity across 20 departments, with a total external funding portfolio of up to $20 million per year. Hoffmann has served as chair of the Department of Physics and Astronomy at Wayne State since April 2020, where he has focused on fundraising, faculty mentoring and increasing diversity in the department.
Winner of a 2003-2008 CAREER Award from the National Science Foundation, Hoffmann's many other honors have included recognition for excellence in teaching, most recently through election to the Academy of Teachers at Wayne State. His research has been continuously funded by the National Science Foundation and other agencies. Most recently, he completed a major STEM education grant to initiate institutional transformation in STEM teaching at Wayne State University, received major instrumentation funding through NSF and has conducted neutron diffraction research at Oak Ridge National Laboratory and the National Institute of Standards and Technology.
Beginning with the start of the fall 2022 semester, Hoffmann will take over for Dr. Karen Gaines, who served as dean of the college since 2016 and this year accepted a position as provost and dean of the faculty at Norwich College.
In announcing Hoffmann's new role, Provost Moeller also commended Associate Dean Dr. Donna Barbie, professor of Humanities and Communication, who has been serving as interim dean. "Dr. Barbie has been providing outstanding leadership for her college," Moeller said. "We are deeply grateful to her for stepping up to the plate amid a staffing transition, and we greatly appreciate her service."
Hoffmann will relocate to the Daytona Beach area along with his wife, Patricia Domanski, a professional artist, and their two dogs and two cats.
Posted In: Institutional News