Philanthropy in Action: Philanthropy Council supports several student projects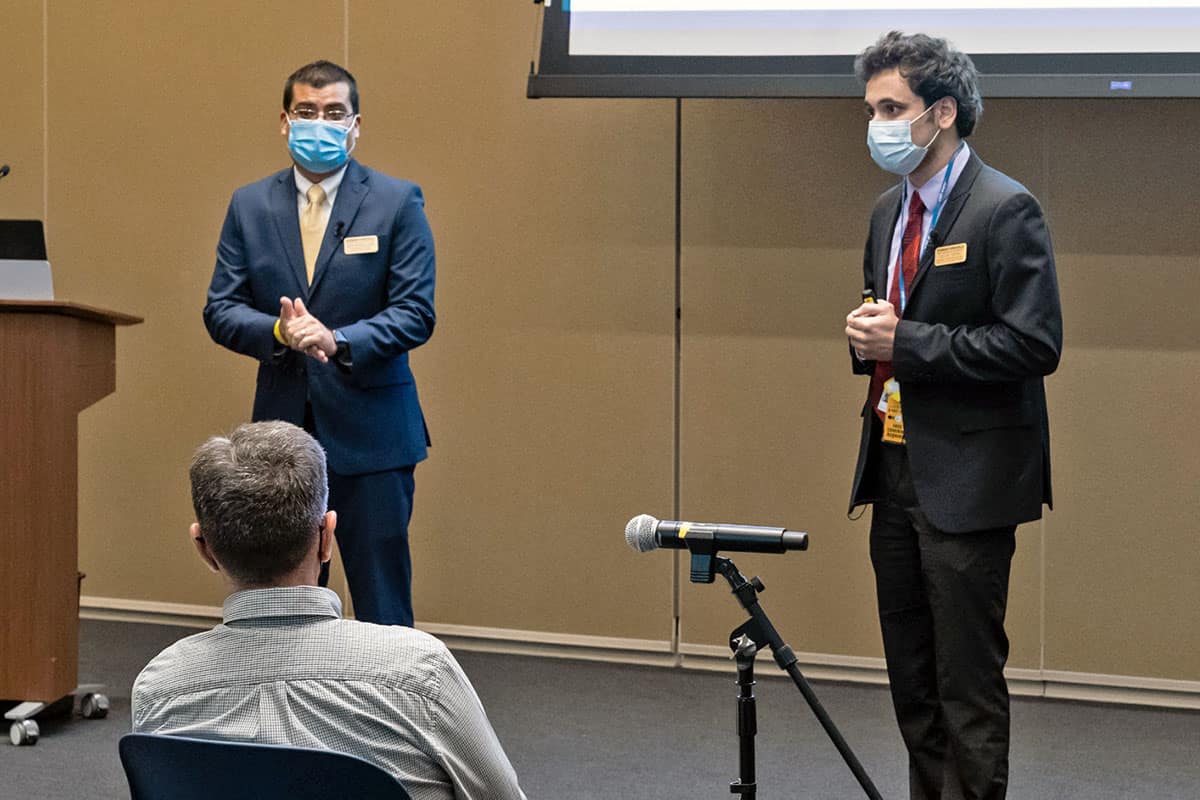 Several Embry-Riddle College of Aviation students got a boost recently after multiple projects were approved for funding by the college's Philanthropy Council at its inaugural Oct. 9 meeting.
Embry-Riddle recently created several Philanthropy Councils, which are comprised of up to 20 alumni, friends and experts in the aviation and aerospace field. Council members aim to enhance the level of educational achievement and excellence by supporting student scholarships and projects with philanthropy.
"I'm so pleased we've launched this exciting new initiative. The Philanthropy Council program allows us to fund worthy projects that are of interest to both the students and the council members," said College of Aviation Dean Alan Stolzer. "It's a win-win! Our inaugural event was well organized and highly successful."
The first College of Aviation Philanthropy Council gathering was a hybrid event with four council members participating on-campus and three participating virtually.
"Sometimes when we are asked to give, we never know if what we gave made a difference," said council member Bill Kingsley ('84, '88). "Well, I think my contribution to the council is money well spent and that I made a good and right decision by joining. I really hope that 20 years from now I'm still on the council."
Out of 11 College of Aviation student projects submitted, four projects were presented to the council by students. The following were chosen for funding:
Graduate student Shlok Misra ('20) was awarded $600 from the council toward his research project for understanding risk perception and decision-making, a model for general aviation pilots for unstabilized approaches. He presented his project, which aims to contribute to the safety culture for pilots, with his faculty advisor Victor Rivera Fraticelli ('11, '15).
Sang-A Lee secured $2,350 to fully fund her proposal for a research project that investigates the relationship between the number of passengers evacuating with their carry-on baggage and the exit selection policy with passenger deplaning time during an emergency evacuation. Lee is completing her master's thesis, and her project could make help make evacuations safer. Her faculty adviser is Dahai Liu.
The Office of Veterans Affairs was awarded $2,200 to help veteran students in the Aviation Maintenance Science program purchase required toolkits, which they will use throughout the program and then take into the workforce upon graduation. Sarah Fairchild presented the proposal with faculty advisor Edwin Hernandez.
Graduate student Hui "Angel" Wang ('18) received $1,850 in funding for her research study to investigate the effects of the integration of unmanned aircraft vehicles (UAV) on occupational stress for air traffic control. Wang is completing her master's thesis, and her project contributes to air traffic management's challenges in preparing for the growth of UAVs.She is working with faculty advisor Andy Dattel ('95). She also received $180 in funding for her study from the Dean's Fund for Excellence.
Misra said he was grateful to the council for the award and for instilling trust in him as a student and a budding researcher.
"The assistance provided by the council will not only help fulfill my goals as a researcher, but also be significant towards improving general aviation safety," said Misra. "The support I have received is encouraging and motivates me to pursue larger targets."
Posted In: Aviation