Persistence Paves the Way for Pilot's Degree Journey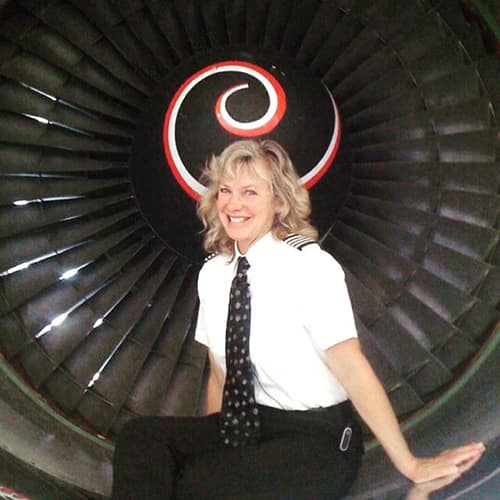 In 30-plus years of flying, Kathleen Julien has learned a thing or two about perseverance and persistence.
That never-give-up quality that made her a success in the aviation industry has also driven her steadily toward her latest goal: Earning a degree from Embry-Riddle.
"I believe you should follow your dreams," said Julien, who is on track to graduate with a bachelor's degree in Aeronautics in May, just before she turns 63.
"I've had quite a life," said Julien, a corporate pilot who flies jets for Starbucks. "I've been really lucky, but I have also worked very hard."
Julien's aviation adventure started with a passion for skydiving, which she indulged while making plans to go to medical school. One day, her group of skydivers was taken aloft by two female pilots and "one of them was pregnant," Julien said.
Seeing that, Julien decided to spice up her medical school application by adding a pilot's license to it, and she earned her first pilot rating at age 30. However, it wasn't long before college – and medical school -- fell by the wayside as Julien did whatever it took to build flight time and advance her aviation career.
Julien ultimately worked her way into a job flying MD-80s for American Airlines, based in the San Francisco Bay area where she grew up.
"I was really living the dream," said Julien, who also got married and had twins. But when American bought TWA in 2001, the new pilot seniority list displaced her and she ultimately left the company.
She started working as a corporate pilot for Fry's Electronics – where she earned a Boeing 747 type rating -- and focused on raising her children, now as a single mom. She also decided she wanted to earn that long-forgotten college degree, partly for the accomplishment and partly because she wanted to have something to do when she stopped flying.
"That's why Embry-Riddle made so much sense," she said.
Julien enrolled in her first online classes in 2012, and has steadily made her way toward graduation.
"The flexibility has helped a lot," Julien said of the online format. "Sometimes I can only take one class, and sometimes I had to stop altogether. But I never quit."
Julien also says her Embry-Riddle classes have been surprising in a number of ways.
"Every course is so interesting," she said. "Even accounting! It's just so cool to see all the different careers that are also part of the aviation industry. The program at Embry-Riddle is really well-rounded, but it also demands commitment and motivation."
Julien lacks neither, and that has helped her keep an "A" average, despite the demands of motherhood and her piloting profession. She sees her coming graduation as a culmination – but also as a beginning.
"I want to fly as long as I can," she said. "But the degree will make a difference once that part of my career is finished."