Pandemic Photography Hurts, But It Can Help Us Heal, Says Eagle Researcher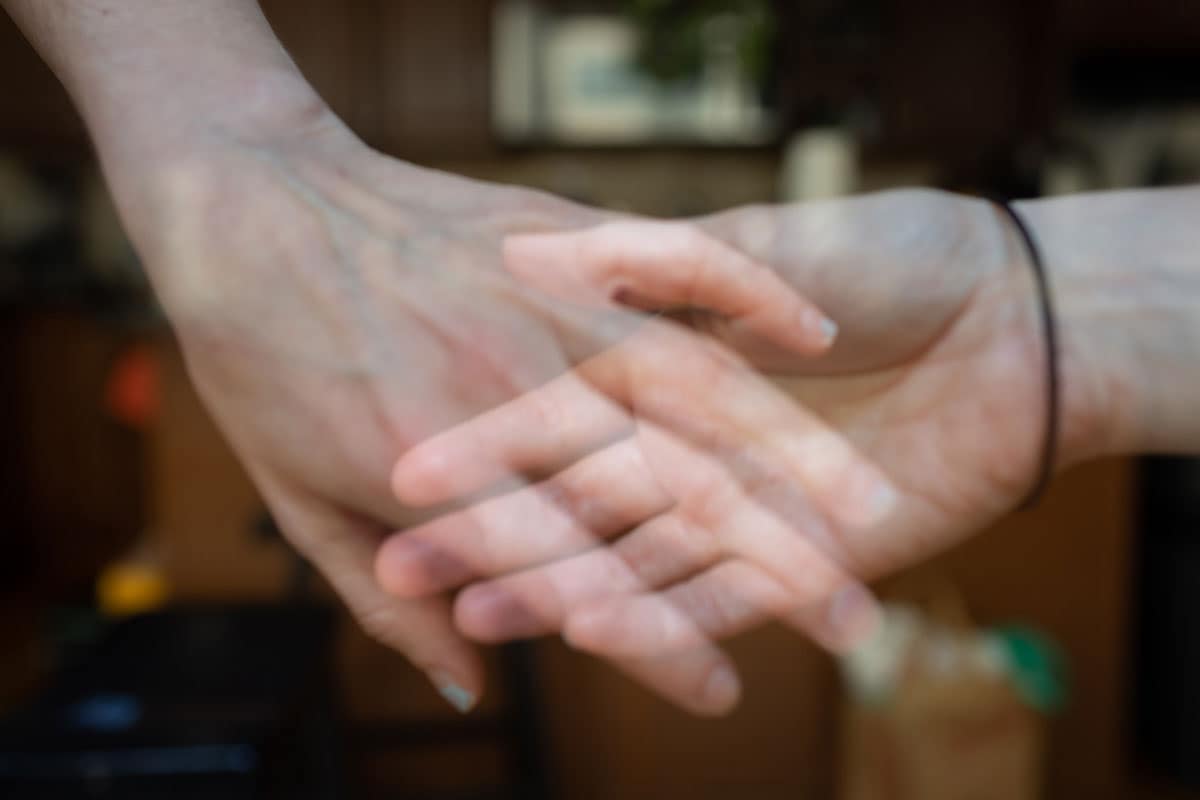 When the Covid-19 pandemic forced global shutdowns in 2020, Embry-Riddle Aeronautical University researcher Dr. Allison Kwesell was like most people: holed up in her home, uncertain about the future and spending a lot of time online.
"I remember how scared I was," she said. "Living in downtown Portland, we were also dealing with strikes, riots, fires."
Meanwhile, healthcare workers were posting on social media about their experiences working in hospitals. Friends were posting about losing loved ones. Relatives were posting about their lives in isolation.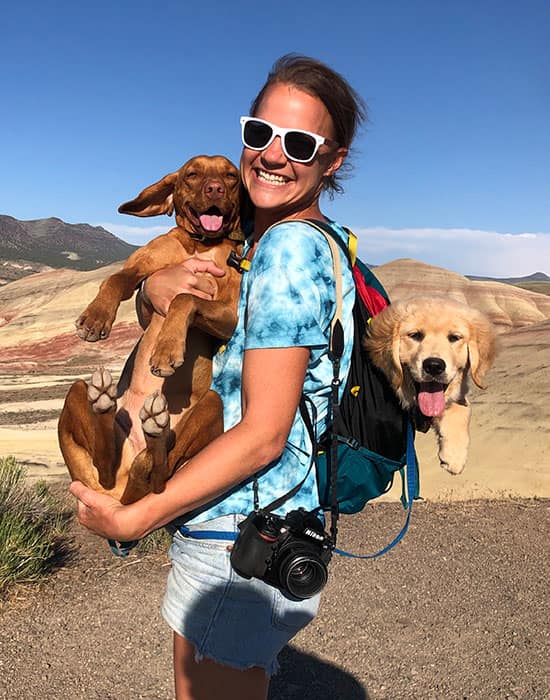 Researcher Allison Kwesell, pictured here, says that finding what makes you happy in your daily life — even if that's simply hugging your dogs — can be one of many "trauma-focused therapies" that offer emotional balance and help prepare you to process more negative emotions. (Photo: Allison Kwesell)
Scrolling through so many firsthand accounts of a large-scale cultural trauma served as Kwesell's "lightbulb" moment. She thought: This is an unprecedented research opportunity.
"Conducting research about a trauma while in the midst of facing it yourself can be complex," said Kwesell, an assistant professor in the College of Arts & Sciences at Embry-Riddle's Worldwide Campus. "I wanted to better understand the human condition and our coping mechanisms, and I was dedicated to learning how these experiences would affect people over time."
Previously, she had studied how photography of Japan's Fukushima Daiichi Nuclear Power Plant explosion impacted the country's residents. The pandemic, however, was unfolding in real-time, and it was being documented directly by those feeling its effects.
Kwesell solicited participants who were motivated to share their experiences in the form of a visual self-narrative, and she studied how their relationships with pandemic photography impacted their responses to collective trauma.
Her research was recently published by the National Library of Medicine.
"When we experience trauma, it is important to have an outlet," Kwesell said. "In speaking, documenting, sharing or simply introspecting on what we have experienced, we have an opportunity to gain meaning from our experiences. We have an opportunity to take something traumatic and learn from it."
Most surprising to Kwesell was both how eager people were to be involved in her project and how their emotional responses to pandemic imagery changed over time.
"The participants grew from this experience," said Kwesell, noting that some felt "humbled" by the invitation to peek inside other people's lives through their photographs. One wrote, "I feel like I should take my shoes off because I am on holy ground. I am honored to be here and am deeply moved by such honesty and openness."
Kwesell's findings suggest that pandemic photography elicited more negative emotional responses in the viewer as the pandemic was unfolding but that those responses lessened over time, eventually trending toward positive nostalgia. Viewing others' self-narratives also helped to build empathy and a sense of connection/community in the viewer, which Kwesell believes could make the methodology of visual self-narrative applicable to other areas, as well, such as in politically divided regions, neighborhoods affected by gentrification and across opposing international borders.
"Documenting through photography can be quite visceral — viewing these photographs later may take us back to the time we experienced the event," she said. "However, I believe that the more we photograph, and the more we review our photographs, the more we can learn from what we have experienced."
According to College of Arts & Sciences Dean Alexander Siedschlag, Kwesell's work demonstrates how research from humanities disciplines can lead to results of immediate industry relevance, in addition to having broader benefits.
"Building resilience is a pervasive challenge of our time in so many domains," Siedschlag said. "Allison's work is a great example of the bandwidth of multi-disciplinary safety, security and resilience research contributions out of the Worldwide College of Arts & Sciences. To embrace adversity and trauma and find ways to turn them into stepping stones for personal growth is very important in Embry-Riddle's core mission."
Posted In: Research