Over 3,400 Eagles Celebrate Commencement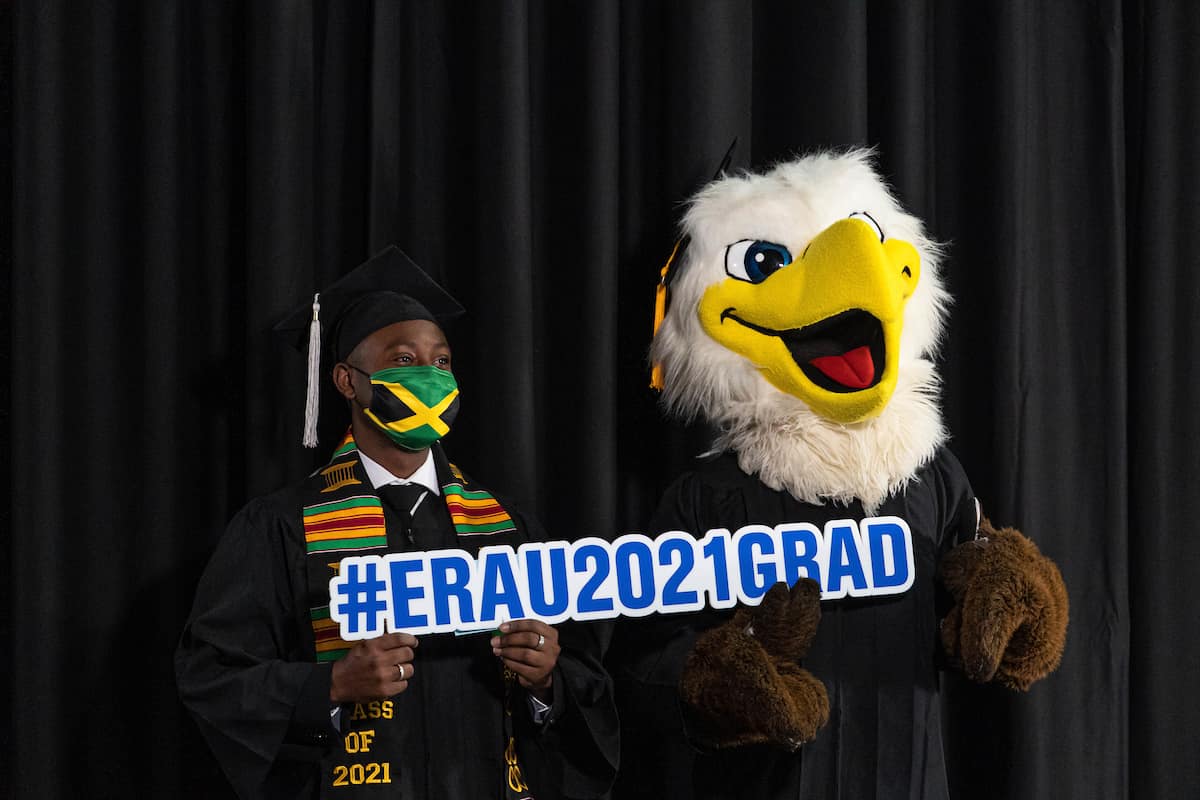 A total of 1,338 students, in the graduating class of spring 2021, celebrated their hard work and perseverance over the past few days, as they received their degrees at Embry-Riddle Aeronautical University. An additional 2,099 students from the Embry-Riddle Worldwide Campus will celebrate their commencement at the beginning of June.
"Embry-Riddle's 2021 graduates have worked hard to advance themselves and have demonstrated that they can make a difference in society," said Embry-Riddle President P. Barry Butler, Ph.D. "They have shown dedication and character that will serve them well personally and professionally."
Remarking that today's graduates will be starting their careers at a time of rapid commercial space innovation and exploration, Butler told them in a commencement address, "The future of mobility – on earth, sky and space – is yours to define."
Graduates walked across the commencement stage — at staggered times — to have their names read aloud as they crossed the stage in cap and gown and were photographed, while family and friends watched live.
Virtual commencement ceremonies were held for the Daytona Beach Campus on May 10 and for the Prescott Campus on May 8. All graduates were individually recognized with a personalized slide, guest speakers presented congratulatory messages and degrees were conferred. Graduate slides and programs are available for download on each campuses' Virtual Celebration Page: Celebrate Daytona Beach students, or celebrate Prescott students. (When sharing graduation-related posts on social media, remember to use the #ERAU2021Grad hashtag.)
In his remarks to graduates, Embry-Riddle's Provost Lon D. Moeller said: "Graduates, you have completed your studies, and are earning your Embry-Riddle degree, during a time complicated by the challenges associated with the Covid-19 pandemic. You have shown resiliency that is remarkable and which will help you to stand out as you leave Embry-Riddle and start your professional careers."
Daytona Beach Campus

A total of 896 students, representing the colleges of Aviation, Arts & Sciences, Engineering and the David B. O'Maley College of Business, made up the spring Class of 2021 at the Daytona Beach Campus. Last year's Daytona Beach graduating class numbered 754.
Among this year's graduates, 757 earned bachelor's degrees, 131 completed master's degrees, and eight doctoral students were granted Ph.D. degrees.
The Daytona Beach Campus celebrated 44 Air Force ROTC, 27 Army ROTC and 17 Navy ROTC cadet transitions into military positions as part of the cadets' Embry-Riddle graduation.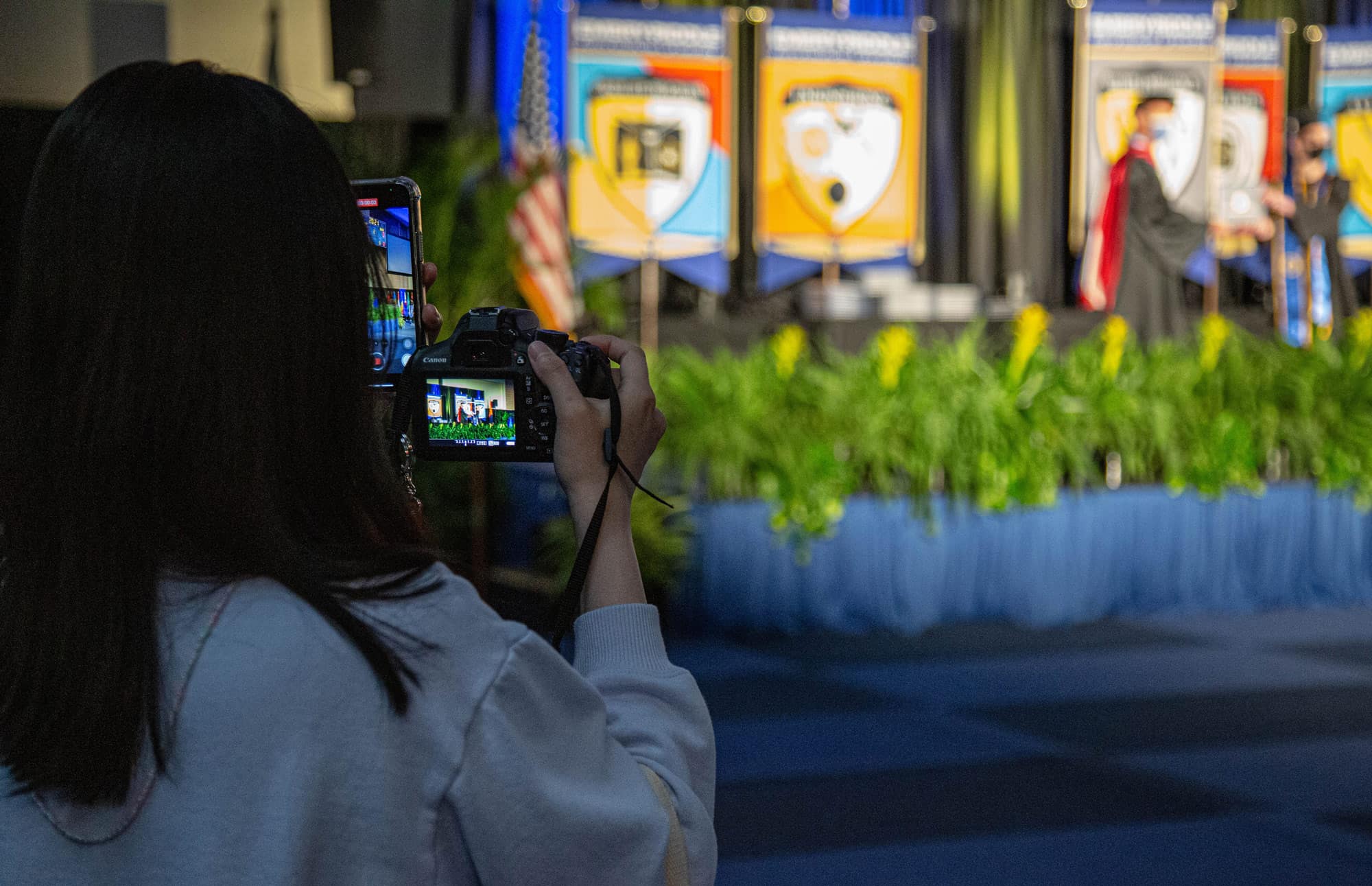 A total of 442 students celebrated commencement May 8 on Embry-Riddle's Prescott Campus. (Photo: Embry-Riddle/Jason Kadah)
Prescott Campus

Embry-Riddle's Prescott Campus congratulates 442 graduates — 437 of whom earned bachelor's degrees, with five completing master's programs — representing the spring Class of 2021. Included in that cohort were 37 cadets from the Air Force ROTC and five cadets from the Army ROTC, each of whom received military commissions.
"I am so impressed by this graduating class," said Dr. Anette M. Karlsson, Prescott Campus chancellor. "They have shown that they can adapt and persevere in these challenging times. I am so incredibly proud of our graduates."
The Chancellor's Award for Outstanding Graduate was awarded to Ashley Elliott, who majored in Space Physics.
Worldwide Campus

A total of 2,099 students — 1,412 undergraduates and 687 master's candidates representing the colleges of Aeronautics, Arts & Sciences and Business — will graduate from Embry-Riddle's Worldwide Campus this spring. A virtual commencement ceremony will take place on June 5 at 1 p.m. EDT.
"The graduating class of 2021 has demonstrated resilience, commitment and determination to get to this moment." said Worldwide Chancellor John R. Watret, Ph.D. "This past year has certainly challenged us, but the fact that we are celebrating this great accomplishment for so many of our graduates proves that we are up for any challenge when we are dedicated to achieving our goals."
Posted In: Institutional News