Elevating Business Education: O'Maley Gift Helps Fund New Initiatives at College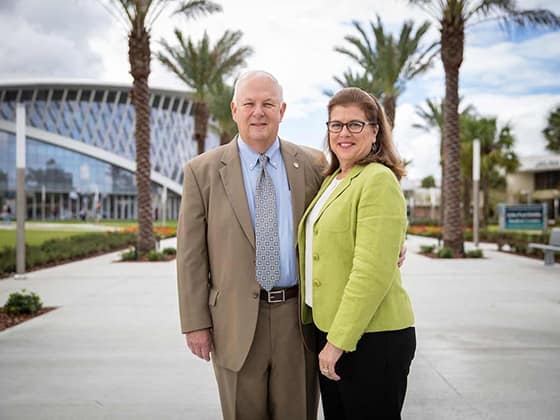 Trustee David B. O'Maley's generous gift is elevating business education at Embry-Riddle by funding innovative new programs at the college.
O'Maley and his wife Karen made a substantial gift in 2018 to the university, and the college was subsequently named the David B. O'Maley College of Business.
"Education should be transformational and the aviation and aerospace industries expect top-notch graduates from our business programs," said Shanan Gwaltney Gibson, Ph.D., who is dean and professor of management at the David B. O'Maley College of Business. "The O'Maleys' gift has made possible several strategic initiatives that are propelling the College forward."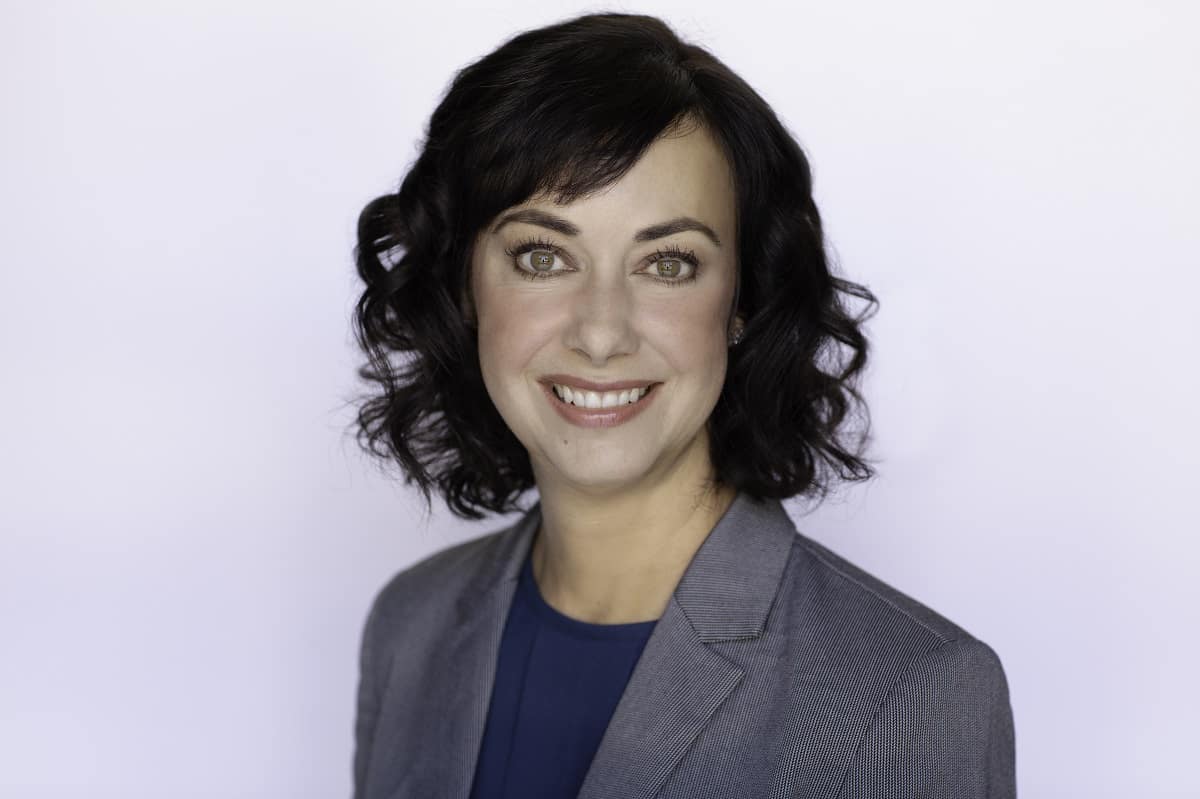 Shanan Gwaltney Gibson, Ph.D.
One of the most exciting initiatives, Gibson said, is a new Executive in Residence program. The program hosts an aviation or aerospace industry leader on campus who serves as a visiting professor of practice. Pete Agur, who is chairman and founder of The VanAllen Group, an Atlanta-based business aviation consulting firm, is the program's inaugural Executive in Residence.
As the Executive in Residence, Agur said he has had the opportunity to participate in a wide variety of valuable initiatives at the college.
"That value is greatest when we close the gap between the classroom and the real world," said Agur. "The more real-world information we share, the better prepared our graduates are to succeed, on behalf of themselves and their employers."
Agur teaches and mentors students, conducts research and is involved in the dean's leadership council, Gibson said. He also brings a wealth of industry connections and decades of practical experience working in the field.
"It's a unique opportunity for the college to have someone with Pete's experience on campus every day," Gibson said. "He is truly an essential member of the O'Maley College family."
A new faculty fellowship program, which rewards educators for outstanding teaching, service, and research, was also launched at the college.
"Being able to reward faculty excellence is extremely important," Gibson said. "[The fellowship] allows me to recognize exceptional achievement and attach a financial reward, thanks to the O'Maleys' generosity."
Angela Cheatham, Ph.D., one of the first three O'Maley Business Excellence Fellows, said the fellowship will help her grow as a teacher.
"This fellowship provides opportunities to participate in continuing education programs to enhance content delivery in classes," said Cheatham, an assistant professor of management at the college. "With the funds, I plan on earning supply chain and logistics certifications. These certifications are important for my development, as well as the development of the students."
Another new initiative supported by the O'Maley gift is focused on redesigning curriculum at the college. Faculty members partner with the university's Center for Teaching and Learning Excellence (CTLE) to design curricula that more actively engage students and promote experiential hands-on learning. The new programs fit perfectly with O'Maley's vision of creating aviation business leaders, innovators and experts.
"We see this gift as a unique and powerful way to leverage aviation and business education into the future," he said at the 2018 ceremony to name the college after him. "I see Embry-Riddle as the value proposition leader in upper education, certainly as it relates to all things aviation. Every student, regardless of their studies, be it engineering or aviation, needs some grounding in business so they can become leaders in the industry. That is our dream."
Embry-Riddle's College of Business, established formally in 2003, but with a history dating back to 1966, offers a variety of academic degree programs, from the bachelor's to the Ph.D. level.
In making his gift, O'Maley said he wanted to 'pay it forward' to Embry-Riddle students, as a way to honor someone who had helped him complete his flight training when he was a young person.
"I've always said that nothing happens until somebody … provides some direction and takes the initiative to move things forward." O'Maley said. "Together, with the outstanding leadership at Embry-Riddle, we can innovate, grow and watch the business college move forward to a dimension it has never seen before."