Nine Embry-Riddle Prescott Business Students Place in Top 10 at National Competition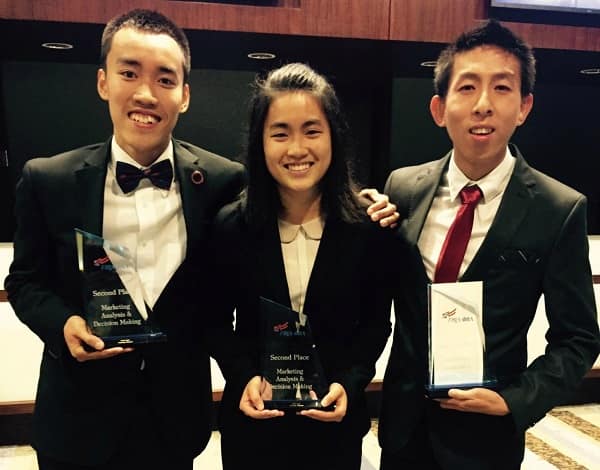 Following a dominant performance at the 2015 Phi Beta Lambda (PBL) Arizona Leadership Conference Competition, Embry-Riddle Aeronautical University students produced impressive results at the Future Business Leaders of America-Phi Beta Lambda (FBLA-PBL) National Competition, held June 24-27 in Chicago, Ill.
More than 1,600 of America's best and brightest college students attended the conference to enhance their business skills, expand their networks, participate in more than 55 business and business-related competitive events and vie for the opportunity to win more than $81,000 in cash awards.
A total of 17 Embry-Riddle Prescott business students attended the prestigious national competition consisting of dozens of individual and team competitive events, each having qualified by earning a first-place or second-place award at the state competition in April. Nine of those students placed in the top 10 nationally in a total of five events (listed below).
2nd Place (Team Event): Marketing Analysis and Decision Making (Milton Tan, Brenda Lim and Nghia "Nicky" Ho)
3rd Place (Team Event): Business Decision Making (Kirisa Pettis and Ahrash Aleshi)
5th Place (Team Event): Economic Analysis and Decision Making (Mwangi "Moh" Karuri, Adin Herzog and John Carosello) 
6th Place (Team Event): Human Resources Management (Ahrash Aleshi and Kirisa Pettis)
6th Place (Individual): Justice Administration (William Stark)
"The PBL students participating in the national competition did an excellent job, which is a reflection of the commitment and hard work they have shown in all their business classes and their majors during the year," said Dr. Archie Dickey, Dean of the College of Arts and Sciences at Embry-Riddle Prescott.
The annual event, now in its 45th year, is the largest student business organization in the world. FBLA-PBL's primary goal is to help students develop business and leadership skills for a competitive edge in their future careers.
About FBLA-PBL, Inc.
Future Business Leaders of America-Phi Beta Lambda Inc., the largest and oldest student business organization, is a nonprofit 501(c)(3) education association with a quarter million members and advisers in over 6,500 active middle school, high school and college chapters worldwide. Its mission is to bring business and education together in a positive working relationship through innovative leadership and career development programs. The association is headquartered in Reston, Va. For more information, go to www.fbla-pbl.org.