NextGen at Embry-Riddle Helps Lead FAA Live Flight Demonstration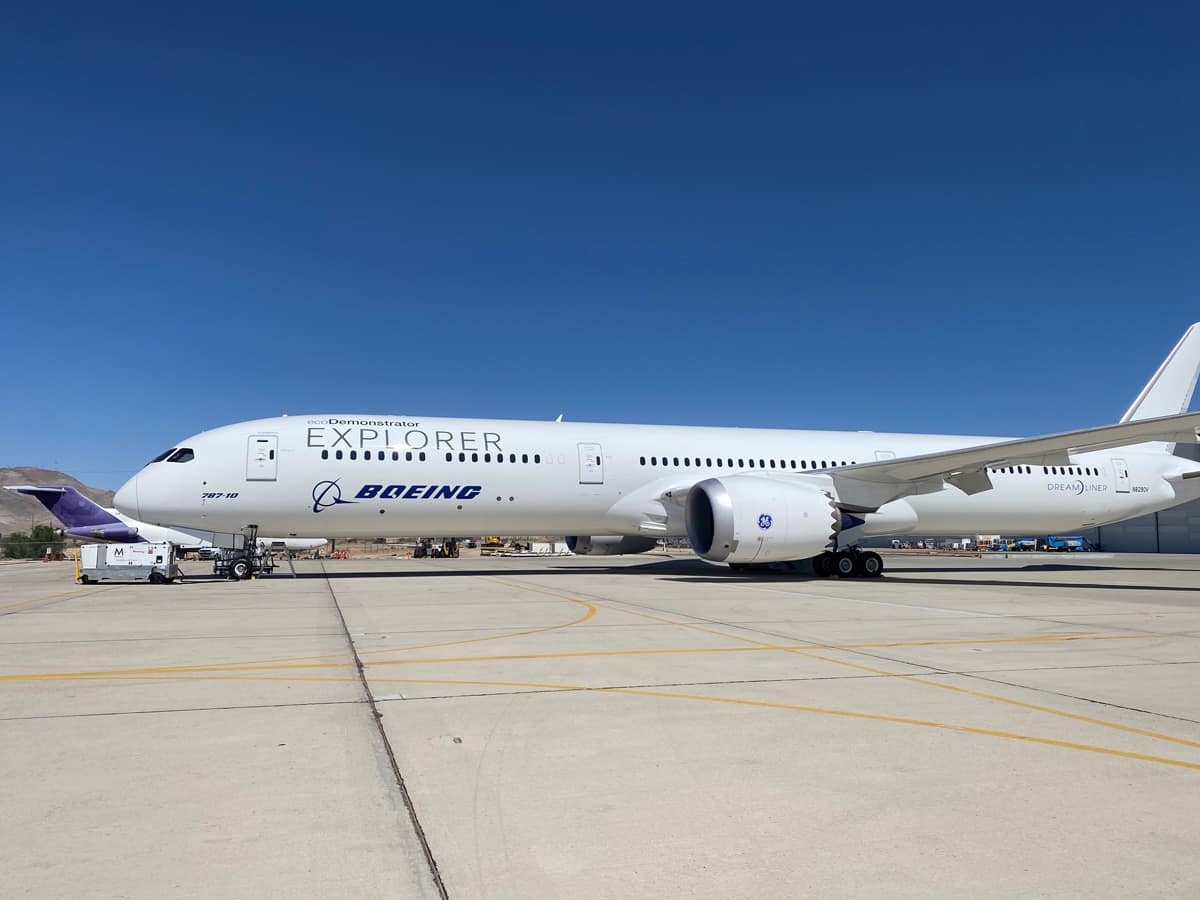 The NextGen (Next Generation Air Transportation System) Florida Test Bed (FTB) at Embry-Riddle Aeronautical University led a U.S. team that recently took part in a successful, first-of-its-kind joint effort to share and coordinate trajectory information and achieve optimal flight paths across multiple countries.
The six-day live flight demonstration, organized by the U.S. Federal Aviation Administration (FAA), included four unique scenarios and flights between the United States, Japan, Singapore and Thailand.
"The goal of the demonstration was to test new aviation technologies designed to enhance communication, flight efficiency and safety," explained Embry-Riddle FTB Director of Advanced Programs Kirsten Kasper.
Embry-Riddle engaged The Boeing Company and Mosaic ATM as subcontractors to execute the demonstration, using the Boeing Explorer 787 ecoDemonstrator platform, the FTB and software from the Next-Generation ERAU Applied Research Lab (NEAR Lab).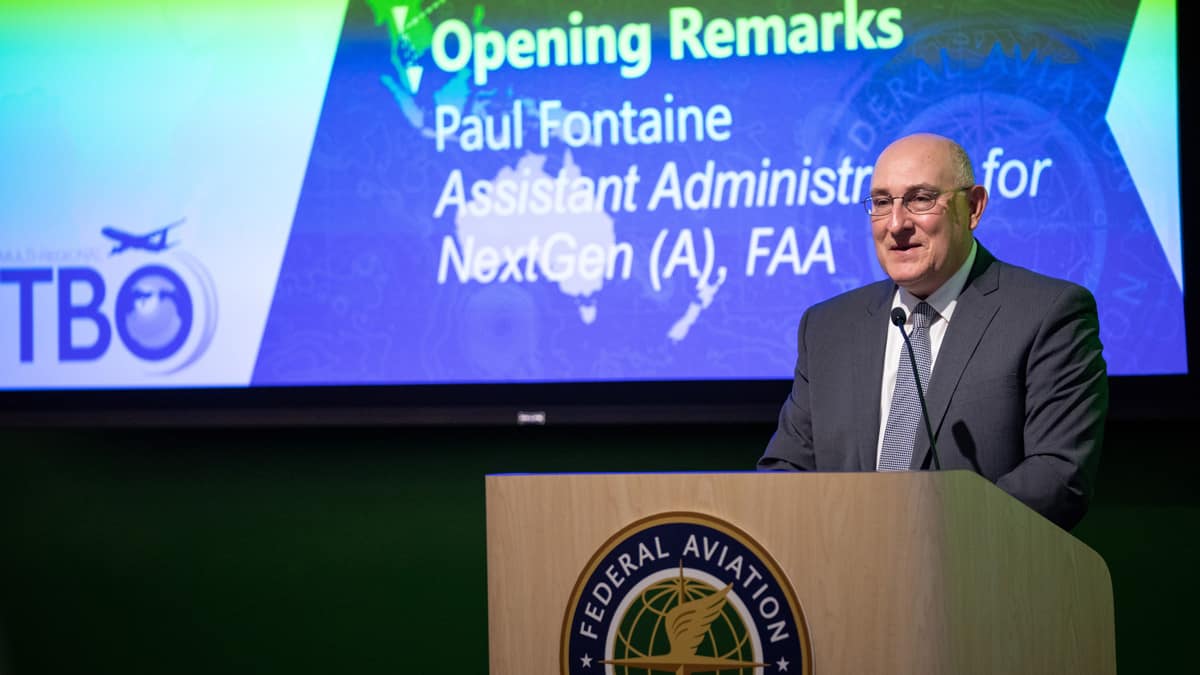 Paul Fontaine, acting assistant administrator for NextGen, conducts opening remarks for the inaugural Multi-Regional Trajectory Based Operations (MR TBO) demonstration flight event. (Photo: Embry-Riddle)
"The live flight demonstration was a tremendous step forward for aviation technology, operations and safety," Kasper said. "It was also an outstanding learning opportunity for our students, who were able to interact with key industry leaders and participate in exciting research in support of continued modernization of the National Airspace System."
Three Embry-Riddle students — Ethan Chamberlain (Bachelor of Science in Aerospace Engineering), Meghana Dyapa (master's in Aeronautics) and Anna Miller (Master of Business Administration) — assisted the demonstration project managers throughout the life cycle of related Embry-Riddle NextGen projects, Kasper noted.
For the FAA's live flight demonstration, countries used Trajectory Based Operations (TBO) to share the aircraft's trajectory. Air traffic experts from each country sequenced flights routes to achieve the optimal path across multiple regions. Controllers, then, factored in conditions such as weather, air traffic and airspace closures, the FAA reported in a news release.
TBO uses precise aircraft trajectory data (latitude, longitude, altitude and time) to show where the aircraft expects to be on its route, from takeoff to touchdown, the FAA explained. Aircraft fly precise flight paths with seamless information exchange between air and ground systems.

In the future, the FAA said, air traffic controllers will shift from sharing information using voice-based exchanges to sharing information more broadly, primarily using data. This will allow each country to be immediately aware of how changes in other countries will affect a flight and better plan for when an aircraft enters its area of responsibility.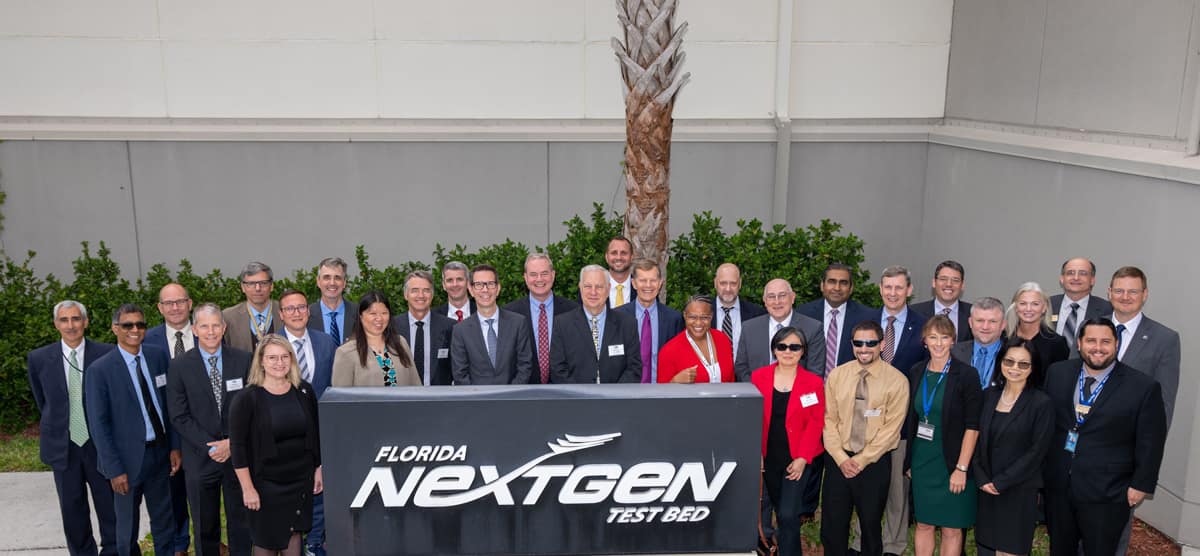 A group of VIP attendees pose together at the inaugural Multi-Regional Trajectory Based Operations (MR TBO) demonstration flight event. (Photo: Embry-Riddle)
The successful test demonstrated how sharing and coordinating trajectory information across multiple countries could improve safety and efficiency. According to the FAA, this collaboration will help minimize delays and disruptions, cut travel cost and time, and reduce fuel burn and carbon emissions by up to an estimated 10%.
Embry-Riddle NextGen Programs are conducted at the FTB, an agile research and integration facility designed to allow government, industry and academia to showcase their ideas and technologies in a NextGen National Airspace System environment.
Kasper organized and participated in several domestic international meetings in support of international partners and collaboration leading up to the six-day FAA flight demonstration. On June 8, Embry-Riddle hosted VIPs from the FAA as well as The Boeing Company for the Inaugural Multi-Regional Trajectory Based Operations (MR TBO) demonstration flight event.
"The event consisted of a full overview of the live demonstration flight and how it supports the FAA's air traffic management (ATM) efforts, a virtual tour of the ecoDemonstrator and presentations on Boeing sustainability initiatives," Kasper reported.
Learn more about Multi-Regional TBO online.
This article is based on the FAA news release as well as staff reports.
Posted In: Aviation