New Partnership Rewards UAS Students For High Level of Safety Training and Education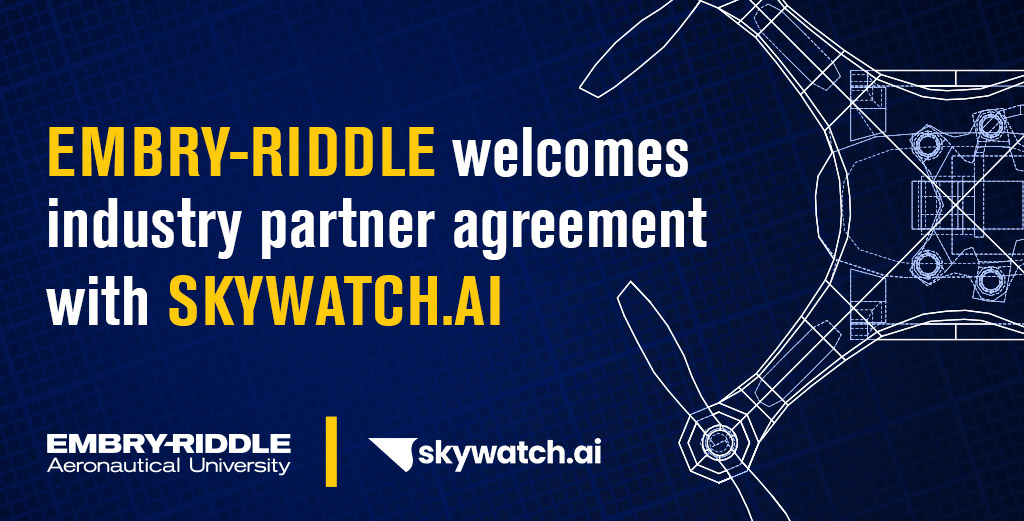 In a move that will help students make an easier transition into the world of professional Unmanned Autonomous Systems operations, Embry-Riddle has teamed up with SkyWatch.AI Drone Insurance for a partnership that will reward program graduates with premium discounts for their experience and safety training.
Insurance is a critical component to anyone operating a professional UAS, said David Thirtyacre, chair of Embry-Riddle Worldwide's College of Aeronautics Department of Flight.
"Insurance for drone operations didn't exist on a large scale until recently, and there is still a lot of misunderstanding," he said. "Skywatch.AI offers drone insurance by drone people, with discounted premiums for safer pilots, like our students, flexibility with hourly, monthly, and yearly policies, and an extremely simple mobile interface."
As drone operations expand every year, so does the risk for mishaps and under most circumstances, proper insurance is a required part of any pre-takeoff checklist. The partnership with Skywatch helps set a standard in this evolving field by recognizing the type of training Embry-Riddle students receive.
"We're proud to reward pilots for taking extra safety measures and enrolling in advanced drone training courses," said SkyWatch.AI CEO and Co-Founder Tomer Kashi. "SkyWatch.AI looks forward to working alongside the new graduates and drone pilots that enter the commercial drone industry each year."
Embry-Riddle and Skywatch will also work together to develop additional educational materials that emphasize safer operations and understanding of the role insurance plays as drone operations continue expanding around the globe.
"We're even more excited to use our safety and risk analysis to advance Embry-Riddle's curriculum with industry-specific knowledge," Kashi said.
Thirtyacre said the new partnership evolved naturally from Embry-Riddle's role as a UAS training leader and their regular interactions with insurance providers.
"Insurance has been lagging behind drone technology, and it's become something students are asking about," Thirtyacre said. "It's important because these are aircraft, and there is liability if things go wrong, as they sometimes do, and operators need to understand how vulnerable they can be."
Skywatch.AI, which bills itself as the world's first on-demand, telematics-based insurance platform for the drone industry, has the experience and technology to ensure that operators are properly covered and rewarded for their training and safety records. To find out more about them, visit www.skywatch.ai, or get a free insurance review by emailing skywatch@skywatch.ai.
"What we see in UAS is starting to mirror what we have seen with manned aircraft when it comes to insurance," said Dr. Ken Witcher, Dean of the College of Aeronautics at the Worldwide Campus. "Skywatch knows what we have done with our programs, and this will allow our students to directly benefit from the level of education they get at Embry-Riddle."