New Faculty Offer Fresh Perspectives to the Classroom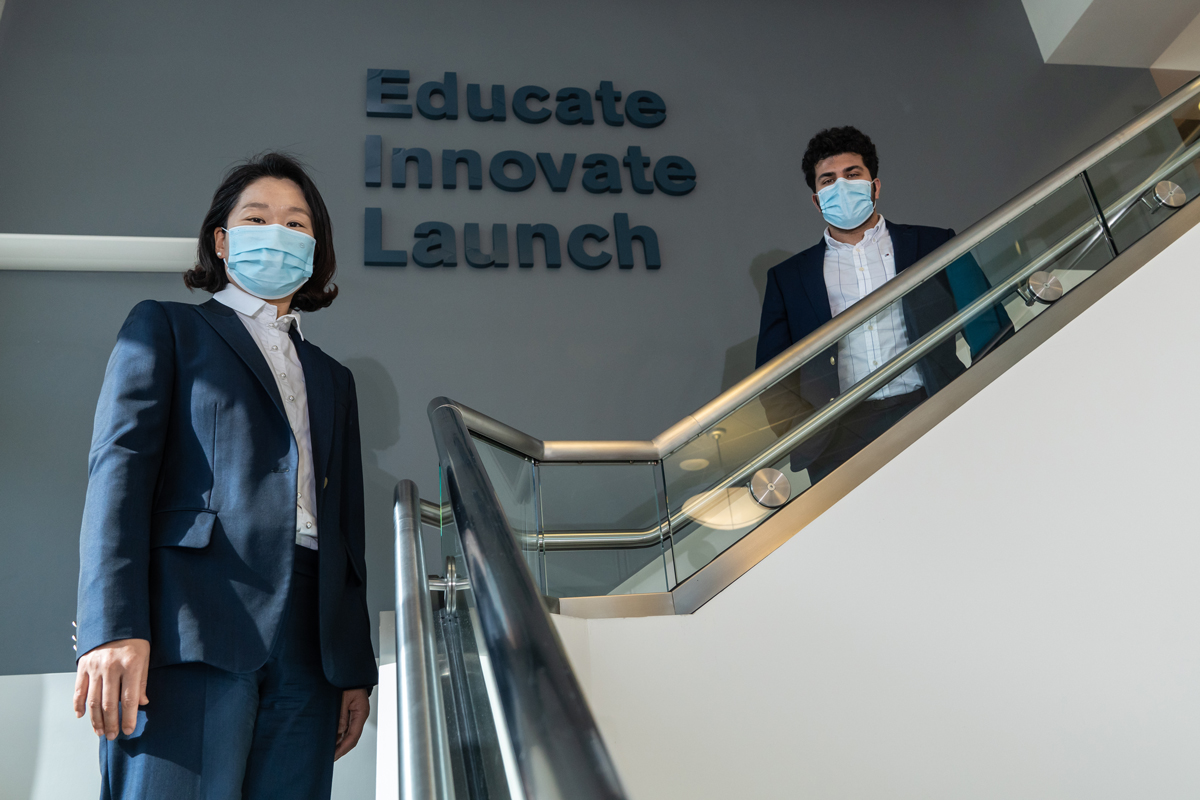 In Fall 2020, the O'Maley College of Business welcomed two new faculty members, Drs. Youngran Choi and Seyed Ali Haji Esmaeili. We recently sat down with each of them to find more about their experience and academic interests.
Dr. Youngran Choi
Dr. Choi studied at the University of the Philippines and Washington State University, where she earned a Ph.D. in economics.
Q: What have you enjoyed the most about Embry-Riddle so far?
YC: I am learning so much from each and every member of the college, everything from their research experience to dedication to teaching. I have started collaborative research with some of the faculty, and I've been gaining many insights from them. Students are fascinating. They are proactive and enthusiastic to learn new things. I strive to incorporate state-of-the-art techniques in curricula, and it's a great reward for me to see students walk out of the classroom at the end of the semester with strengthened theoretical foundations and practical tools that can benefit their careers.
Q: How do you see business analytics playing an increasingly important role as the aviation industry continues to work through the challenges presented by the pandemic?
YC: Business analytics is vital to decision-making in aviation. Abundant data is collected in aviation every day – revealing new and real-time information throughout the pandemic. Rich data processed with analytics tools offers aviation insights for making better decisions and strategic moves. For example, analytics on consumer responses support aviation to improve targeting and personalization of marketing strategies. Analytics of real-time data on consumer demand support aviation to become more agile in responding to dynamic changes in consumer needs. With the strengthened business analytic capacity, aviation can use the right information at the right time to improve market competitiveness and revenue streams.
Q: Tell us more about your prior work in the financial industry in Korea, Singapore and Thailand, and how you incorporate that experience into the classroom.
YC: I have extensive work experience in business consulting at companies such as Deloitte and Ernst & Young, and at an international organization where I served a wide range of stakeholders and multinational clients to optimize transfer pricing and manage merger & acquisition deals. As a person with industry experience, I am inspired to use hands-on industry examples and real-case scenarios to explain difficult theoretical concepts simple enough to help students understand. Working in different countries with people from diverse backgrounds has shaped my desire to inspire students to broaden their perspectives and prepare them to succeed in a world that is rapidly changing. I feel extremely honored to be part of the Embry-Riddle team where I contribute to educating and encouraging a new generation of leaders and thinkers.
Dr. Seyed Ali Haji Esmaeili
Dr. Haji Esmaeili attended Iran University of Science and Technology and Kharazmi University before earning a Ph.D. in Transportation and Logistics from North Dakota State University.
Q: What attracted you to Embry-Riddle?
SH: I found Embry-Riddle to be a great place where I can showcase my skills and abilities and deliver them to students. Embry-Riddle is the best in the air transportation area, which aligns with my background (Transportation, Logistics, and Business Analytics).
Q: What opportunities has the pandemic presented during this unusual time in both academia and the aviation industry?
SH: It has challenged us to be more creative and better decision-makers in both academia and the aviation the industry where I found it as an opportunity. For example, I see my students once a week because of the split modality of my classes. Therefore, I had to design my courses in a way that delivers the most efficient materials to students while we have in-person classes and provide them with extra resources for when they do not attend in-person classes. Regarding the aviation industry, one opportunity has been for passenger airlines like Korean Air and LATAM airlines to expand their capabilities in the freight aviation industry since the pandemic has caused a huge reduction in the number of passengers who are flying.
Q: Later this year, you are scheduled to teach a course that examines supply chain management, "Business Information Systems and Management of Production & Operations." Tell us more about your interest in aviation biofuel supply chain management.
SH: With decreasing fossil fuel resources and consumerist tendencies contributing to global warming, a feasible and cost-effective alternative to traditional jet fuel is now more important than ever. Developing a sustainable aviation biofuel supply chain management can help improve the aviation industry economy, reduce the reliance on fossil fuels, and help protect the environment better.