Nash Family Foundation Scholarship Helps Young Women Succeed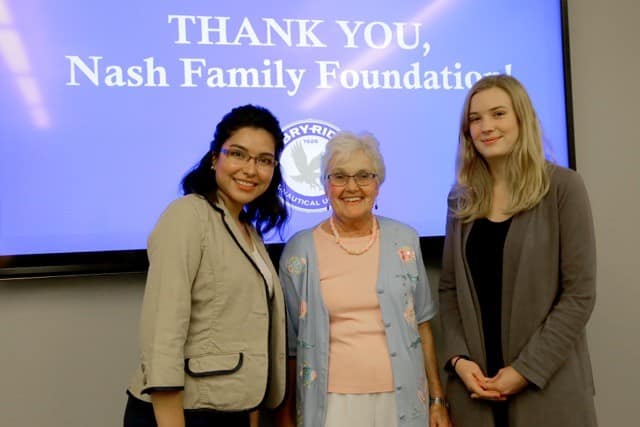 First two scholarships awarded this spring.
As a teenager, Anna Estrada-Iniguez picked fruit with her parents to earn money for the family. Each day when school let out and during the summers, she would join them in the fields.
"The summers were especially hard, because I worked longer periods and the weather was very hot," said Estrada-Iniguez, a junior at Embry-Riddle's Daytona Beach Campus. "However, I not only learned to work with vineyards, I also learned to appreciate the hard work my parents do for me," she said.
The daughter of Mexican immigrants, Estrada-Iniguez finished top in her class at her high school in rural Washington. Now, she is earning a bachelor's degree in mechanical engineering. She dreams of graduate school in the future and a job in mechanical design for the National Air and Space Intelligence Center.
A $12,500 Nash Family Foundation Scholarship will help make those dreams come true. The scholarship came just in time for Estrada-Iniguez, who along with Kyla Todd, is one of its first recipients.
Fulfilling Student Needs
I have always been motivated to succeed and achieve new heights. This scholarship is a sign to continue moving forward with my education.
"This scholarship allowed me to continue my education," said Estrada-Iniguez. "It came at a time of financial need, after my parents lost their jobs. I am very grateful to the Nash Family Foundation."
Todd enrolled in the aerospace engineering program at age 22. Now a junior, she hopes to eventually earn a master's degree in computer science and work for a private space company.
"This scholarship has relieved significant financial burden and worry. It will allow me to focus on my studies," said Todd. "I am incredibly grateful."
Creating Success Stories
Along with her brother and sister, Anne Massey created the scholarship in the Nash Family Foundation's name to help young women like Estrada-Iniquez and Todd. The scholarship embodies the philanthropic values of their family.
The late Ruth and Jack Nash, who are Massey's mother and stepfather, were devoted to advancing lifelong learning and helping those in need. "My parents even helped to support a childhood friend of mine who wanted to go to college," said Massey.
Massey's brother and sister have been professors in higher education and Massey was an elementary school teacher.
Establishing a Culture of Philanthropy
Estrada-Iniguez is the first one in her family to attend college. She said she hopes someday she will be able to establish a scholarship to help other young women achieve.
"I have always been motivated to succeed and achieve new heights. This scholarship is a sign to continue moving forward with my education," she said.
Massey said she is excited to see more women pursue careers in traditionally male-dominated fields, such as engineering.
"We are happy to do anything to help them succeed," Massey said. "We want to encourage them as much as we can."
Support Embry-Riddle with your gift today.