NASA, Capitol Hill Headline Recent Internship Destinations for Spaceflight Operations Students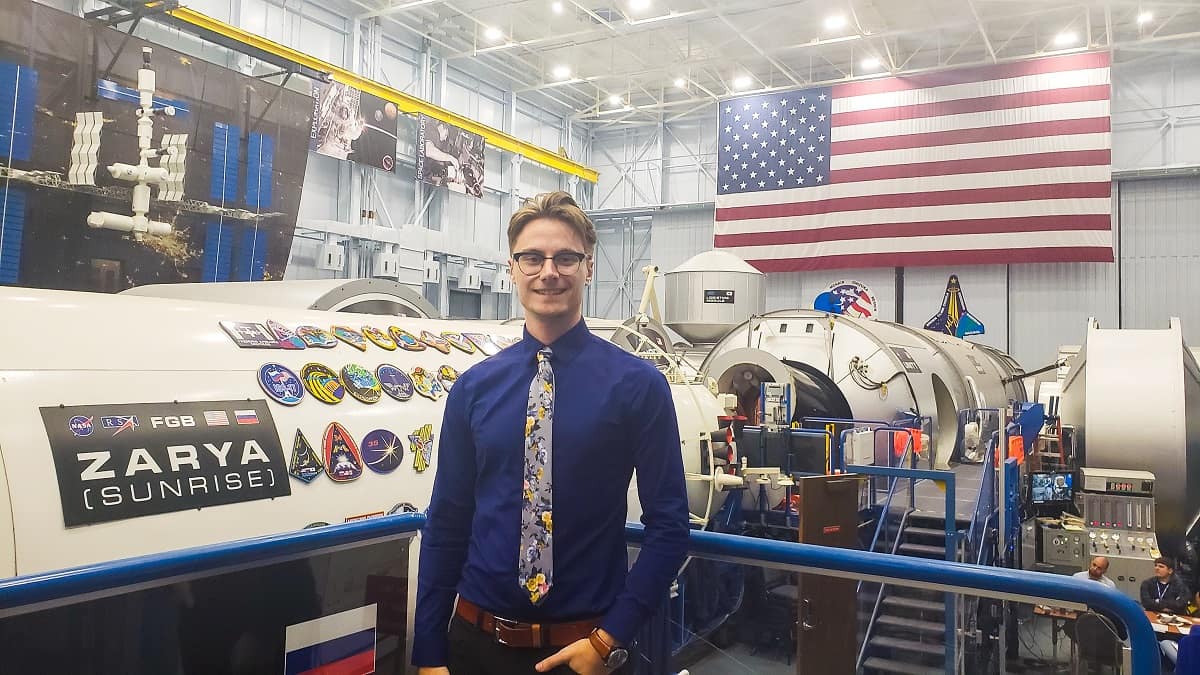 For Spaceflight Operations undergraduate students Nicholas Lopac and Kirsten Bauernschmidt, classroom learning is only one part of their college experience at Embry-Riddle Aeronautical University. The other part is hands-on and in the field, taking place through internships that offer widely different perspectives on the industry they both hope to join after graduation.
Although both students share an ultimate goal — careers in aerospace — the differing paths they are taking toward that goal offer a glimpse of the many diverse opportunities provided by Embry-Riddle's Department of Applied Aviation Sciences. While Lopac recently returned from an internship where he worked to refine the design of astronaut suits at the world's leading space agency, Bauernschmidt is currently working in the United States' capital, learning how regulations surrounding rocket launches, aircraft design and other industry issues are developed.
High-profile internship opportunities like these offer students an inside look at how progress is made within the fields they love and often help in shaping career aspirations moving forward.
Designing Next-Generation Spacesuits
Long fascinated by emerging technologies, senior Nicholas Lopac watched in awe when SpaceX began first landing its rockets for reuse. This was when he was in high school, still trying to carve out a career plan for himself, and in turn, decide on a college major.
"When I saw [that] Embry-Riddle offered a degree focused on the re-emerging spaceflight industry, I jumped on it," he said. "Space technology seemed to be the most cutting-edge thing I could think of — and I was right."
Since then, Lopac has immersed himself in all things space. Set to graduate this fall with a Bachelor of Science in Spaceflight Operations, he serves as the lead technician and research manager at Embry-Riddle's Spacesuit Utilization of Innovative Technology (S.U.I.T.) Laboratory, under the direction of Principal Investigator Dr. Ryan Kobrick. He also recently returned from an internship at NASA, where he worked in the Johnson Space Center's Anthropometry and Biomechanics Facility (ABF), using motion-capture technology to assess spacesuit mobility.
"The ABF has a legacy of conducting human factors analyses on the design and functionality of NASA spacesuits and the performance of astronauts," Lopac said. "Currently, they are supporting the design of NASA's newest spacesuit — the Exploration Extravehicular Activity Unit (xEMU) — which will be demonstrated on the International Space Station in 2023, and then on the Moon in 2024."
Building off his experience in the College of Aviation's S.U.I.T. Lab, Lopac was given the chance to contribute to that design during his time at NASA. He learned new software and coding languages as well as how to use advanced 3-D body scanning hardware to perform data collection and analysis.
"My success academically and professionally can be attributed to the S.U.I.T. Lab, and to the ERAU staff who have given me the opportunity to work there," Lopac said. "The fact that I walked the historic grounds of the Johnson Space Center as an almost-employee during my internship was very cool. It was inspiring to know the same legends from NASA's greatest missions worked all around me. I met one of those legends, Gene Kranz, Apollo's famous flight director, and he even autographed my flight jacket."
Lopac plans to apply for another NASA internship this summer, with the hopes of working there full-time after graduation.
Read about a NASA-SUIT Lab partnership project Lopac participated in last year that he credits for helping him land his recent internship.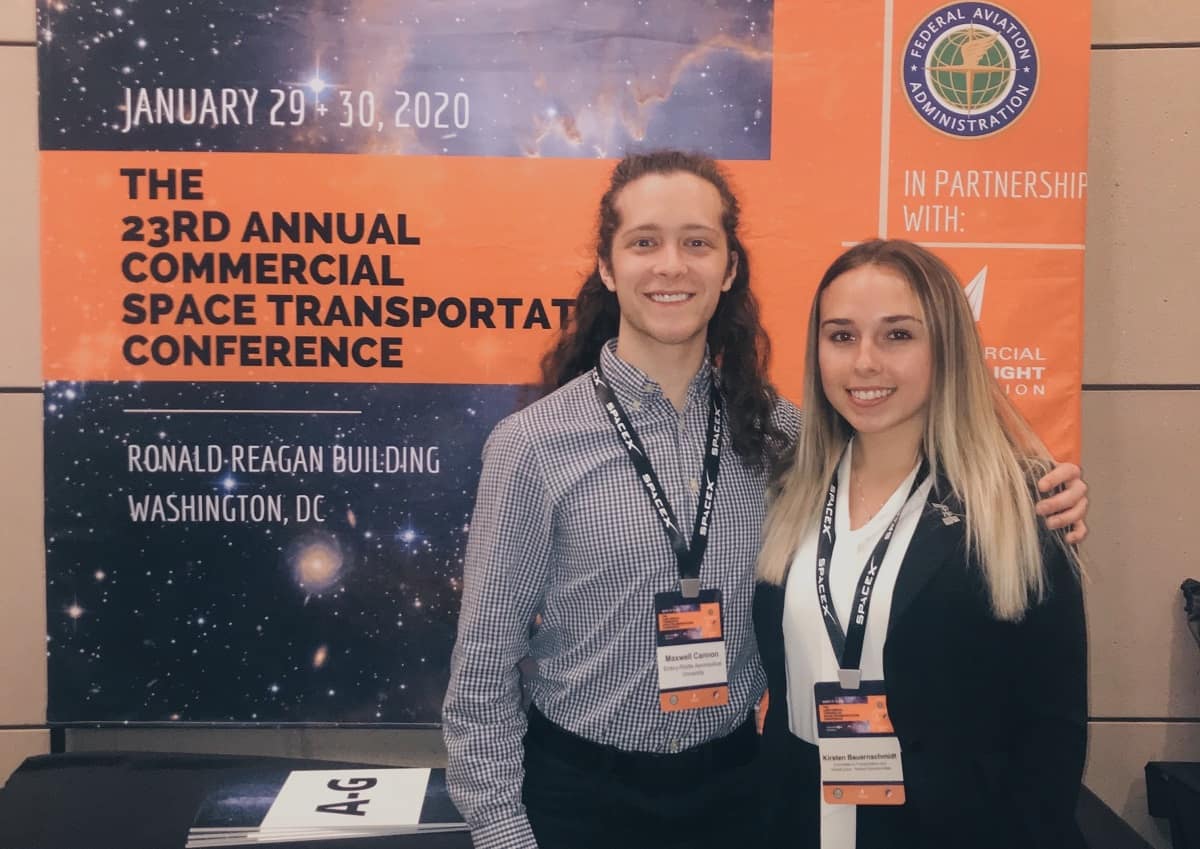 Fellow Eagle Max Cannon attended the 23rd-annual Commercial Space Transport Conference with Spaceflight Operations junior Kirsten Bauernschmidt, during her internship in Washington, D.C. (Photo: Kirsten Bauernschmidt)
Kirsten Bauernschmidt Goes to Washington
Junior Kirsten Bauernschmidt, a Spaceflight Operations major and triple-minor in Aviation Safety, Human Factors and Global Conflict, has always loved space and aviation — but she is most interested in how those industries function behind the scenes. That interest led her to Washington, D.C. and an internship on the House of Representatives' Transportation and Infrastructure Committee, specifically working on the Aviation Subcommittee.
Bauernschmidt hopes to affect how the industry responds to challenges, she said. When new regulations on aircraft manufacturing and testing are in development, for instance, she wants to contribute to that conversation.
"Even in this internship, I would like to think I might have the slightest role in helping make those kinds of changes," she said.
During Bauernschmidt's time in D.C., she will attend hearings and conferences to gain firsthand experience with lawmakers and representatives from the Federal Aviation Administration, conduct research and write papers on the issues. She will get the chance to network with industry leaders, attend the Deep Space Exploration's 2020 Congressional Space Studies Series and review bills on the governance of spaceports.
"I have only been here for two weeks so far, but I feel like I have already learned a semester's worth," she said. "This is extremely valuable experience that I won't get anywhere else."
By the end of the internship, Bauernschmidt expects to have a clear goal in mind for the start of her career — something she said she would have still been working toward if not for this experience.
"I urge all students to get an internship before they graduate," she said. "The hands-on experience is the most valuable not only to you, but to your future employers, as well."
Learn more about the plethora of cooperative education and internship opportunities offered at Embry-Riddle.
Posted In: Applied Science | Space