Mother, Son Mark Mother's Day with Degrees from Embry-Riddle Worldwide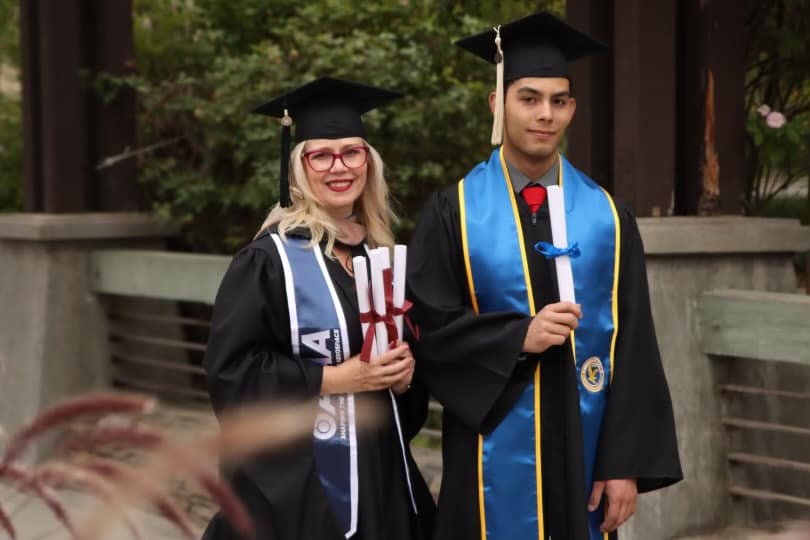 Tami Perez and her 19-year-old son Ben celebrated Mother's Day 2021 with something that went way beyond brunch — their degrees from Embry-Riddle's Worldwide College of Business.
The dynamic duo will finish their final academic terms on May 23, with Tami Perez earning her Master of Business Administration in Aviation and Ben completing his Bachelor of Science in Technical Management, capping off a journey he started as a high school student in Embry-Riddle's renowned dual enrollment program.
"This has been such a huge blessing for both of us," said Tami Perez, who is director of the Worldwide Inland Empire Campus at March Air Reserve Base in Riverside, Calif. "We didn't plan to graduate together, but we are really fortunate it worked out this way."
Tami came to Embry-Riddle in February 2019 after serving many years as vice principal at Bethel Christian School in California, where all four of her sons graduated. Once she got settled, she took advantage of the free tuition benefit her new job offered.
"I really am a lifelong learner," said Tami, who already had a Master of Arts in English and a California teaching certificate. "And why would someone not take advantage of something like this?"
She began her classes in July 2019 and fell in love with Worldwide's flexible online platform, especially EagleVision, which allowed her to interact with her instructors and fellow students.
"I love talking, connecting with people and asking questions," Tami Perez said.
Ben's degree path involved more twists and turns. At Bethel Christian, where he was senior class valedictorian, he had started taking college classes through Embry-Riddle's Dual Enrollment program, finishing five before he was done with high school.
"He is super smart, but he's not really a fan of school," his mom said.
Ben earned a full scholarship to the University of California Riverside, but the classes didn't hold his interest. Instead, he focused on his love of investing and building up his Robinhood account.
But Ben still wanted his degree. Enter Embry-Riddle Worldwide.
"He asked if he could finish it faster at Embry-Riddle," Tami Perez said. "The online programs were perfect because he could do as much as he could handle, and he started taking four classes at a time."
Even after he went to work full-time at a pool supply wholesale company in October, Ben continued his course load and ended up with the same graduation date as his mom.
For Tami Perez, whose husband Albert is also studying at Embry-Riddle, pursuing a degree in Interdisciplinary Studies with a minor in Small Unmanned Aircraft System Operation, "it seemed like the stars just aligned."