Mother and Son Earn Degrees Together at Worldwide Campus Commencement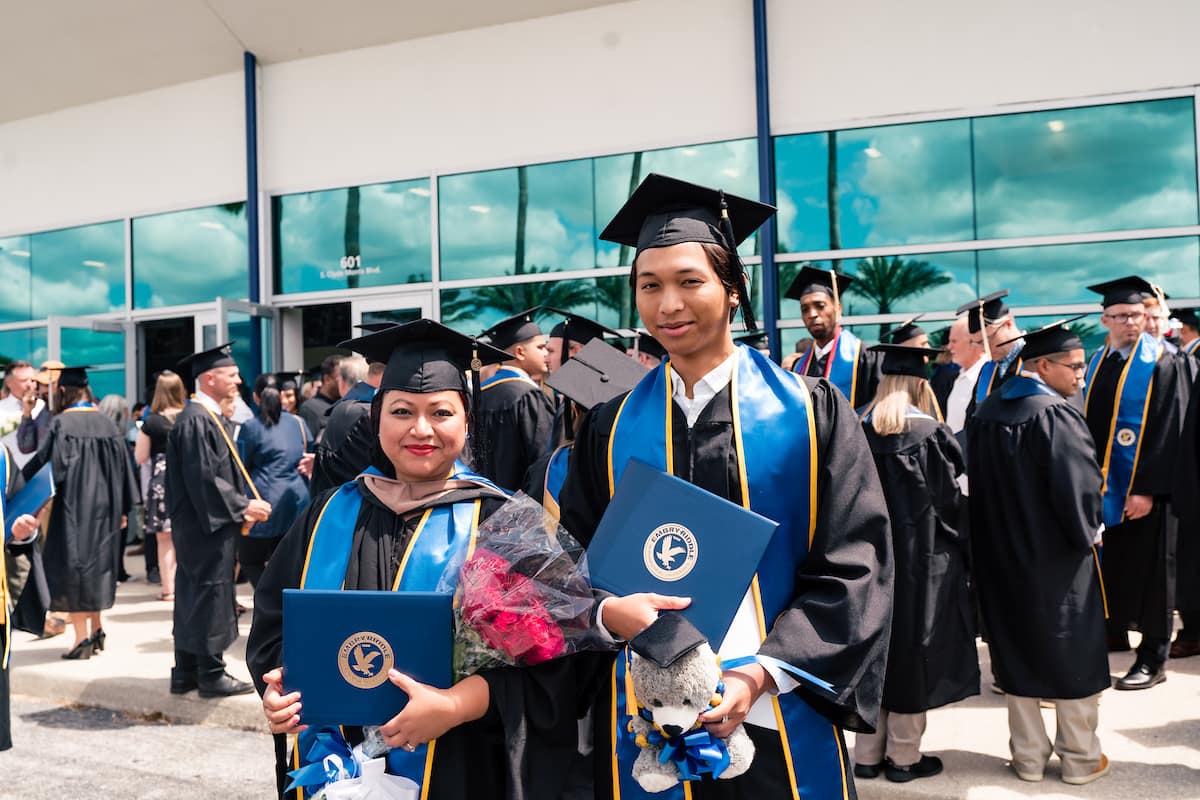 A mother-son duo walked the Embry-Riddle Aeronautical University commencement stage together on Saturday, May 14, traveling from their home in Houston, Texas, to attend the Worldwide Campus ceremony in Daytona Beach, Florida.
"This is a tears-of-joy and one of the highest-milestone moments for our family," said Kevinia Pramono-Rizqi, who homeschooled her son, Nyson, for the past eight years while the family ran their business, AeroProc, which transports fuel to remote parts of the world using air tankers and transports heavy equipment using special-mission helicopters. "Walking in graduation together is a mark to ourselves — we did it! Nyson is only 18 years old and graduated with an associate's degree in Aeronautics."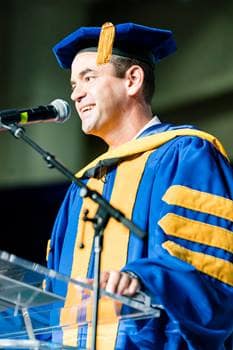 Jared Isaacman ('11), who led the first all-civilian space mission, Inspiration4, and is currently training to command Polaris Dawn, served as the keynote speaker at the event.
Pramono-Rizqi graduated with her Master of Business Administration in Aviation degree, with an emphasis on International Business. When she decided to pursue her graduate degree back in 2017, she knew she would need a virtual option that would give her the flexibility to study while raising and homeschooling two kids, traveling extensively and running a business. The decision to become an Eagle, she said, was a no-brainer.
"Embry-Riddle is the best aviation university in the world," she said. "My dream is to run our company together as a family: my husband, Muhamad; myself; our son; and daughter, Naomi."
Next, the Rizqis plan to expand their business beyond Southeast Asia, where operations are currently centralized, while Kevinia pursues her doctoral degree and Nyson continues at Embry-Riddle in pursuit of his bachelor's. He aspires to be an entrepreneur, lead the family business and manage an investment portfolio.
"It is quite fulfilling," Nyson Rizqi said. "It's been a goal of mine to graduate earlier than my peers, and now it's come true. All of my accumulative efforts from when I started homeschooling in sixth grade till now have paid off. And it's nice to know that I made my parents proud."
The Rizqi graduates were two of 341 total Worldwide Campus graduates, including 170 undergraduates and 171 graduate-level students, to participate in the commencement celebration held on Embry-Riddle's Daytona Beach Campus. Among the total number of Worldwide students graduating this spring, 215 are affiliated with the military as veterans, active duty or reservists.
Onward and Upward
In his opening remarks, Embry-Riddle President P. Barry Butler, Ph.D., told the graduates, "You are joining an elite community of more than 150,000 alumni. Wherever life takes you from here, you can move toward a bright future with confidence, knowing that you can accomplish things you never imagined possible."
Butler went on to introduce the keynote speaker, Embry-Riddle alumnus Jared Isaacman ('11), who led the first all-civilian space mission, Inspiration4, in 2021 and is training for his next mission as commander of Polaris Dawn.
"Here at Embry-Riddle, we have all been inspired by Jared's remarkable career," Butler said, pointing out that Inspiration4 raised more than $250 million for St. Jude Children's Research Hospital. "In all he does, Jared exemplifies Eagle values by advancing human knowledge and serving others."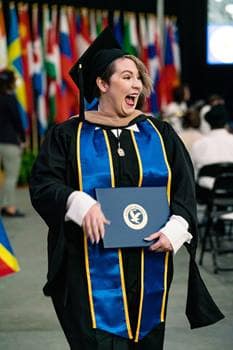 Of 341 total Worldwide Campus grads, 170 earned undergraduate degrees and 171 earned graduate-level diplomas.
Isaacman spoke on Saturday about the great opportunity that currently exists in the aviation and aerospace fields.
"I believe we are in the midst of the most interesting, exciting and opportunity-rich period in our lifetime and maybe even human history," he said. "We have accomplished quite a bit as a society. For the most part, life is better with smartphones, same-day delivery and streaming services.
"But in our particular fields of shared interest, there is quite a bit of room for improvement, advancement, innovation. And with that brings opportunity."
Case in point: Startup aerospace companies raised $15.4 billion in 2021, he said, and they "will challenge and incentivize existing conglomerates … to change their ways, to think differently or to get out of the way of progress."
"I have never met anyone in aviation or aerospace who wasn't excited about what the future could hold, what pioneering technology could be achieved and what can be accomplished when we challenge ourselves to break the mold and think differently," he added.
Isaacman said the graduates could participate in this new era of innovation.
"You, the Embry-Riddle class of 2022, can be a part of this long-overdue era. Talent is in immense demand, so all you need to ask yourself is, do you want to be part of the past? Or, do you want to be a part of the future that brings ideas from science fiction to reality?
"Class of 2022, stand tall, be a disruptor, do not fall victim to the status quo, bring about change, make the most of the opportunities this era provides and seize this moment."
Reflecting on the commencement event, Dr. John R. Watret, Worldwide Campus chancellor, said he was "extremely proud of all our graduates."
"This is the first face-to-face commencement ceremony in Daytona Beach for the Worldwide Campus in two years, and it was great to have the opportunity to celebrate together in person," said Watret. "The message shared by Jared Isaacman deepened the meaning of the day, and his challenge to the graduates to be catalysts for positive change in our world was inspiring to all in attendance. We wish all of them the very best and look forward to the positive impact they will make."
*Michaela Jarvis contributed to this report.
Posted In: Institutional News