More Women Will Earn Their Wings, Thanks to New Women's Network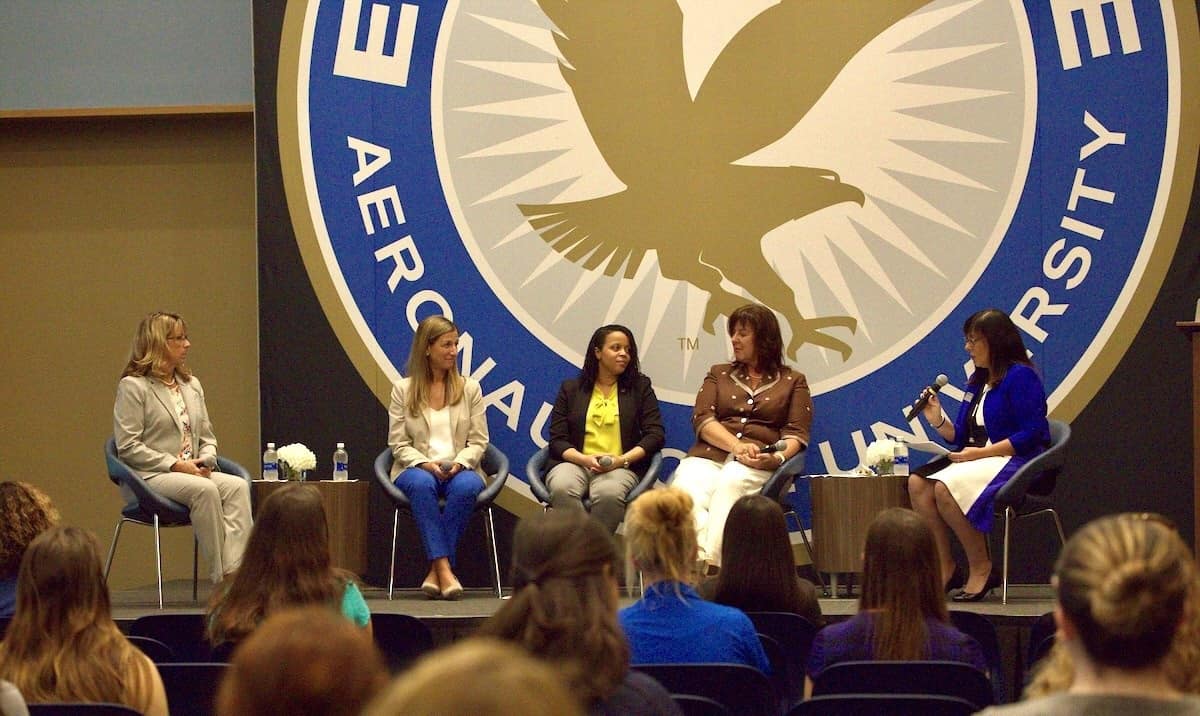 Alumnae provide scholarships and mentors to help women become Embry-Riddle students, graduates and success stories.
Women interested in aviation careers will benefit from more encouragement and opportunities thanks to the new Women's Network at Embry-Riddle. The network is an effort by alumni, staff, faculty and industry mentors to create a supportive and enduring connection between women on campus.
Aeronautical Science professor Michele Halleran introduced the Embry-Riddle Women's Network during Homecoming 2019 on Oct. 12 with a panel discussion. Halleran has been a tireless advocate for women in science, technology, engineering and math (STEM) fields, drawing on her experience as an airline, corporate and seaplane pilot. She is also an Embry-Riddle alumna, earning her Master of Science in Aeronautics in 2004.
Halleran said she is on a crusade to increase the number of women aviators, as well as women in STEM. "There needs to be a cultural change so women are equally represented and equally paid in STEM fields. More women role models will encourage women to study STEM fields. Every minority knows that it is hard to be the only one that looks like you," she said.
Embry-Riddle women have been trailblazers. Notable graduates include Patrice Washington, the first African-American pilot of a major airline and astronaut Nicole Stott, who combined scientific duties and artistic creation aboard the International Space Station. As a NASA astronaut and scientist, trustee Janet Kavandi made astronaut status more accessible to women candidates.
In introducing a panel of Embry-Riddle alumnae, Dr. Audrey Butler acknowledged the strength of community and the trailblazing spirit of women in STEM. "We are symbols of change in the world. We carry on the legacy of all the Hidden Figures throughout history."
Her comments echo commentary that appeared in an article on Megan Smith, former Chief Technology Officer of the United States, featured in Reinvented magazine. Caeley Looney ('18) launched the STEM-focused publication targeted to young women this year. The aeronautical enginering graduate is a systems engineer at Harris Corporation.
Panelists Nancy Hocking (JetBlue, manager of Pilot Gateway Programs); Alison McHugh (FEAM, vice president of Safety and Regulatory Compliance), Suzanne Salat (Bombardier, chief pilot – Flight Ops.) and Caroline Vandedrinck (SR Technics Group, VP-Americas) fielded questions from the audience at the Mori Hosseini Student Union Event Center.
To put the current pilot population in context, Audrey Butler pointed out that as of 2018, only about 4.4 percent of airline pilots are female, with 7 percent certified by the Federal Aviation Authority. The percentage of female student-pilots at Embry-Riddle is 10 percent.
Recruiting more women is only half the challenge. Women need encouragement to stay in STEM programs, graduate and work in the aviation industry. "The College of Aviation has recruitment and retention efforts, but it is our duty to encourage women to enter and stay in the aviation industry," said Halleran.
Peer and industry mentors are part of the initiative. In the College of Aviation, Halleran has established a women's ambassador mentoring program. These ambassadors reach out to accepted female students and their families with a welcome and provide a friendly point of contact for questions and concerns. When female aviation students reach campus, peer-mentors help them adjust to their first year, academically and socially. Monthly mentoring meetings and phone calls with women in aviation keep them inspired and in touch with the industry.
A university-wide Women's Giving Circle will soon launch to remove financial barriers to prospective women who want to become Eagles. Alumnae and others interested in helping women will contribute $1200 a year, which will fund scholarships and build an endowment. Financial Aid will review applicants and members of the Circle will vote on the level of scholarship each recipient receives. The Women's Giving Circle will award the first scholarships in fall 2020 and recipients from all Embry-Riddle colleges are eligible.
In an October 2019 op-ed in Aviation Week, President Butler underscores the importance of welcoming more women into aerospace and aviation. "Gender parity is so much more than a goal. It really is non-negotiable if we are to sustain and grow the economic vitality of the innovation we serve."
Posted In: Aviation