Meteorology Professor Wins Dean's Leadership Service Award for his Storm Monitoring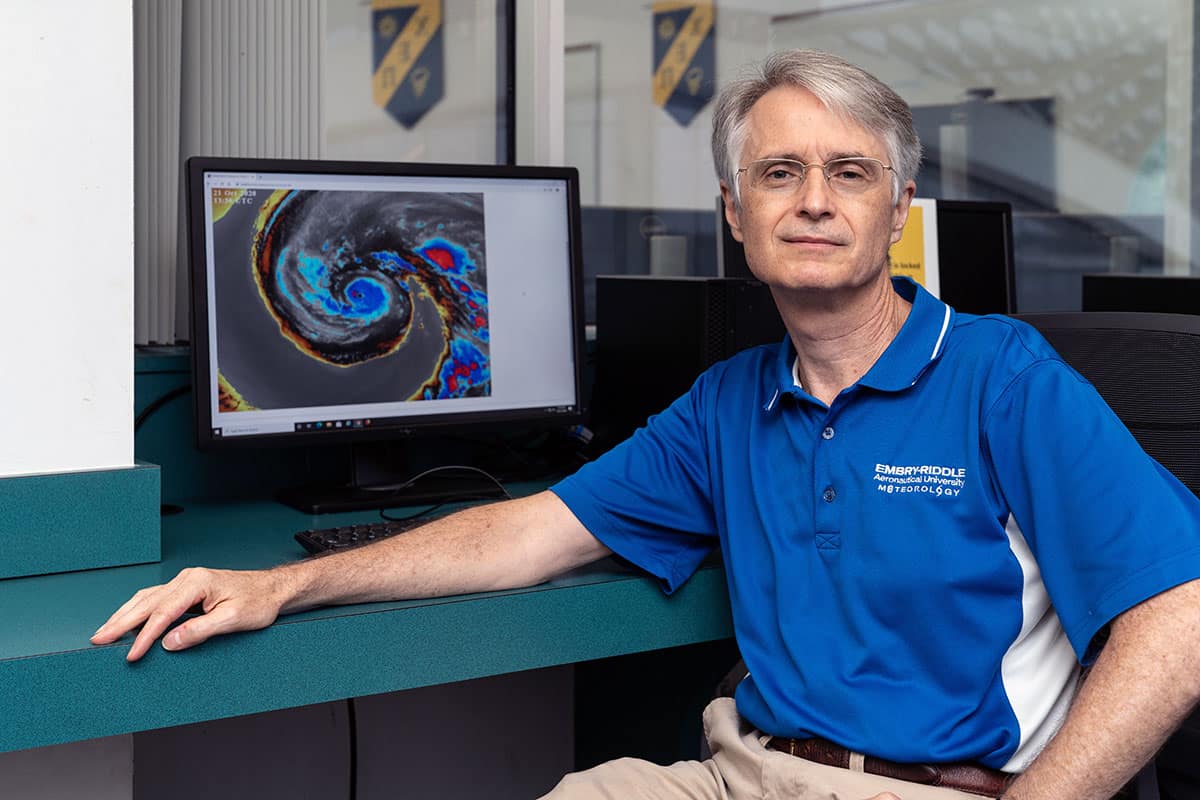 Randell Barry's love of flying turned into a fascination with weather, particularly storms. His passion for meteorology is now benefiting Embry-Riddle.
"My first love was aviation, but it wasn't in the cards for me to become a pilot, because I get motion sickness," said Barry, an associate professor of meteorology.
His extensive knowledge of weather has led to Barry serving the university both in and out of the classroom. Barry recently received the Dean's Leadership Service Award — which is supported by philanthropy — in recognition of his support for the university during hurricane season.
"For many years, Dr. Randy Barry has provided outstanding resource protection support to the university during hurricane season," said College of Aviation Dean Alan Stolzer. "His hurricane briefings have been attended by university administration, Daytona 500 staff members, Volusia County emergency management officials, and officials from surrounding colleges. Dr. Barry's 24/7 service during hurricane events is essential, informative, and truly inspiring."
Barry said he is happy to serve the university and community.
"I'm honored that people appreciate what I am doing," he said.
Originally from upstate New York, Barry received an Air Force ROTC scholarship and served for four years, including time working as a weather officer in the Air Force.
"I had operational weather support experience, in particular supporting aviation operations," Barry said. "I did aviation weather support in north Michigan in the 1980s, providing weather support to aircraft at that location."
Following his military service, Barry worked in the area of air pollution meteorology, completed his master's degree in atmospheric science at the State University of New York in Albany (SUNY), and then worked for a consulting firm on projects related to air pollution. In his late 30s, he decided to pursue a doctorate in atmospheric science at SUNY and his research examined the effect of hurricanes on large scale winds.
"I completed my Ph.D. and there was a position at Embry-Riddle," Barry said. "Given my interest in aviation, I applied and I was hired just as the university was starting its meteorology program and ramping up."
Barry began teaching meteorology at Embry-Riddle in fall 2002. The following year, he was asked to provide weather support to the flight line, on an as-needed basis, when the campus was threatened by tropical storms, hurricanes or cyclones. A succession of hurricanes hit Central Florida in 2004.
"[The year] 2004 was really baptism by fire — that was a very busy year," he recalled.
His work varies from storm to storm, but Barry says he interacts directly with the emergency operations team. To prepare for a storm, the university must carefully weigh decisions about moving aircraft and relocating students safely.
"It's always stressful, because with forecasting, in general, there is always a degree of uncertainty," Barry said.
One of the most memorable storms to hit campus and cause significant destruction to university buildings and aircraft was a weather disturbance that Barry did not monitor, because the tornado unexpectedly hit the Daytona Beach Campus on Christmas Day 2006.
"It was quite a surprise," Barry said.
Barry's role has evolved over the years to now include support to the entire campus, as well as instances of support to organizations outside of Embry-Riddle.
"I see my role as just trying to keep the university leaders and flight line informed on how this could impact us," he said.
When he is not helping the university with weather support, he is focused on teaching his meteorology students, some of whom have presented research at conferences and pursued graduate studies.
"What I like best is the interaction with students," Barry said. "The challenge is trying to come up with the best ways to get these complex lessons across to students."
Posted In: Aviation