Mental Health Efforts Advance Aviation Safety, Student Success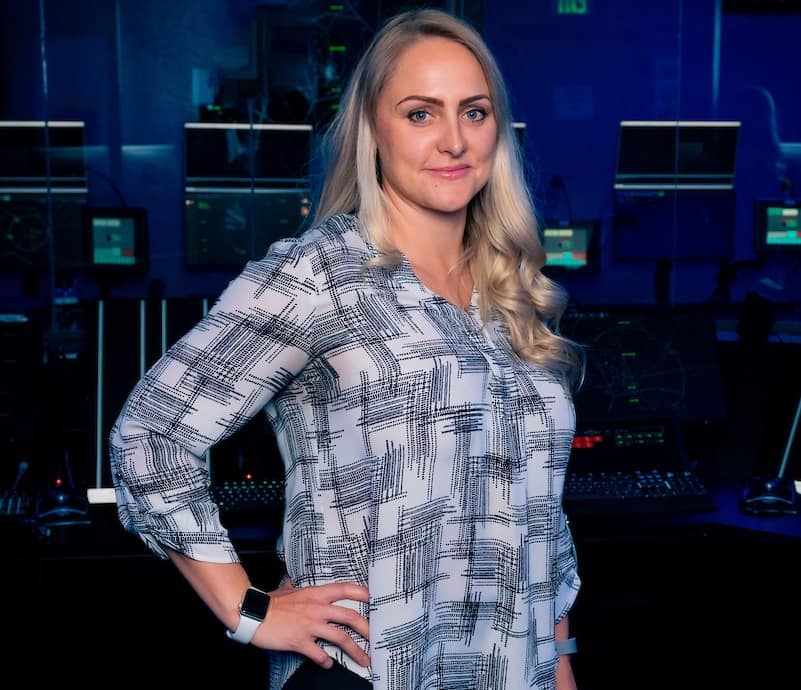 While raising three children and finishing her Ph.D., Jennah Perry, an associate professor and chair of the Applied Aviation Sciences department at Embry-Riddle Aeronautical University's campus in Prescott, Arizona, decided to take the Aviation Stress Management course that she had launched several years ago.
Perry took the course — developed in collaboration with the FAA Air Traffic Organization's program support team and the Civil Aero Medical Institute, based on curriculum that NASA uses to train astronaut candidates on stress management — because she thought she might need to teach it at some point. She didn't realize, however, just how big an impact it would have on her life.
"The course changed my life as a professional, improved my happiness, reduced my stress and made me a better parent," she reported. "I feel like a different person because I now know how to more effectively manage my stress."
The Aviation Stress Management course is intended to prevent crises before they happen by giving students the tools they need to navigate challenging events, both in life and in professional settings, Perry noted. Taught by Anastasia Rivera, who also works with collegiate athletes and coaches to mitigate the negative effects stress can have on performance, the Embry-Riddle course is aimed at educating students on how stressors affect them physically, physiologically and emotionally.
"Students are taught ways to reduce their overall stress levels so they do not succumb to the negative impacts that sustained, undermanaged stress has on their academic performance, success, mental health and overall wellbeing," Perry said.
A graduate of Embry-Riddle who has spent time at all three of the university's campuses, Perry said the stress management course would have helped her tremendously back when she was a first-generation college student. For students, Perry said, "One of the biggest barriers to college student success is not being able to effectively manage their stress, and undermanaged stress plays a huge role in students' mental health and wellness."
Based on preliminary research as well as anecdotal evidence, "The course has the potential to be very impactful, by reducing students' perceived stress levels and increasing student success," Perry said.
Communicating Clearly
The course is one of several different ways that Embry-Riddle is working to advance aviation safety and student success by promoting good mental health. Embry-Riddle is also stepping up its communication with students and collaborating with other aviation schools to promote best practices. Further, a new Aviation Mental Health Task Force has been put in place.
Last December, Embry-Riddle's Dr. Ken Byrnes, chair of the Flight Department at the Daytona Beach, Florida, campus, participated in a national Aviation Mental Health Summit convened by the University of North Dakota (UND). The conference — planned in response to the suicide of a student in a UND-training aircraft — drew other aviation schools, the U.S. Federal Aviation Administration (FAA), major airlines, cargo companies, the Air Force and many other organizations.
"The summit highlighted the general lack of knowledge, understanding and trust surrounding the current processes for members of the aviation community to seek mental health care services," Byrnes reported. Presenters from the Federal Air Surgeons office, researchers, airlines and educators shared knowledge and best practices, and they dispelled myths on mental health issues. Participants highlighted the effectiveness of peer support networks at major airlines, and they looked at whether a similar peer network could be established at the university level. The event culminated with action items to increase communication and collaboration, develop educational materials, and complete research on mental health in aviation, Byrnes added.
After the summit, Embry-Riddle followed up by directly emailing every aviation student at both of its residential campuses. "We urge all students — regardless of degree program and particularly those in our flight training program — to ask for help when they need it," wrote Dr. Tim Holt and Dr. Alan Stolzer, deans of Colleges of Aviation at Prescott and Daytona Beach, respectively.
"In the vast majority of cases, reaching out for emotional support will not result in Flight students being deemed unfit to fly or having their FAA Medical Certificate revoked," the deans wrote, in an effort to remove some of the stigma associated with asking for help. "When renewing a Medical Certificate, in fact, pilots only need to report visits to counselors if the visit was related to a personal substance-abuse or diagnosed psychiatric condition."
The deans' message to students outlined the privacy rules related to counseling services and provided information on how to access emotional support services through Embry-Riddle.
New Task Force
In announcing a new Aviation Mental Health Task Force at Embry-Riddle, Dean Stolzer noted that today's students "are under a lot of stress and pressure, including financial, relationships, work and more, and this is only compounded by the current pandemic." Embry-Riddle students are also engaged in academically rigorous and demanding programs, which may sometimes feel overwhelming, he noted.
The new task force, headed up by Dr. Frank Ayers, professor of Aeronautical Science, will develop evidence-based recommendations on how the university can most effectively help students succeed, Stolzer said. The task force will look at an array of issues, "whether it's examining unnecessary barriers in our policies and procedures that cause anxiety, and better coordinating communication and services to our students and various constituencies, or identifying training opportunities to help us recognize indicators of mental health issues," Stolzer added.
So far, the task force — which is focusing on all aviation students, not just pilots — has met four times. The group, including Chaplain David Keck and Counseling Center Director Teresa Michaelson, among others, is preparing to survey students. It is also developing communication materials to help debunk harmful myths and identify near- and long-term deliverables.
Support for Students
Embry-Riddle provides comprehensive emotional support services for all its students, as follows:
On the Daytona Beach Campus, students can log onto the university intranet (ERNIE) and visit the Counseling Center website. They can also call 386-226-6035 with any questions about services.
On the Prescott Campus, students can log onto ERNIE and visit the Counseling Center website. They can also call 928-777-3312.
Students across all of Embry-Riddle's campuses also have access to 24/7 remote mental health services worldwide through My SSP. Download the My SSP app for free from the App Store or call 866-492-2252.
In case of a mental health emergency, call 911 or Embry-Riddle Campus Safety (386-226-6480 at the Daytona Beach Campus, or 928-777-3333 at the Prescott Campus).
Byrnes noted that students may experience anxiety about seeking mental health support. Too often, he said, they may wrongly believe that seeking help will negatively impact their FAA medical status and career progression.
"We want our students to know that we are concerned for their wellbeing, and we want them to seek assistance when they encounter a mental health situation," Byrnes said. "That it is not a career-ending situation. In fact, seeking support will provide them with guidance to get healthy so that they can resume their flight training and progress in their aviation career."
Embry-Riddle has developed a fact sheet that debunks FAA and pilot mental health misconceptions. Review that fact sheet online.