Meet the 2023 Class of Boeing Scholars at Embry-Riddle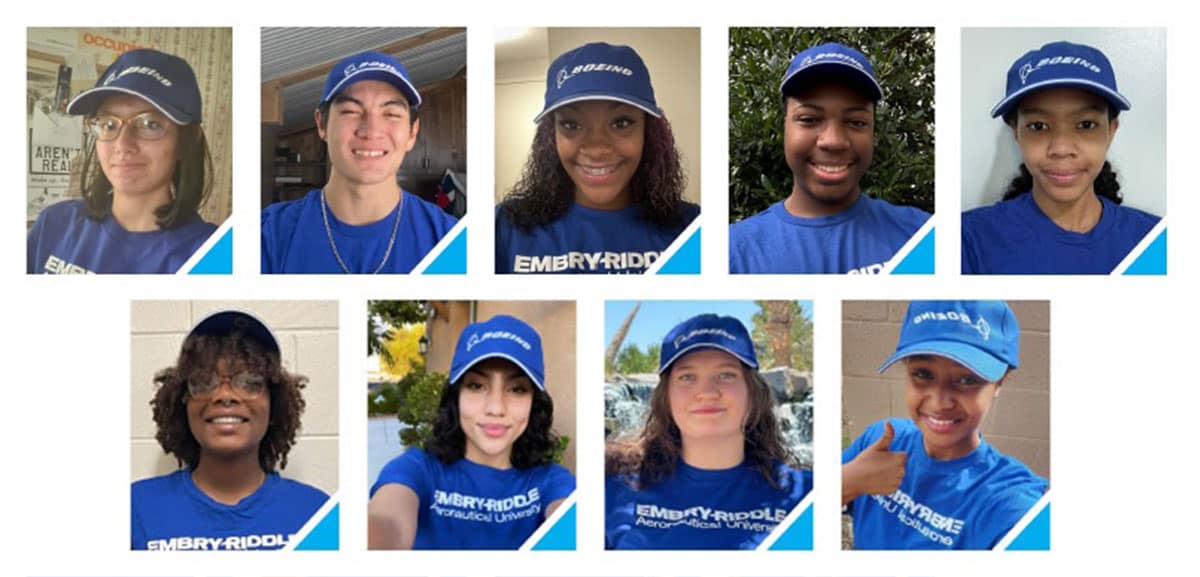 Aspiring pilot Kristy Magana, who was an exceptionally good student in high school, had a scare this past summer when she worried she couldn't attend her first-choice college: Embry-Riddle Aeronautical University.
"There was a moment of despair when I thought my finances might prevent me from attending," she says. "However, I received a letter from the school one day announcing that I had been awarded a scholarship from The Boeing Company. This scholarship not only eased my financial burden but also came with perks like participating in group projects, visiting Boeing facilities and potential internships. It was a turning point in my journey."
Boeing will award nine outstanding freshmen with scholarships of $5,000 to $7,500 per year for two years as the students begin degrees at Embry‑Riddle this fall. The scholarships are supported by a $3 million endowment from Boeing, the world's largest aerospace company and leading aircraft manufacturer.
The Boeing Scholars at Embry‑Riddle Aeronautical University program targets students interested in pursuing such studies as Aeronautical Science and Aviation Maintenance Science at the Daytona Beach and Prescott campuses. The scholarships, which will fund a portion of each recipient's room and board, are part of an ongoing effort to expand the aviation workforce pipeline.
Exceptional academic achievement and demonstrated financial need determine which students are chosen. This is the fifth year that students entering Embry‑Riddle have been awarded these scholarships. They represent a cohort that is 78% female and 78% from underrepresented populations, its members hailing from nine different states. Sixty-nine of the scholarships have been awarded since 2019.
2023 Boeing Scholar Stats
Key Programs in Aviation
78% - Aeronautical Science (Professional Pilot)
11% - Aviation Maintenance Science
Key Programs From STEM Day
11% - Aerospace Engineering
Diversity
78% - Female
78% - Underrepresented Populations
Academics
4.33 - Average GPA Score
1,314 - Average SAT Score (5 out of 9 awardees submitted SAT/ACT scores
"The Boeing Scholarship Program is an extremely valuable facet of Embry‑Riddle's collaboration with The Boeing Company," said Embry‑Riddle President P. Barry Butler, Ph.D. "As we face a growing need for pilots, aircraft maintenance technicians and others in the aviation industry, we must broaden the talent pipeline so that it includes students with different perspectives. We are honored to partner with Boeing to enrich and enhance the aviation workforce and the lives of Embry-Riddle students."
Students chosen for this program are offered networking and mentorship benefits, including trips to Boeing facilities, group projects, speaker presentations, meet-and-greets with Boeing employees and interviews that can result in on-the-spot job and internship offers.
"Boeing is proud to provide aspiring pilots, avionics engineers, mechanics and technicians with opportunities they may not have had to soar in aviation," said Christine Ramsdell, director of Boeing Global Engagement — Higher Education Relations. "We know these students will take off in their careers, and Boeing is happy to play a small part in that success through the scholarship program."
Boeing hosts some 1,500 summer interns each year, of which 61 came from Embry‑Riddle this year. Boeing Scholar Somaralyz Grullon, who was awarded her scholarship in 2020, interned with a Boeing subsidiary, Aurora Flight Sciences, last summer. She will have a formal learning opportunity there next summer after she graduates, and she is in talks regarding full-time employment. Faith Vasquez, a 2021 Boeing Scholar, had an internship with Boeing this summer and plans to return next summer.
Boeing also offers Embry‑Riddle a number of other valuable programs for students. The Boeing Career Mentoring Program, a highly selective initiative that matches 30-40 students per year with Embry‑Riddle alums who work at Boeing for formal mentorship, is offered to all students at both residential campuses. The program includes career preparation advice, as well as regularly scheduled professional development workshops. Career Services leaders at Embry‑Riddle's campuses meet with the Boeing Core Team (Eagle alumni who work at Boeing) for regular status updates.
Interns on both Embry‑Riddle residential campuses — in Daytona Beach, Florida, and Prescott, Arizona — can become Boeing Student Ambassadors, who work closely with Career Services to help prepare students interested in working for Boeing and inform them of available opportunities ahead of fall recruiting.
In addition, Boeing participates in Embry‑Riddle research activities, the company is represented on college industry advisory boards on campus, and the university takes part in the annual Boeing Summit. Boeing has also donated funds to Career Services at both residential campuses to help produce Boeing Development Days, special speaking engagements and events that promote communication and leadership skill development for students from a wide range of backgrounds. In March this year, Boeing announced a $5.1 million donation for a new Boeing Center for Aviation & Aerospace Safety at Embry-Riddle — a research center that will engage students in efforts to drive safety advancements.
For Everett Young, who is majoring in Aviation Maintenance Science, the scholarship was a validation.
"I'd say the best part of the Boeing Scholarship is the confidence and reassurance it gives me that I can succeed," Young said. "It tells me that I have the potential to do something great and succeed in my course path, and it helps keep me on track and focused on my studies."
Aeronautical Science major Lailia Gregston said the scholarship "empowers me to approach my academic journey with a greater sense of support and enjoyment. This scholarship is helping me to realize my lifelong dream to be an aviator."
Meet the Class of 2023 Boeing Scholars at Embry‑Riddle
All selected scholars are high-performing high school students with exceptional grade-point averages.
California
Kristy Magana of Hesperia, California, Oak Hills High School
District of Columbia
Liyat Tsehai of Washington, DC, Cardoso Education Campus
Florida
Nyaire Watson of Sun City Center, Florida, Riverview High School
Georgia
Callista Herdt of Alpharetta, Georgia, Creekview High School
Nevada
Lailia Gregston of North Las Vegas, Nevada, Rancho High School
New Jersey
Matthew Phillips of Mount Laurel, New Jersey, Lenape High School
Oklahoma
Shii-Ann Madison of Tulsa, Oklahoma, Broken Arrow High School
South Carolina
Layla Love of Beaufort, South Carolina, Whale Branch Early College High School
Texas
Everett Young of Weatherford, Texas, Weatherford High School
Posted In: Aviation | Institutional News