Embry-Riddle Librarian Spends 43 Years Helping Students Succeed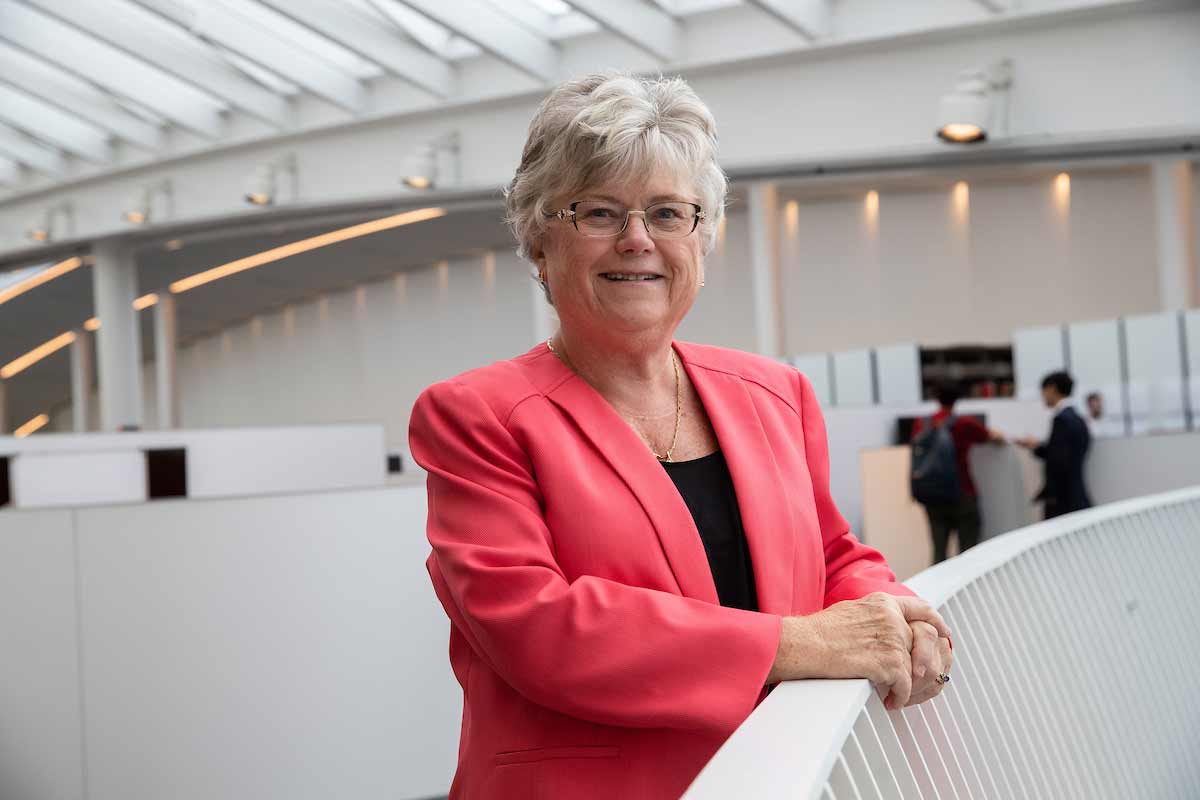 The Internet didn't exist. Students used electronic and manual typewriters and would find books for various research projects through the old paper card catalogs, stored within long drawers in huge wooden shelves. If they needed a particular article in a magazine or scholarly journal, they sifted through the pages of the Readers' Guide to Periodical Literature.
It's a sharp contrast to the state-of-the-art library in the newly opened Mori Hosseini Student Union, a project Citro has been working on even before the old library was torn down three years ago. Inside the new library's two, light–filled floors in the Student Union, group study pods with large monitors and movable white boards allow students to work collaboratively. Data and charging ports abound, quiet team workspaces, modular furniture, more than 90 computer workstations and even individual wrap–around private cubicles with footrests are scattered throughout the futuristic learning space.
As Citro nears her retirement, she looks back on the joys of helping students and the kind gestures they have shown library staff over the years, from trays of oysters and tea from Saudi Arabia to the numerous appreciation emails for assistance with research papers.
"Any time you interact with a student, you are in a teachable moment," said Citro, who has sometimes taught generations of the same family. "The whole process of digging and finding information is teaching students critical thinking and life-long learning skills."
The original library at the Daytona Beach campus was just a couple of classrooms and well under 2,000 undergraduate students on campus when Citro started in 1975 as a reference technician. Today, there are close to 6,000 undergraduate and 629 graduate students.
Citro has worked under six presidents and three interim presidents, including Embry-Riddle's first president, Jack R. Hunt, for whom the library was named in 1985. She is also one of an elite group of only five employees at Embry-Riddle with 43-plus years.
"The opportunity to continue learning is inherent in any librarian's life, here even more so because we have to learn the subject matter and the technology behind it," said Citro, who has a Master of Education degree and Specialist of Education degree. "When a student wants to know about a magneto (engine driven electrical generator), we need to know what it is and how to find that information."
She also helped combine residential and distance learning reference library services as Embry-Riddle became one of the first schools in the nation to launch distance learning classes with its Worldwide Campus in the late 1970s.
Because of her innovative approaches and lifelong dedication to the library sciences, she recently received the Northeast Florida Library Information Network Distinguished Career Award. Colleagues who nominated Citro describe her as an "unsung hero in the greater library world and daily hero in the Hunt Library" for her profound impact on Embry-Riddle students in their future careers.
"It is hard to imagine a Hunt Library without Kathleen's guiding hand," said Anne Marie Casey, Ph.D., dean of Scholarly Communication, who will succeed Citro as Library Director. "She has been a voice for student support from the days of the small library where she started, to the magnificent new space she was instrumental in shaping."