Launch. Land. Repeat. From Internship to Career at Blue Origin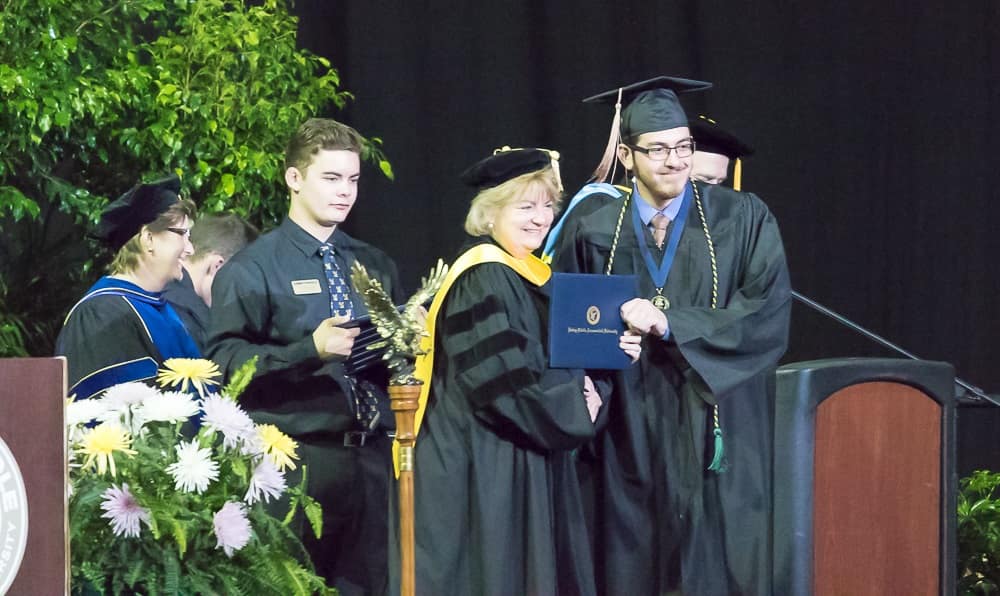 Prescott business alumnus Al Garofalo (Global Business -- '16) proves that the real-world challenges in Embry-Riddle courses directly correlate to real opportunity. Garofalo's degree in Global Business resulted in an internship and then a job offer from Blue Origin, which is best known for private space travel. Without hesitation, he accepted.
"I'm super excited," said Garofalo. "It's everything I wanted in a company – the culture, the attitude, their approach to business. Fit was very important to me and from the internship last summer I know I perfectly fit in."
Blue Origin, set up by Amazon founder Jeff Bezos, is becoming a major influence in the modern space race. Their motto Gradatim Ferociter "step by step, ferociously" sets the company culture and is best illustrated by the fact that on June 19 they launched the same rocket booster, the New Shepard, for the fourth time. It reached a height of 331,504 feet and then successfully returned upright to the landing pad. This latest flight demonstrated the capsule's ability to land safely with a failed parachute. Accomplishments such as these reflect the teamwork culture work at Blue Origin.
"Inside it's all about being on one team," said Garofalo. "Through my role, I worked with many groups and disciplines from engineering to testing and operations. Some of us interns chose to meet together, collaborate, and give each other feedback on our very different projects. It's an incredible environment to work in."
Garofalo interned in the Finance and Business group working in procurement. His demonstrated ability to work well within the organization while understanding the business processes led to his assignment to the Test Operation group in the Texas Suborbital Launch Facility to work in supply chain.
"As an intern, I was given management of an entire project and empowered to complete it," said Garofalo. "That level of experience and opportunity was huge in the internship, and the trust I was given was a tremendous and satisfying challenge."
At Embry-Riddle, Garofalo took several business consulting classes. He was lead for three projects – one in marketing and sales with Synergy Air, one in logistics and supply chain management with Costco, and one in strategic management for a consulting company. The consulting classes are taught by Professor Rick Gibson who has experience as a business consultant in national and global markets. Presently, there is a six-month waiting period for companies to get assigned to one of the student teams.
"My experience in class was key," said Garofalo. "The consulting projects helped me take a high-level approach to business. I learned to ask questions about processes, which is a very beneficial activity few companies engage in internally. I could be objective about decisions and direction."
Garofalo is the first Business alumni from the Prescott campus to be employed by Blue Origin.
"At Blue Origin, I found incredibly smart people who share my deep passion for human spaceflight. Space exploration is starting to become exciting once again, and I look forward to playing a part in it."
Find out more about Prescott's Global Business degree.