Latina Pilots Unite! New Student Group Promotes Equality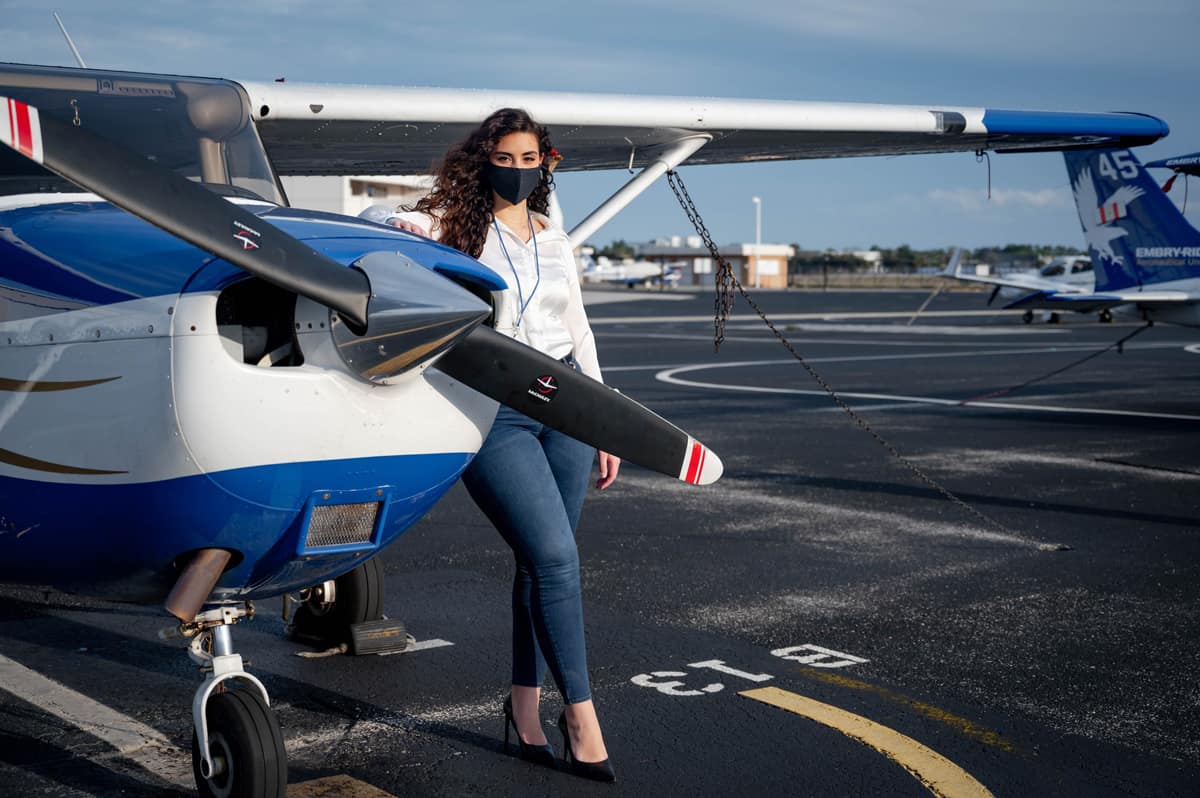 Claudia Zapata-Cardone achieved her dream of becoming a pilot for United Airlines in 2015, but getting there wasn't easy. As a Colombian-American woman in a male-dominated field, she said that she has faced multiple discriminatory biases in the airline industry, including being told she was not physically strong enough to be a pilot.
Beginning her career as a flight attendant, she said that she has had to work hard to overcome many conscious and subconscious biases as she advanced in her career. Rising above to ensure that future Latina pilots don't face the same challenges has become a driving force behind her support of a new organization on Embry-Riddle Aeronautical University's Daytona Beach Campus.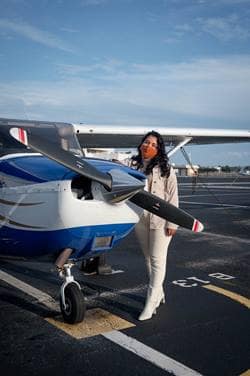 Raquel Villagomez, Aeronautical Science senior, serves as the executive director of the ELLAS.
The Empowering Latina Leaders Aviation Subcommittee (ELLAS) formed this year as the newest branch of a more nationally recognized nonprofit organization, the Latino Pilots Association (LPA). Zapata-Cardone, who was promoted to captain in 2019, serves as the LPA's community outreach director.
"The aviation industry is an industry where most women of color will tell you they 'feel' their gender first, followed by their race or ethnicity," said Zapata-Cardone. "By feel, they face discriminatory behaviors based on their gender first, followed by other social identities."
She recalled being told that she was only hired as a pilot because of minority quotas, that women are too emotional to fly and that she was not qualified for her role, even though she had the same number of flying hours as her classmates.
The ELLAS' mission is to build confidence and empower Latina aviators by offering unique mentorship, workshops for mental and physical well-being, guidance on overcoming microaggressions and access to a recruitment community.
ELLAS Executive Director Raquel Villagomez is an Aeronautical Science senior at Embry-Riddle. Much like Zapata-Cardone, she said she has experienced inequalities in the field.
"I finally felt seen and heard in the aviation industry with ELLAS," said Villagomez. "It gave me a lot of hope — not only for myself but for other women and Latinas."
As one of the only Latinas in a private ground school during her freshman year, she said she had trouble finding mentors who shared her background and could understand her personal struggles and perspective. That experience became the seed of the ELLAS idea, which she began pitching to classmates and the LPA.
"The feedback was astonishing," she said, adding that her email to the LPA began circulating to Latina pilots, many of whom empathized and offered their support. "I could tell how urgent this issue was to them."
ELLAS now meets biweekly on campus to support and educate each other.
If you can see it, you can achieve it. We need Latinas visible and reaching out to younger Latinas so that they can believe that there is space for them in every career they choose.
According to the U.S. Bureau of Labor Statistics, 5% of those identified as Latinx have jobs as pilots. However, the Latinx community currently makes up only 18.5% of the population, according to the U.S. census. At Embry-Riddle, approximately 14% of pilots are Hispanic/Latino, according to assistant professor of Aeronautical Science Jorge Diaz Albelo.
"We have many Latinas in the aviation industry, but still far too few Latinas in leadership positions — and we aim to change that," said Zapata-Cardone. "If you can see it, you can achieve it. We need Latinas visible and reaching out to younger Latinas so that they can believe that there is space for them in every career they choose."
The ELLAS are now focusing on recruitment, reaching out to K-12 programs in the Daytona Beach, Florida, area to advocate for STEM and inspire children of all ages to follow their dreams.
"When Latinas band together to lift each other up, we lift up the entire Latinx community," said Zapata-Cardone. "We open doors and opportunities to careers that appear unattainable. … I will not stop mentoring and inspiring other Latinas until we create an environment where seeing a Latina pilot is no longer a rare event but the norm."
Those interested in joining or supporting the organization can contact Villagomez at villagr1@my.erau.edu or www.ellasoflpa.com.
— Written by Victoria West
Posted In: Aviation