Always Faithful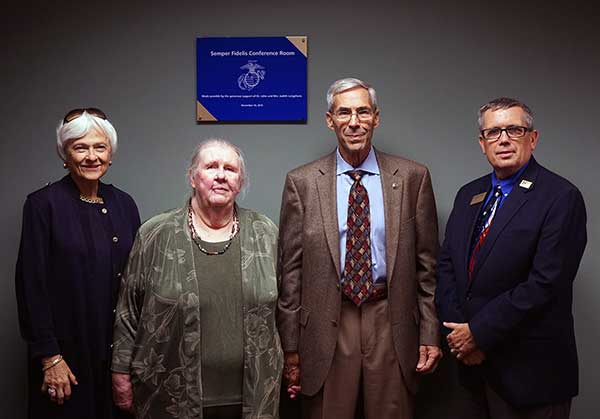 John Longshore honors the Marine Corps and Embry-Riddle's College of Business with his gift.
John Longshore ('81, DB; '84, WW) knew he wanted to be a U.S. Marine when he was eight years old and saw a wall full of medals on display at a friend's house. His friend's father had served heroically during World War II.
"I'd talk to his dad, and I was just so impressed," said John, an assistant professor of management at Embry-Riddle's College of Business at the Daytona Beach Campus.
John's passions in life became the U.S. Marine Corps and business education. He spent more than 20 years as an active duty Marine, including serving as a helicopter pilot in the Vietnam War. He earned two business degrees from Embry-Riddle and worked in private industry, but his love for teaching eventually drew him back to his alma mater.
After years of dedication to his beloved Corps and a rewarding career at Embry-Riddle, John and his wife, Judy, decided to make a gift that would honor both the Corps and the college.
"We wanted to do something unique for the university and for the College of Business, because I have the utmost respect for what it does," John said.
We wanted to do something unique for the university and the College of Business, because I have the utmost respect for what it does."
The Dr. John and Judith Longshore Endowed Scholarship will support a full-time undergraduate or graduate student enrolled in the College of Business at the Daytona Beach Campus. The couple's gift also names a College of Business conference room the "Semper Fidelis Room," in honor of the Marine Corps motto.
"The Marine Corps is such an integral part of John that you can't separate the two. It means so much to him," said Judy. "He sees daily through the students, especially those who have had prior military service or who are active duty, how important it is to carry on the tradition and how closely woven Embry-Riddle is with the military community. So it was just the right thing to do."
The Semper Fidelis Room was dedicated on Nov. 10, 2016 — the 241st birthday of the U.S. Marine Corps.
"I think what this symbolizes is so important, because when your own people care enough to invest in your school, that's very meaningful," said Karen Holbrook, Embry-Riddle's interim president.
A Marine and a Businessman
Born and raised in Georgia, John joined the Marine Corps and served two tours during the Vietnam War. He married Judy, who was a teacher in St. Petersburg, Fla., when he returned from the war.
"We had known each other for three months and got married," he said.
The couple, who have one son and two grandchildren, moved more than 30 times during his career.
"It was a challenge for both of us," Judy said. "He was gone for half of his Marine Corps tour."
The couple lived in Port Orange, Fla., in the 1980s and John attended the Daytona Beach Campus, where he earned a bachelor's degree in management. Later, when he was stationed in Virginia Beach, he earned a Master of Business Administration in Aviation at Embry-Riddle's Worldwide Campus.
As he neared graduation with his master's degree, John was introduced to teaching. "They gave me a Worldwide class," he recalled. "I taught that class and I thoroughly enjoyed it."
John worked in private industry after retiring from the military in 1988. He worked for Northrop Grumman, Booz Allen Hamilton, Kay and Associates, TRW and Aviation Consulting Group — and spent 10 years in Kuwait doing consulting work. He eventually settled in DeLand, Fla., and started teaching at Embry-Riddle's Daytona Beach Campus.
John has served as an associate professor at Embry-Riddle since 2014. He was an adjunct professor at the university, starting in 2012.
"Dr. Longshore came back to us after almost 20 years of industry experience with some of the most important names in the technology and defense industry," said Dawna Rhoades, chair of the department of management, marketing, and operations. "Since returning, he has revived several classes that have become very popular with students. He has also reignited the concept of real world, project-based learning and contributed money through these projects for our scholarship fund."
John said he supports Embry-Riddle with his time, talent and finances because it makes a difference for students. "I like to see people strive to reach their potential. At Embry-Riddle, it's our job to develop individuals," he said.
He also feels a loyalty to Embry-Riddle, as he does for the Marines.
"Semper Fi means 'Always Faithful,'" John said. "You have to be always faithful to your Corps and your college."
Support Embry-Riddle with your gift today.