It's "Game On" for Embry-Riddle Prescott's Gold Wings E-Sports Team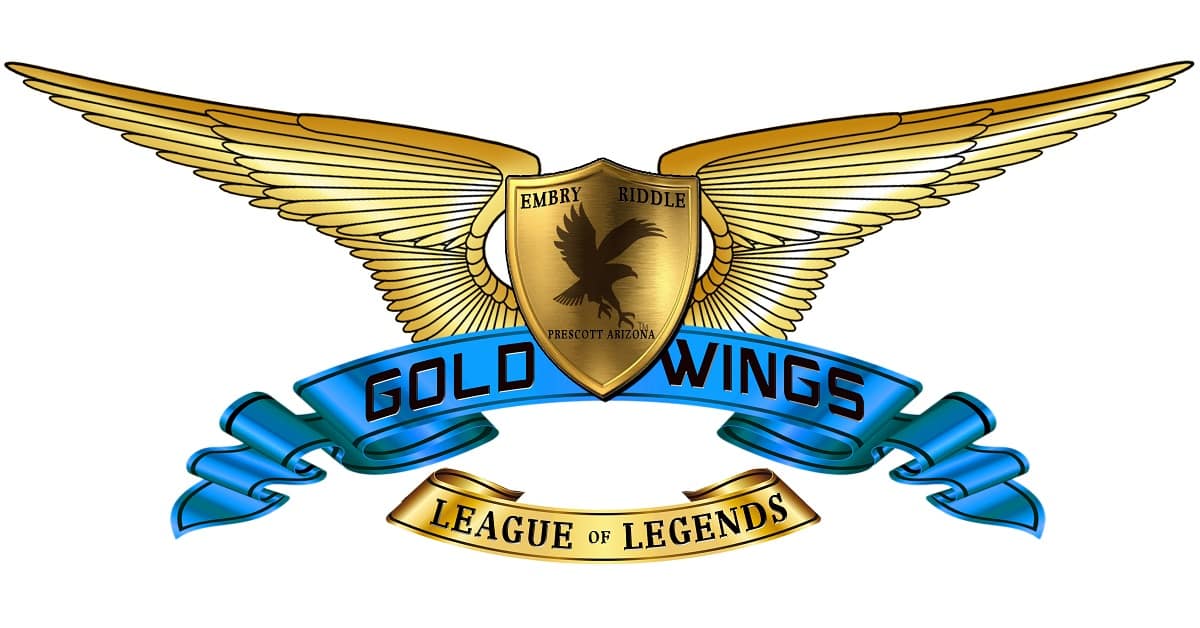 Embry-Riddle's E-Sports team has some big plans for this season.
"I want us to move up to become the strongest team in Arizona by my senior year, two years from now," said Braxton Rod, Captain of the ERAU Prescott Gold Wings. "I want Embry-Riddle to be known for its strong E-Sports organization, led by the Division One League of Legends Team." 
Considering such lofty goals, the team is aptly named: The Gold Wings, Embry-Riddle's Division One E-Sports team in the Collegiate Star League (CSL). They aspire to fly to the top of the rankings and establish themselves as a mainstay, not just among the league's elite teams, but in the video game industry and worldwide competitive gaming as well.
The team's first goal is to rank among the top 50 teams in the league. No small feat, considering that the league is comprised of dozens of divisions and literally hundreds of fellow collegiate teams. Yet, if they can break into the top 50, Gold Wings will have a greater reach for support from online viewers 'tuning in' to watch their competitions online, via Twitch. With that established, their competitive edge and experience in the games will do the talking—all under the guidance of their head coach, Derek 'Lohpally' Abrams, who is just one of the things which sets the Gold Wings apart from their competition.
"To my knowledge," explained Rod, "we are the only team with a coach of 'Lohpally''s caliber."
Coach Abrams analyzes game footage, observes practice sessions, and focuses in on what each player—and the team as a whole—can do better. Imparting advanced techniques and strategies the team had previously no exposure to has gone a long way to establishing a new standard of professionalism among this relatively young team. Rod is grateful to have such a great coach in Abrams, who has played and coached E-Sports at a professional level prior to coming to Embry-Riddle.
The Gold Wings are enjoying their second year as Embry-Riddle's E-Sports team, and competes at the Division One level—the highest league collegiate teams can play at. Thanks to the recent formation of Embry-Riddle's new Simulation Science, Games and Animation Degree as well as the growing popularity of E-Sports competition among colleges and universities nationwide, ERAU has also added two other teams this year to compete in lower level divisions and act as a recruiting pool for the Gold Wings Division One team.
"With the three teams, we have an infrastructure that other colleges don't have," said Rod, "We now have a learning-period for new players. Typically, if you are not on a starting roster of a team, then you get little-to-no playtime. With these two teams, we can recognize players that have the potential to be strong and give them a place where they can experience a competitive environment and be mentored by the players from our Division One team."
The development of Embry-Riddle's Simulation Science, Games and Animation Degree has been a boon for the Gold Wings, as well as a source of pride. ERAU's participation in the E-Sports league will give students of the Simulation Science, Games and Animation Degree an outlet to express themselves and to develop friendships with their peers.
"We will have a way for those who want the major to create a community," said Rod, "as well as represent Embry-Riddle and show the rest of the country how good we are."
Currently, the team is focusing solely on competing and mastering the game League of Legends (LOL), a complex and exciting challenge that takes only minutes to learn but a lifetime to master. The Gold Wings have chosen this game as their specialty, hoping to diversify into other qualifying competitive games in the future, like Starcraft 2, Overwatch, or Madden NFL—to name a few. This current season, which began in late January and will end in May, has the Gold Wings currently pitted in Regional Playoffs with only 16 remaining teams in the division. If if the team remains focused on their goal, Embry-Riddle will find continued success in upcoming tournaments and showcases.
When asked what a school must do to be respected by rival teams within the Collegiate Star League, Rod explained, "Getting into the league is the easy part, you just need to sign up and play. Recognition is the hard part. But our players will grow stronger through our mentoring system—having our more experienced players teach new players what they have learned."