Inspiring the Next Andy Becker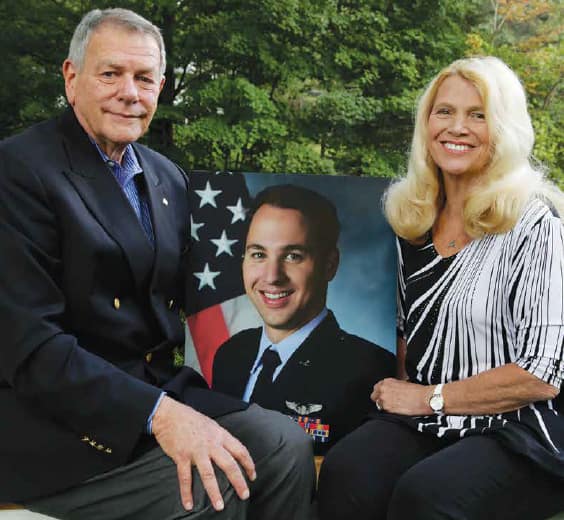 Couple endows scholarship to honor their son's memory and to inspire others.
Gary and Stacey Becker didn't know all of their son's accomplishments: Andrew "Andy" Becker, a 2007 graduate of the Daytona Beach Campus, was far too humble to tout them himself. And, as a member of Air Force Special Operations Command, those accomplishments were often kept secret.
"We knew a little bit about what his plane did, the U-28. He'd be very careful about how much he would tell us. We knew he'd gotten some medals and promotions, but it was at the memorial service at Cannon (Air Force Base outside of Clovis, N.M.) that we got more of the story," Gary says.
Andy died March 14, 2017, almost 10 years after receiving his officer's commission at Embry-Riddle's Air Force ROTC Detachment 157.
The 33-year-old pilot from Novi, Mich., who is survived by his wife, Shelly, was one of three service members killed when their U-28A crashed near Clovis Municipal Airport.
A Shining Example
After Andy's passing, Gary heard glowing accounts of his son from colleagues and superiors alike.
"He was a captain, due to be a major. They gave it posthumously to him. I watched a service held at Embry-Riddle where Lt. Missi Patterson was asked to speak. It was a wonderful thing when she said: 'He was the officer I hope I can become.' That's pretty special stuff to hear about your son." Patterson served with Andy in the same special operations squadron in New Mexico.
We truly believe that Embry-Riddle and the ROTC detachment were the pivot points for him. This scholarship was our way to perhaps inspire the next Andy Becker.
It was a tragic end to a stellar career, where he served nine combat deployments and earned 22 medals along with various awards, promotions and honors. Gary says Andy had natural skills and abilities, especially when it came to sports, but he didn't always apply himself in the classroom.
"It wasn't automatic that he would succeed," Gary says.
But after 9/11, Andy found a cause that struck a chord with him. He set his sights on Embry-Riddle because its Air Force ROTC detachment was the biggest and best in the country. "His grades got better. It gave him a chance to develop leadership skills. It gave him discipline to see something through," Gary says.
That's why, when they were considering a memorial plaque or other symbol of remembrance, Gary and Stacey decided to endow a scholarship in Andy's name.
"We just thought a scholarship, rather than a memorial on the ground someplace, would be more permanent and inspirational," Gary says. "It's our way to say thank you. We truly believe that Embry-Riddle and the ROTC detachment were the pivot points for him.
"This scholarship was our way to perhaps inspire the next Andy Becker."