Improved Design for CubeSats, New Database for Magnet Materials and Other Research Showcased by McNair Scholars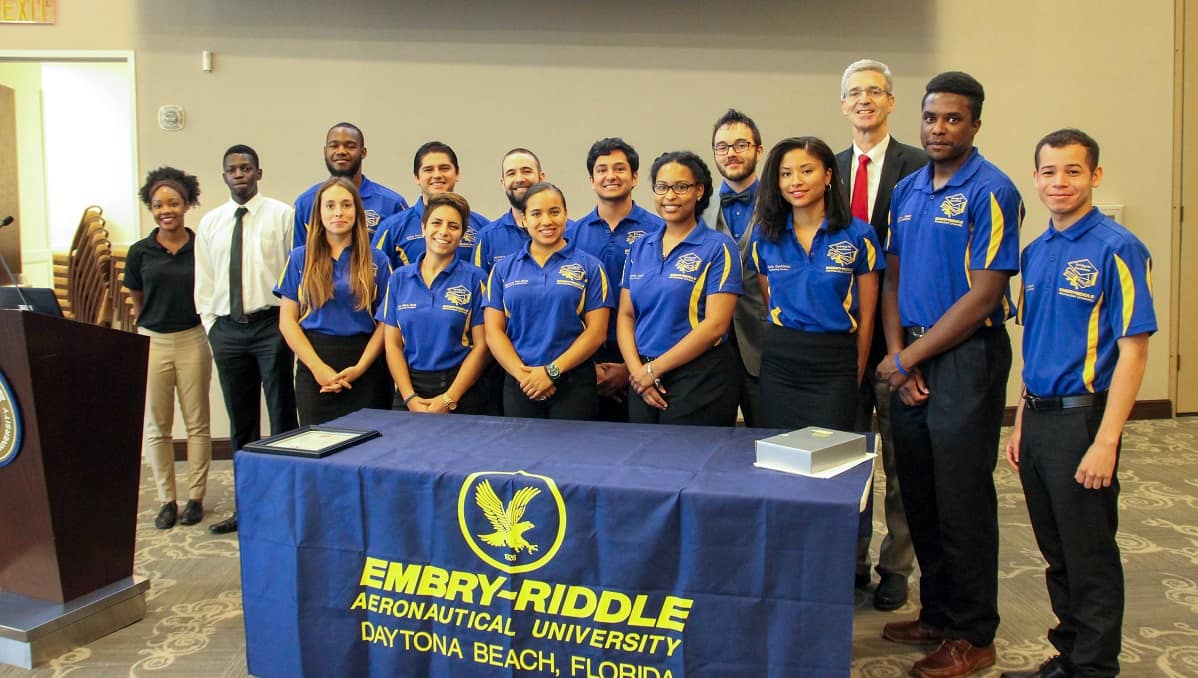 As a systems engineer intern at NASA Glenn this summer, Naia Butler-Craig, a McNair Scholar on Embry-Riddle's Daytona Beach, Fla., campus completed a project that could help advance future scientific research.
Specifically, Butler-Craig investigated whether a relatively small or "3U" CubeSat – an experimental module that can be deployed into space much more easily and at lower cost than a large satellite – could be upgraded to provide increased power without overheating. Butler-Craig also assessed what type of propulsion system might work best on a high-powered 3U CubeSat.
Her research conclusion? "High-power management within the distribution system architecture of a 3U CubeSat is feasible," she said. "Waste heat can be properly controlled." Further, Butler-Craig reported, a Mini Xenon Thruster, or "MiXi," at 3 inches in diameter, appears to be a good propulsion option since it would fit well within a 3U CubeSat and it uses a noble gas (Xenon) with a low potential for contamination.
An aspiring astronaut, Butler-Craig was among 10 McNair Scholars who described their summer research projects during a Sept. 18 symposium marking the program's 10th year on the Daytona Beach Campus. The event, sponsored by the College of Arts & Sciences (COAS), featured research presentations ranging from the use of unmanned aerial systems (UAS) in near-shore water rescues, to a study of air data sensors and even strategies for preventing salesperson burnout.
The Dr. Ronald E. McNair Postbaccalaureate Achievement Program – a national initiative named in honor of fallen Challenger Space Shuttle astronaut and laser physicist Dr. Ronald McNair – is funded by the U.S. Department of Education. After Dr. McNair's death in 1986, his many accomplishments inspired members of Congress to establish a program that encourages low-income and first-generation college students as well as students from historically underrepresented ethnic groups to expand their educational opportunities.
At the Sept. 18 symposium, Paula Reed, who co-directs Embry-Riddle's McNair Scholars program, along with Associate Professor of Humanties and Composition Ashley Lear, reported that 104 students have been served by the program to date. Of those participants, 100 have graduated with bachelor's degrees; 31 have earned master's degrees; two have already earned their doctoral degrees; three are currently pursuing a Ph.D.; one has earned an Ed.D.; and one has earned a J.D. degree.
"The goal is to get a terminal degree," Reed explained. "Our students have not only graduated, but some are still attending schools such as Cornell, Harvard, Case Western, the University of Illinois at Urbana-Champaign and other top programs around the country, and we have one student who is actually studying abroad."
Program alumna Rebecca Griffith, a Montana native who modeled algae blooms as a McNair Scholar, said the program and the support she received from mentors such as COAS Dean Karen Gaines and Associate Dean for Research and Graduate Studies Sergey Drakunov allowed her to succeed as a university student. "I came from a low-income family and I was a first-generation college student," said Griffith, who hopes to pursue a doctoral degree in remote sensing at the University of Colorado-Boulder. "My family members didn't know how to help me with my academic interests. I had never even seen the ocean before, when I came to Daytona Beach." Mentoring by Embry-Riddle faculty made all the difference, she added.
As another example of research by McNair Scholars at Embry-Riddle, Caila DeAbreu presented the results of her internship, which involved the development of a new database for magnetic materials, through the National Science Foundation's Research Experiences for Undergraduates program.
From an early age, DeAbreu said, "I was really into electricity and magnetism." Her internship at the National High Magnetic Field Laboratory, or MagLab, turned out to be a perfect fit for her. Magnetic materials could lead to more efficient electrical wires, new medical diagnostic technologies, better computers and much more, DeAbreu noted. But first, researchers need to be able to easily access information about the specific properties of different magnetic materials.
DeAbreau helped develop a database of magnetic materials that is already being used by a researcher at the MagLab.
Yet another Embry-Riddle McNair Scholar, Jaime Ramirez Duarte completed security-clearance level work in Las Vegas, for National Security Technologies LLC, under the U.S. Department of Energy. His project involved studying the feasibility for open source UAS programming for autopilot simulator and baseline software.
Embry-Riddle President P. Barry Butler, who welcomed scholars to the Sept. 18 event, commended all faculty members who help mentor McNair Scholars. "The mentorship side of this program is so meaningful," he said. "I would guess that if I asked the mentors who are here tonight, they all had someone who mentored them when they were younger. That encouragement sticks with you forever."
Butler also congratulated McNair Scholar Mike Shekari. In addition to his academic pursuits, Shekari is a first-responder who stayed in Volusia County during Hurricane Irma so that he could help local organizations such as the Salvation Army. His research project focused on how UAS could be leveraged to assist with water rescues.
The McNair Scholars who presented their work at the recent research symposium were:
Teslim Balogun
Naia Butler-Craig
Caila DeAbreu
Tia Larsen-Calcano
Fevens Louis Jean
Noel Mangual
Cloë-Marie Mora
Jaime A. Ramirez Duarte
Mike Shekari
W. Cody Wilson