Immersive Training Improves Radio Proficiency for International Flight Students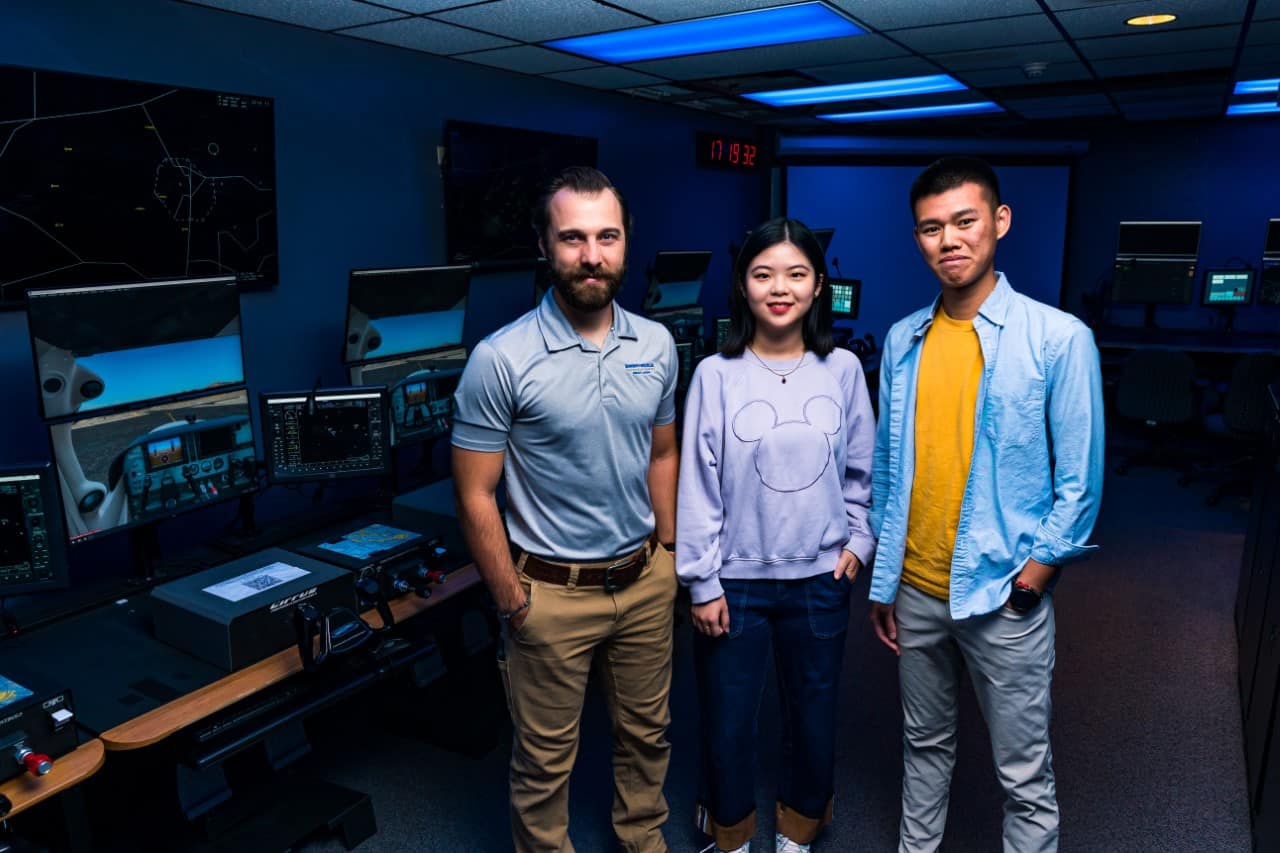 After noticing the difficulties many international students face to overcome language barriers while learning to fly, Embry-Riddle Aeronautical University students Zihui (Amanda) Zhu and Shen-Chi (Daniel) Chiu decided to do something about it.
They designed a six-week program to close the gap between classroom learning and the flight deck environment with immersive, virtual-reality training in the Air Traffic Control (ATC) Lab. They received funding from the Undergraduate Research Institute and the Philanthropy Council to implement the program in fall 2022.
"I noticed that most international students have difficulty when they first start flight training because even if they are doing well in aviation English, when they actually get to the cockpit there is a lot of noise and a high-stress environment, so it is difficult to focus," said Zhu, a senior majoring in Aviation Business Administration with a minor in Economics.
In order to create a realistic environment during program sessions, assistants in the ATC lab would play the role of tower controllers and give students instructions via headset. The students would then execute those instructions on a flight simulator.
Program scenarios concentrated on basic radio communications such as call sign, location, altitude, departure and arrival requests. The first three weeks of the program focused on outbound transmissions and airport navigation. The last three weeks covered inbound transmissions and airspace navigations.
By practicing in this immersive, virtual reality environment, the international students improved their radio communications proficiency to greater than 97% based on pre- and post-testing. The research group of 15 international students, also known as English as a Second Language (ESL) pilots, represented a variety of countries including Cambodia, China, France, Japan, South Korea and Vietnam.
"In 2021, the Prescott Airport was the busiest airport in the country for local traffic — that's challenging to learn how to fly in, even for someone that has been speaking English their whole life," said Kyle Wilkerson, program chair and research coordinator for project. "For ESL students, that can often feel like learning how to drive for the first time on a busy interstate.
Virtual reality is a better solution, he added.
"We are trying to bridge that gap," he said. "It's about helping new pilots transition into aviation and be better and safer aviators."
The idea of specialized language training has been in place for several years. In fact, research mentor Stacey McIntire, assistant professor of Aeronautical Science, designed the Aviation English course at the Prescott Campus in 2016. Aviation English courses are also taught at Embry-Riddle's Worldwide and Daytona Beach campuses.
The new twist is the ability to enhance that classroom training by adding a virtual flight experience with live air traffic control.
"Aviation is a technical and specified language," McIntire said. "Proficiency in everyday English or even academic English does not equate to proficiency in English for specific purposes, such as aviation. Given that English is the official common language in aviation and safety within aviation is paramount, scaffolding non-native English-speaking flight students through their flight training is essential."
"This is the first time we have brought flight students to the ATC lab to practice radio communication," Daniel Chiu added. "The flight student needs to talk on the radio and execute the instructions on the flight simulator. It is a highly immersive learning experience."
Chiu graduated this month with an Aeronautics major and minor in Aviation Business Administration, Air Traffic Control, and Aeronautical Studies.
"During my training as an ESL pilot, I struggled a lot with radio communication," he said. "ATC Lab classes were very helpful for me in radio communication. We hope this project is just the beginning of the cooperation between flight and ATC students."
This project has shown that by utilizing the ATC Lab's immersive technology, international student pilots can greatly improve their radio communication skills and, therefore, improve safety at the early stages of flight training.
Posted In: Aviation | Security Intelligence and Safety