Imagining the Future of Aviation: Eagle Flight Research Center Director Receives Lindbergh Electric Aircraft Prize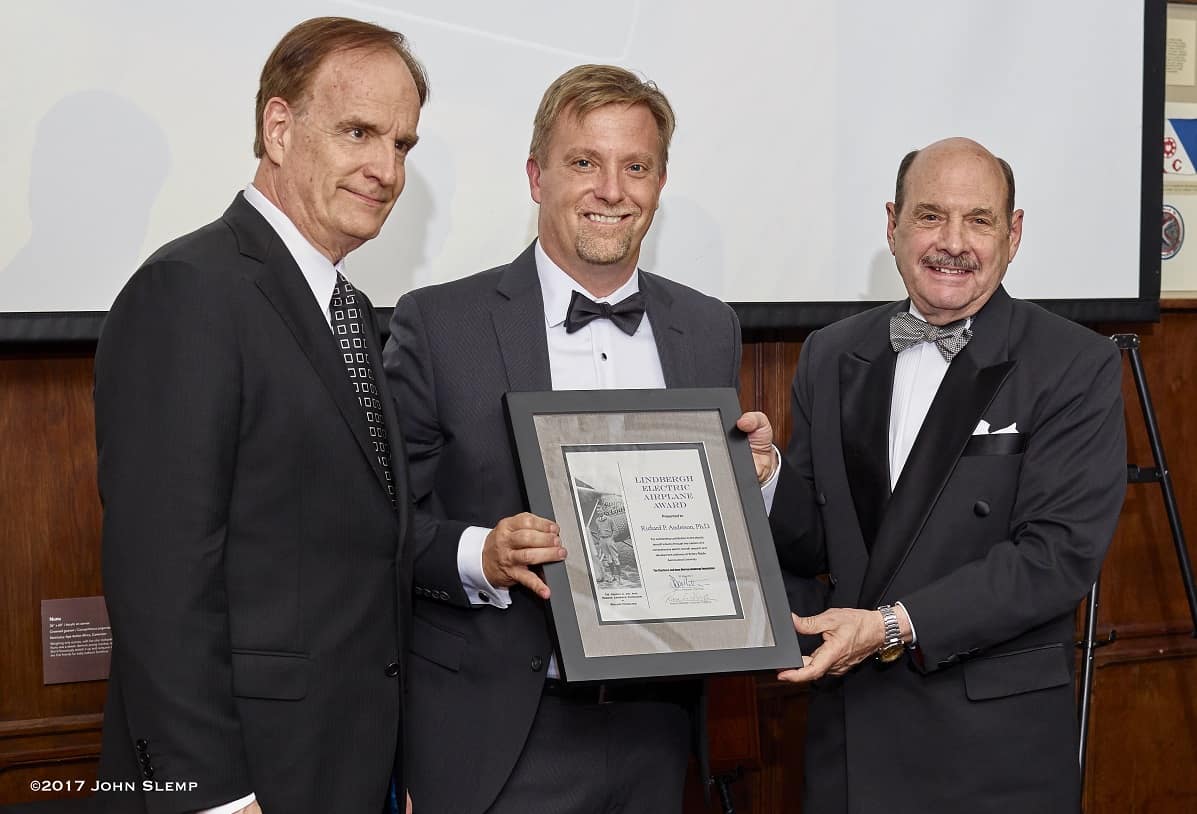 On May 20, the anniversary of famed aviator Charles Lindbergh's historic transatlantic flight from New York to Paris, Richard "Pat" Anderson, a professor of aerospace engineering and director of the Eagle Flight Research Center at Embry-Riddle Aeronautical University, received the Lindbergh Electric Aircraft Prize (LEAP).
The Charles A. and Anne Morrow Lindbergh Foundation honored Anderson "for outstanding research and development in the electric aircraft industry." Specifically, the foundation cited Anderson's work with his staff and students to "create a comprehensive electric aircraft development pathway for clean, quiet flight."
Anderson accepted the Lindbergh Electric Aircraft Prize on May 20 at The Explorers Club in New York City, during an event organized by The Lindbergh Foundation to "Celebrate the Beginnings and Imagine the Future." The event marked both the 90th anniversary of Charles Lindbergh's transatlantic flight as well as the 40th anniversary of the foundation's debut. The prize recognizes significant contributions toward the development of practical electric flight.
Anderson was honored alongside astronaut Anousheh Ansari, who received the Anne Morrow Lindbergh Award. The foundation noted that Ansari is the first female civilian astronaut, international Space Ambassador, businesswoman and philanthropist to receive the award.
Embry-Riddle's Eagle Flight Research Center, established in 1998, continues to guide aviation into the future through research focused on four key areas: propulsion, unmanned autonomous vehicles, or UAVs, manned flight control, and the certification of new technologies.
Projects directed by Anderson include, for example:
A lightweight, battery-powered aircraft called the eSpirit of St. Louis, which could demonstrate the promise of clean, quiet flight over a pristine region as early as this summer. Outfitted with a fully electric propulsion system, the eSpirit is a Diamond HK-36 donated by Lockheed Martin Skunkworks. A crowd-funding campaign is underway to help Embry-Riddle students, under Anderson's supervision, put the finishing touches on the eSpirit of St. Louis. See https://crowdfunding.erau.edu/project/6486.
A hybrid turbine-electric propulsion system, being developed in collaboration with a consortium of aerospace companies to reduce the noise, emissions and operating costs associated with commercial aviation. Developing a nine-passenger hybrid turboprop aircraft by 2025 and a large hybrid-electric jet by 2035 are the goals of the project.
A computer-controlled hybrid flying machine called the Mark II, which lifts off vertically like a helicopter, leans to a 90-degree angle and flies horizontally like an airplane. Featuring a mechanically simple airframe similar to a twin-engine helicopter with fully articulating rotor heads, the Mk. II is highly intelligent, stable, and maneuverable.
Anderson's research team is now also focused on developing an On-Demand Mobility (ODM) personal air vehicle. The Hybrid Electric Research Consortium's industry and government partners currently include Airbus, Boeing, GAMA, GE Aviation, Hartzell, UTC Aerospace Systems, Argonne National Laboratory, Rolls-Royce and Textron Aviation.
The goal of all electric and hybrid-electric propulsion research at the Eagle Flight Research Center is to reduce fossil fuel consumption and resulting greenhouse gas emissions, improve aviation efficiency, and advance the aerospace industry. "Embry-Riddle student researchers are playing a major role in shaping the future of aviation," Anderson said.
Erik Lindbergh, grandson of Charles, said: "Dr. Anderson is developing a comprehensive pathway for clean, quiet flight that will, in the next five years, change the way we move around the planet."