Embry-Riddle Alumni Hunt Hurricanes as Members of Air Force Weather Squadron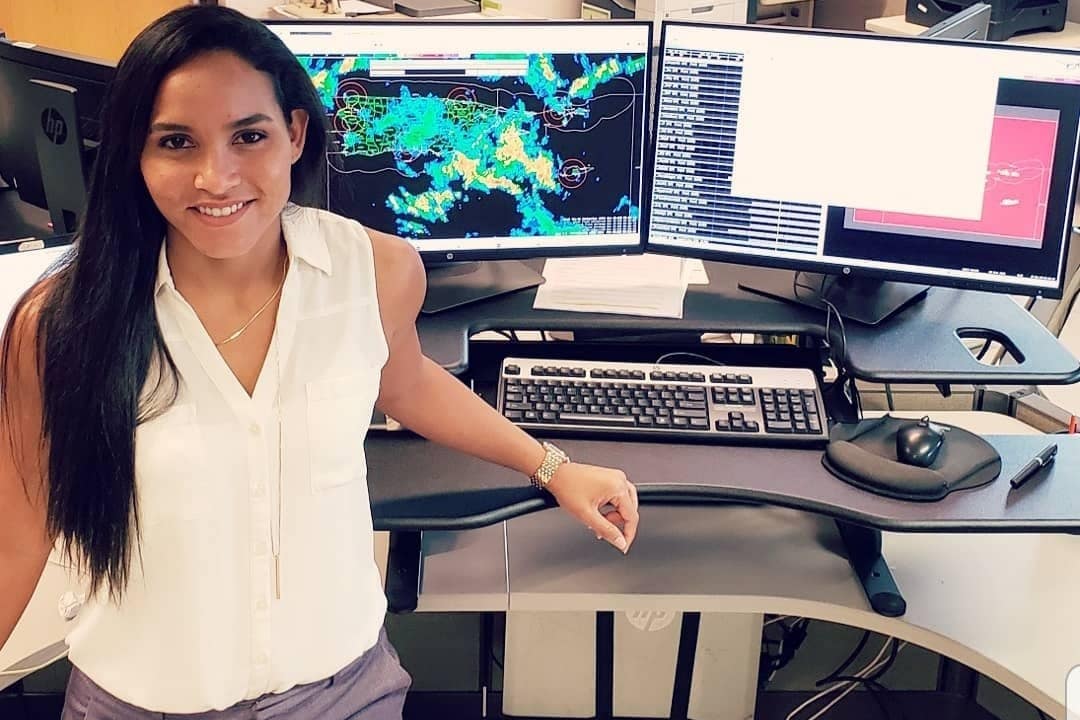 They are known worldwide as the Hurricane Hunters, and the Air Force Reserve's 53rd Weather Reconnaissance Squadron is the only Department of Defense organization still flying into hurricanes.
Based at Keesler Air Force Base in Mississippi, the team works alongside civilian flight teams from the National Oceanic and Atmospheric Administration to track and monitor major storms.
The information the Hurricane Hunters gather during these long and sometimes dangerous flights is critical for forecasters to understand how strong hurricanes are, and where they might be heading.
Today, five Embry-Riddle alumni are serving with the 53rd WRS, a testament to their skill and dedication -- and to the power of a degree earned at the one of the world's leading STEM universities.
Check out their stories:
Amaryllis Cotto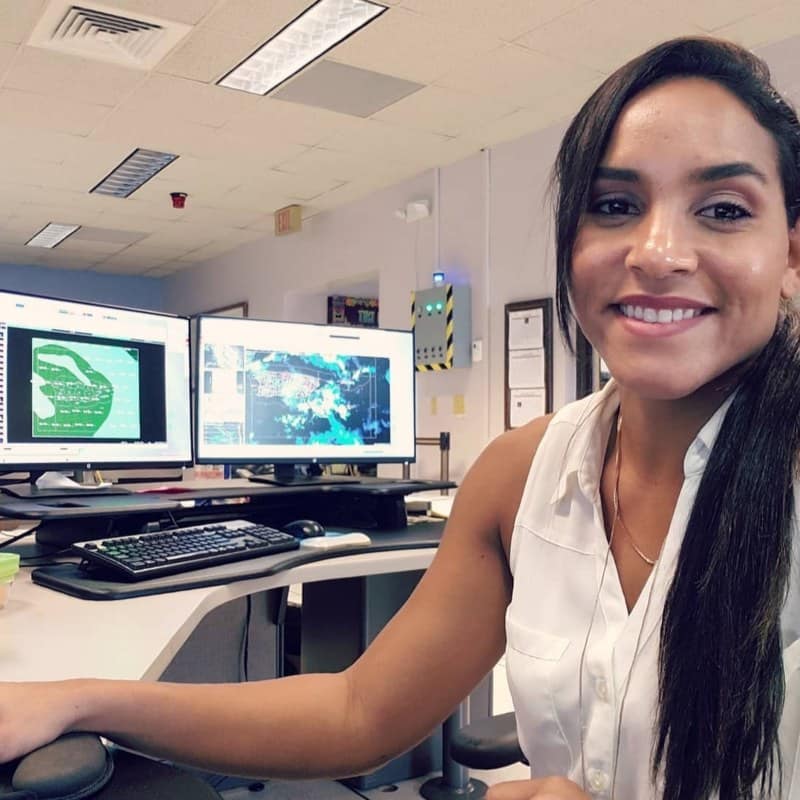 For Amaryllis Cotto ('09), a lifelong dream emerged in the wake of a nightmare hurricane.
Growing up in Homestead, Fla., she saw the power of a Category 5 storm first-hand when Andrew totally ravaged the area where she lived in 1992. But from that frightening experience emerged a true passion.
"Ever since Andrew, I was always intrigued and fascinated by these natural phenomenon," said Cotto, 33. "And once I learned that you can fly into them to gather inside data and better improve the forecast track and research, I knew it was what I had to do."
And so she has.
Serving in the Air Force Reserve, Cotto is an Aerial Reconnaissance Weather Officer for the hurricane hunting AFR 53rd Weather Reconnaissance Squadron. She also works as a National Weather Service forecaster in Houston, Texas.
Cotto, who graduated with a B.S. in Meteorology from the Daytona Beach Campus, said her Embry-Riddle experience was key to realizing her ultimate goal.
"It definitely opened the doors to many opportunities," she said. "I had a lot of fun, but best of all, I met some amazing people who I still today call very good friends."
That now includes her fellow alumni on the Hurricane Hunters team.
"We share a unique bond now and it makes us that much closer," she said.
For those who may want to follow her to the elite unit, Cotto says choosing the research concentration of the Meteorology degree will help, and military service also is required.
"Hard work pays off," she said. "At times it feels like time drags, especially when the class work and projects ramp up on you. But persistence and consistency are key to paving the path you want to tread in the future."
Krystal Hernandez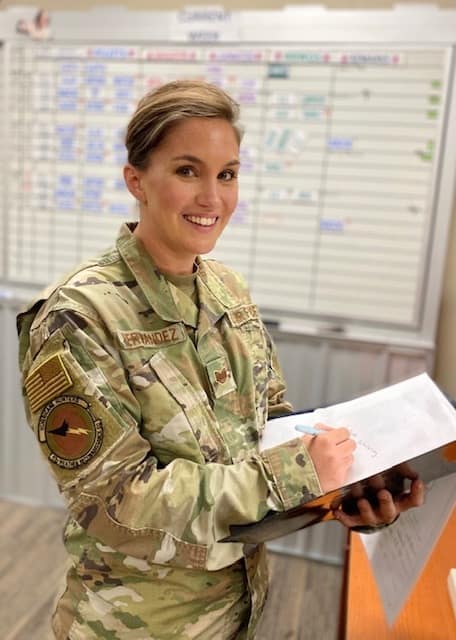 In the case of Krystal Hernandez ('20), working with the Hurricane Hunters helped lead her to an Embry-Riddle degree.
Hernandez, who graduated in May with a B.S. in Aviation Business Administration from the Worldwide Campus, is the administrative assistant to the commander of the 53rd Weather Reconnaissance Squadron.
She had wanted to join the Hurricane Hunters after joining the Air Force Reserve in 2012, but was told: "They'll never have an open position there; no one leaves because it's such a great place to work."
However, she got her shot when the team needed administrative help in 2015, and she turned a two-week temporary duty assignment into a full-time job. Now, she's setting her sights even higher.
"I had an associate degree but while I love my job in administration, I realized quickly I want to be a more vital part of the mission," said Hernandez, 31. "That meant getting a bachelor's degree in order to commission."
That's where Embry-Riddle came in, and the flexible classes offered by the Worldwide Campus allowed her to earn as she learned. Now, she's scheduled to take the Air Force Officer Qualification Test in October.
"Who knows," Hernandez says, "in the next couple of years I could have wings."
In the meantime, she relishes her role helping the unit's commander and her squadron mates, and Hernandez says that "every single member of the Hurricane Hunters has impacted my life and they encourage me to become better always."
She says working with her fellow alumni is "easy due to the values Embry-Riddle instilled in us during our time as students."
No matter her role, Hernandez believes being part of the team's "meaningful mission" is the biggest reward.
"Growing up on the Mississippi Gulf Coast and living through major hurricanes like Katrina, it is an honor to be part of a team that notifies people about potentially harmful weather," she said.
Joyce Hirai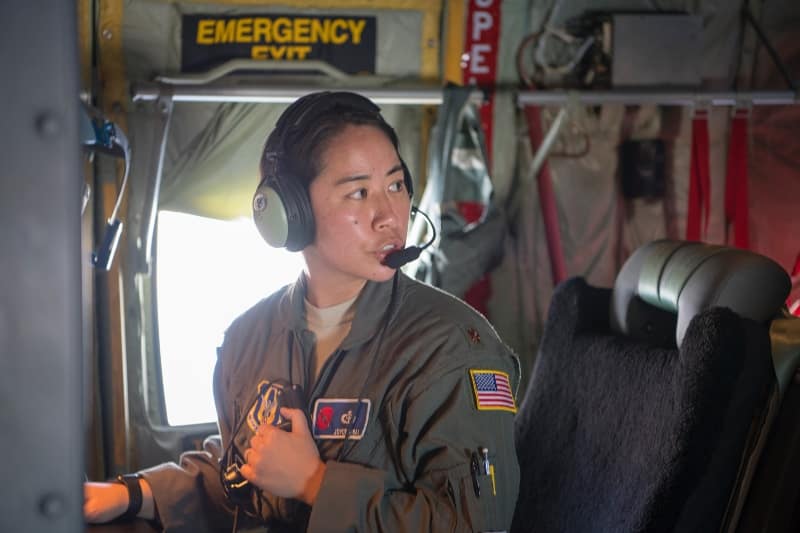 When she graduated as part of the first Applied Meteorology class from the Prescott Campus in 2008, Joyce Hirai likely never imagined her degree would help take her around the world and now, into the eye of the storm.
Hirai, a major in the Air Force Reserve who spent 11 years on active duty, has joined the 53rd Weather Reconnaissance Squadron as a Hurricane Hunter, training to be an Aerial Reconnaissance Weather Officer.
"I think this is my fate," said Hirai, 35, who flew with the NOAA Hurricane Hunters during a summer program when she was an Air Force ROTC cadet at Embry-Riddle.
During her time in the Air Force, Hirai served as a weather officer in Germany, forecasting conditions for the Space Shuttle's Transoceanic Abort Landing sites in Europe, and she also did tours as a weather officer and meteorologist in Japan, Korea, Abu Dhabi, and Turkey.
She said her experience at Embry-Riddle gave her an "outstanding foundation" to build an Air Force career that has led her to the elite unit, and she credited instructors such as Dr. Dorothea Ivanova with helping her realize her goals.
Now, as a member of the 53rd WRS, Hirai is excited by the challenge – and the camaraderie among crew members.
"The best part is that we all have roles and we count on each other, we have each other's backs," she said. "We work closely together and that makes it more like family."
She's also been thrilled by her initial experiences flying into two tropical depressions this season, which the team's data showed had intensified into the tropical storms that were named Arthur and Cristobal.
"You see that kind of direct impact from your mission and you know that it can save lives," she said.
Hirai says she shares a "sense of pride" with the other Embry-Riddle alum serving in the 53rd, and she offered this advice for anyone dreaming about joining a top-flight team such as the Hurricane Hunters:
"Blossom where you're planted. And focus on doing what you enjoy."
Davis and Jennie White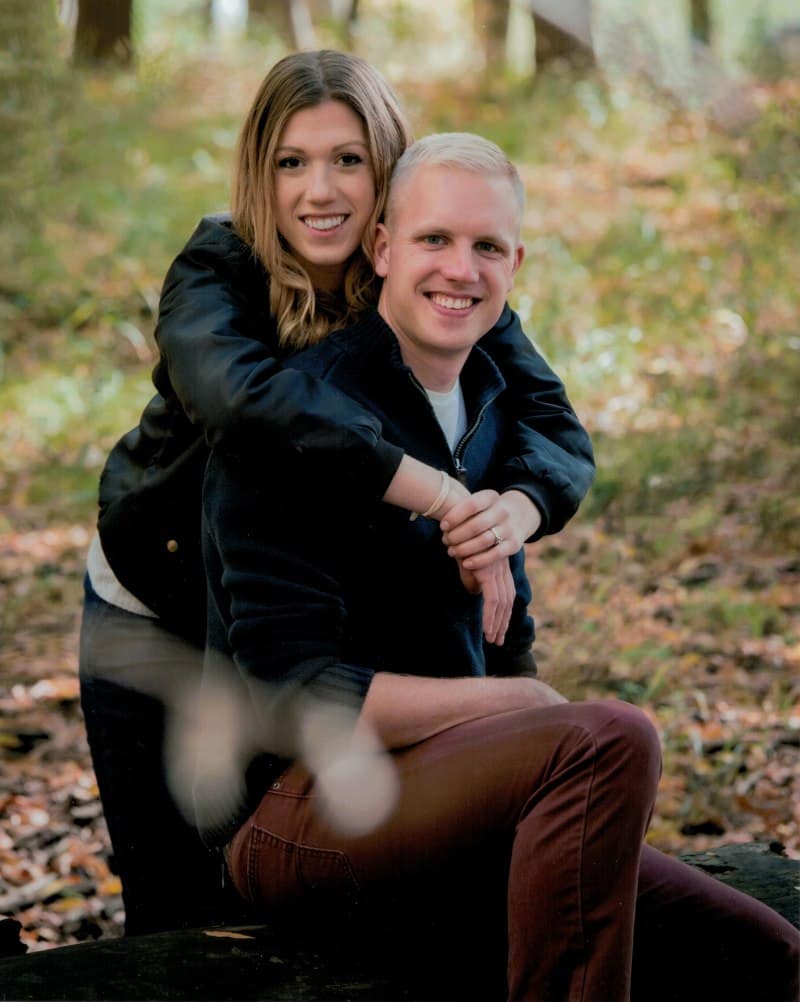 When Davis and Jennie White landed at the same North Dakota Air Force base several years ago – he as a missile operator and she as a weather officer – it seemed their bucket list dream of joining the Hurricane Hunters together was a long way off.
Davis ('15) and Jennie ('16) both graduated with Applied Meteorology degrees from the Prescott Campus and married when Jennie finished her classes. After their Air Force careers were detoured to North Dakota, Davis admits: "We weren't sure if we would ever see an opportunity to join" the Hurricane Hunters.
But persistence, hard work and more than a few prayers paid off for the couple. Fast forward to 2019 and they were headed to Mississippi to take their spots as Aerial Reconnaissance Weather Officers on the team.
"We always dreamed to be a part of this unit, so when we saw an opportunity to join the team, we jumped at the chance," said Davis, 27.
The couple says their Embry-Riddle experience helped open the door to the elite unit. Both of them participated in the King Air STAR project as student-scientists, making educational and research flights in 2013 as part of a program funded by a National Science Foundation grant.
Jennie also worked with Dr. Dorothea Ivanova as a NASA Space grant undergraduate research scholar, studying the North American monsoon and modeling a case study of 2014's Hurricane Norbert and the devastating flash floods in Chandler, Ariz.
"Our experiences in the ERAU Prescott meteorology department were a great foundation on which to build the unique skills required for this mission," said Jennie, 26.
The couple recently deployed with the 53rd WRS to the Virgin Islands for training, and they are looking forward to making a difference as the 2020 hurricane season ramps up and the team is called on to investigate more storms.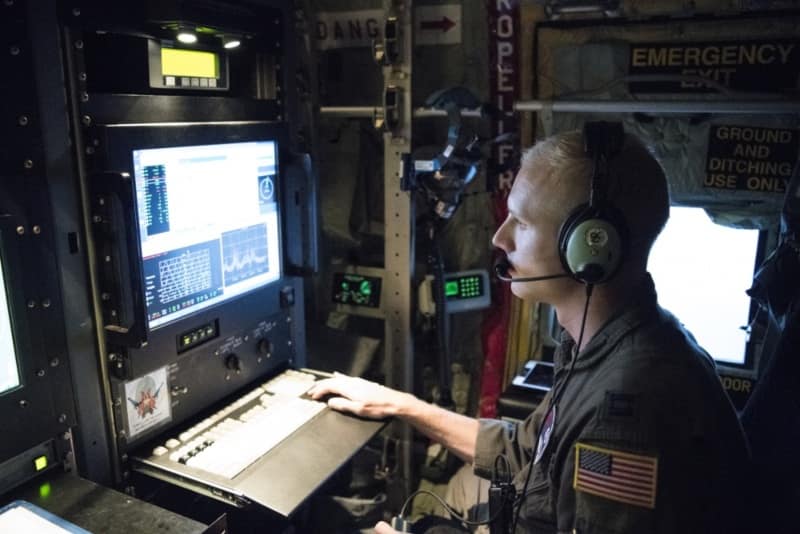 "For us, the best thing about being part of the Hurricane Hunters is using our skills and knowledge to help others stay safe," Davis said. "We're so glad we can use our past experiences and to aid in extraordinarily time-sensitive forecasts. Knowing the data we send to the National Hurricane Center will result in a more accurate forecast for those counting on it produces an enormous amount of job satisfaction."
It's also great to be working alongside three other Embry-Riddle grads, the Whites say.
"We've all had a lot of the same experiences, classes, and professors, so it didn't take long to find common ground and build relationships," said Jennie.
Through their own experiences in making it to the team, the Whites have some advice for others who may want to follow in their footsteps.
"Don't be afraid to reach out and know what options are truly available to you," Davis said. "Sometimes you don't realize opportunities are open to you through building relationships with others."
They also stress a particular lesson they both learned thanks to their Embry-Riddle experience:
"Always try to get to a better spot. In every part of your life, you have the ability to grow and improve. It might take a while, but facing and improving your weaknesses over time will put you in a place with better opportunities."
These stories were compiled by Embry-Riddle Meteorology Professor Dr. Dorothea Ivanova and Marketing Writer Jon O'Neill.