How Does Air Travel Affect Your Emotions? Eagle Researcher Seeks Answers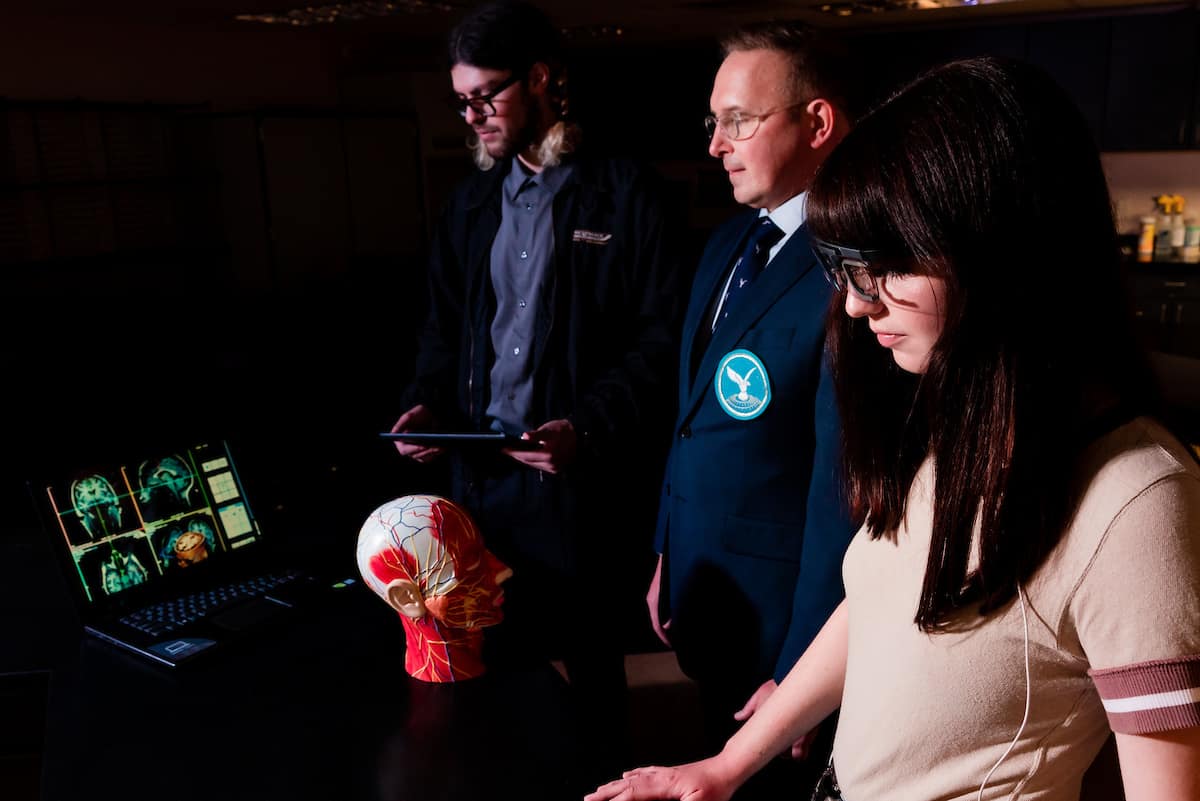 Engaged in research that monitors the emotional reactions of airline passengers to their travel experience, Dr. Stathis Kefallonitis, associate professor in the College of Business, Security and Intelligence, was recently named a fellow of the Royal Aeronautical Society and is providing hands-on industry experience to Embry-Riddle Aeronautical University students.
"I was elected a fellow of the Royal Aeronautical Society in recognition of my contributions to the air transport industry," said Kefallonitis, who is conducting research for "hop-on" jet charter operator JSX Air as he completes a degree at the Faculty of Brain Sciences, University College London.
That research, which will employ bio-sensory technologies from eye tracking to functional magnetic resonance imaging in order to gauge the emotional responses of participating passengers, is now offering opportunities to students in Kefallonitis' classes to play key roles in biometric studies.
"The project we are working on is multi-semester," Kefallonitis said. "A total of 62 juniors and seniors were exposed to a real passenger-experience strategy."
Emma Rasmussen — a senior studying Aviation Business Administration, who will begin a master's degree in Safety Science in January 2023 — said the university research project, with its "unique research methods and goals," will help her to stand out to future employers. The project, taking place on Embry-Riddle's Prescott Campus, is being supported by the Business Philanthropy Council, as well as the Undergraduate Research Institute.
"It will make for an interesting conversation about the direction our industry is headed in a post-Covid world," she said.
Kefallonitis' research seeks to measure chemical changes in the brain, heartbeat variations, oxygen levels and other physiological changes that occur with emotional response. Biometric research has shown that gauging how certain products and services make customers feel is a strong determinant of their loyalty to the provider.
"We can now link specific passenger behavioral and emotional patterns to the design of service delivery. This is a unique way of understanding what really works and how we may be able to improve it," Kefallonitis said. "Using methods to elicit and understand passenger feelings and emotions is vital to improving the journey."
JSX is a Part 135 operator that flies public charters in the United States. With a fleet of Embraer Regional Jets configured to 30 seats, the air carrier has networks in Burbank, Los Angeles, Orange County, Oakland, Las Vegas, Texas and across the Eastern seaboard. JSX aims to save flight passengers' time by flying between private hangars.
A company spokesperson said Kefallonitis' research provides the company with a valuable assessment of how well it is performing its mission.
"JSX is committed to restoring joy to the air travel experience, and this unique opportunity allows us to quantify the positive effect we aim to have in this industry," said Ben Kaufman, director of marketing for JSX. "Scientifically measuring how customers respond to our experience will help guide the decisions we make in the future, all with a sharp focus on bettering air travel for all."
Kefallonitis is also a fellow of the Royal Society for the Encouragement of Arts, Manufactures and Commerce, as well as of the Chartered Institute of Marketing. He has worked with numerous companies and industry associations, including the International Air Transport Association and the International Flight Services Association.
Business Administration senior Nick Hight said he was glad to have the opportunity to participate in the JSX biometrics research.
"I believe what I am learning during this project will be very useful in my work after college because it has taught me to challenge the status quo for the sake of innovation," Hight said. "We're influencing changes that may ultimately add value to a real company. That's some of the best experience you can get."
Posted In: Applied Science | Human Factors | Research