Hockey Team Celebrates Crowdfunding 'Win'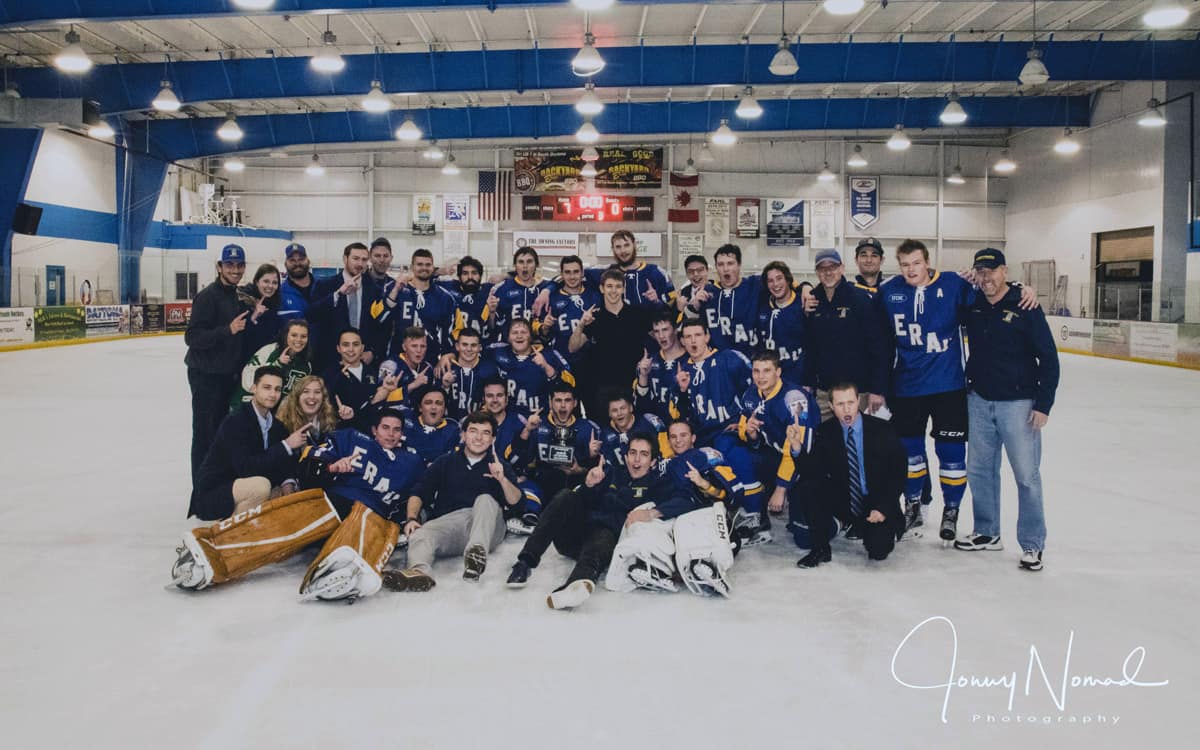 Student Club Garners Support from Family, Alumni and Fans.
Embry-Riddle's Ice Hockey Team in Daytona Beach, Florida, has been around for the past 20 years, but it never had a coach who played professionally or won a conference championship — until recently.
"We have really excelled," said Brendan Barger, captain and president of the Eagles Hockey Team since 2017. "We have won back-to-back conference championships."
A club sport, the team is primarily funded by its student players. Team members are responsible for raising a daunting $60,000 per season to cover their expenses, which include ice time at the Daytona Ice Arena, team jerseys and travel to games. Raising these funds can be a challenge.
"We are funded by players' dues and gate revenues to pay for what we love to do," said Barger, a senior business administration student.
With the jump to the new conference this year, we really needed this support. This is the next step in our legacy.
The team recently celebrated a fundraising "win." A crowdfunding campaign hosted by the university online at crowdfunding.erau.edu generated contributions of $10,000 for the team.
Ken Byrnes, chair of the university's flight training department and faculty adviser to the hockey club, said the crowdfunding success was timely, as the team moves from its current East Florida Collegiate Hockey Conference to join the more competitive Southern Collegiate Hockey Conference in September.
"Next season, we are looking at making a mark and getting to the regionals for the first time in our 20-year history," Byrnes said.
Moving into the new conference will probably result in more travel, which means more costs, said Eagles Hockey Coach Bob Joyce, a quality assurance manager who mentors flight instructors at the university. Joyce volunteers his time to coach the team, along with assistant coaches Bill Thompson ('87, PC), executive director of alumni engagement, and Anthony Galante, an assistant professor of unmanned aircraft systems science.
Joyce played on the Canadian hockey team for Team Canada in the 1988 Winter Olympics and spent 13 years playing professionally, including time playing for the National Hockey League's Boston Bruins and Washington Capitals. After retiring from professional hockey, he decided pursue aviation, which was his other passion.
"Hockey is a pretty expensive sport and we are really a grassroots operation," Joyce said of the Embry-Riddle team. "We had a lot of great support from families, alumni and people in the Daytona area."
The team has about 40 members, including one female player. It live streams its game, so fans who can't attend can still watch the action online.
"We try to get each player out there," Byrnes said. "Most of them love the game and it's really the last opportunity for them to play competitive hockey."
Barger agrees. Growing up in New York, the Embry-Riddle Hockey Team captain said he started playing the game two days after his fourth birthday, and he still loves the sport.
"The success of this team is not only good for this university, but it's good for the community, as well," he said. "With the jump to the new conference this year, we really needed this support. This is the next step in our legacy."