Healthcare to Mid-Air: Eagle Finds Her Calling on the Flight Deck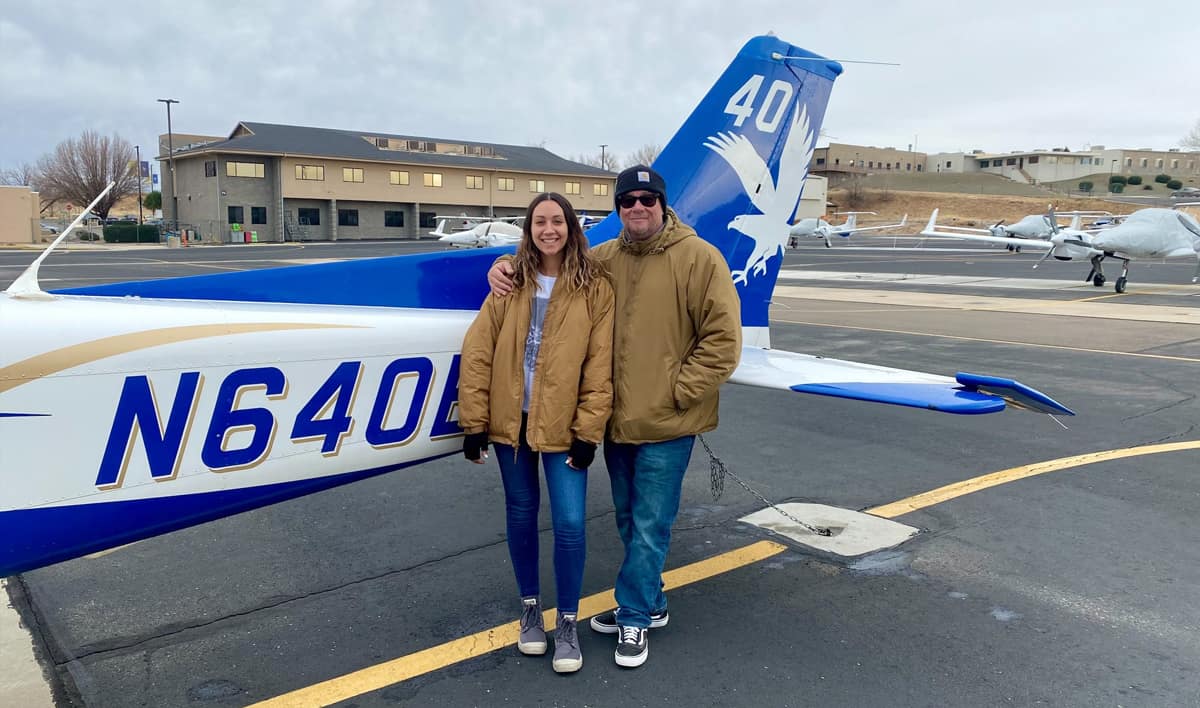 Embry-Riddle Aeronautical University junior Marina Lindbergh believes there is no career more romantic than being a pilot. "Flying because you love it and always building your skills," she said — "that's the goal."
But it took her a while to follow her heart.
Currently an Aeronautical Science student at Embry-Riddle's Prescott Campus, Lindbergh — whose great grandfather's cousin was the famous aviator Charles Lindbergh — initially targeted healthcare as her dream job after spending time with her grandfather in the ICU and being so impressed with the nursing staff's dedication. Soon later, when she was 17 years old, she earned her Certified Nursing Assistant certificate, but after working in the field for two years, her father was diagnosed with congestive heart failure, and the stress of the job began to take an emotional toll.
"I started thinking about things that made me truly happy without taking the struggles of work home with me every day," she said, and the answer was obvious. "Flying."
Now, her dream job is to become a flight instructor, a passion she shares with her father, who has now fully recovered following stem cell treatment and plans to begin working on his own pilot's license soon.
"I had only flown a handful of times before starting at Embry-Riddle," she said, adding that she had always wanted to learn but could never afford taking lessons on the side, since all of her money from waitressing and hospital shifts was gone after paying her monthly bills and community college tuition.
But thankfully, she wasn't afraid of hard work.
"I began working at 15 … moved out at 19," she added. "Working more and more became my only option."
Lindbergh, who grew up in Blythe, California, before moving to Lake Havasu City, Arizona, when she was 12 years old, continues the pattern today, working on top of her course load at Embry-Riddle, refusing to slow down as she chases her dream.
"It's a challenge," she said. "I study really hard. But I've never wanted anything more than I want this."
Kristen Gibson, flight instructor in Embry-Riddle's College of Aviation, reinforced Lindbergh's laser focus.
"She truly is one of the hardest-working students I've ever had, and she has achieved so much at such a young age," Gibson said. "Women make up only 5 percent of pilots in the commercial aviation industry, and I am confident that Marina will succeed with her aviation goals."
So far, that's been the case, as Lindbergh completed her first solo flight last month. The day of her flight, her dad came to campus to "make sure my head was in the game" and fit in a flight with her and her instructor, Jacob Vlatkovich.
"Soloing is an unforgettable step in a pilot's career," said Jacob Vlatkovich, flight instructor who saw Lindbergh through this step in her training. "It validates the student's hard work, confirms their abilities and provides a new prospective toward the tremendous responsibility and commitment required of all pilots. With discipline and an ownership-mentality, Marina has taken this massive step in her piloting career. I am excited to witness her continued success as an aviator!"
For Parker Northrup, Department of Flight chair, Lindbergh's story epitomizes what makes the Eagle community unique.
"It is one of the great pleasures in this job to provide an environment that allows young people to pursue the passion of flying," he said. "Helping Marina achieve her dream is a big part of what makes Embry-Riddle special."
Posted In: Aviation