Graduate Student Launches Nonprofit to Produce 3D-Printed Face Shields for Florida Hospitals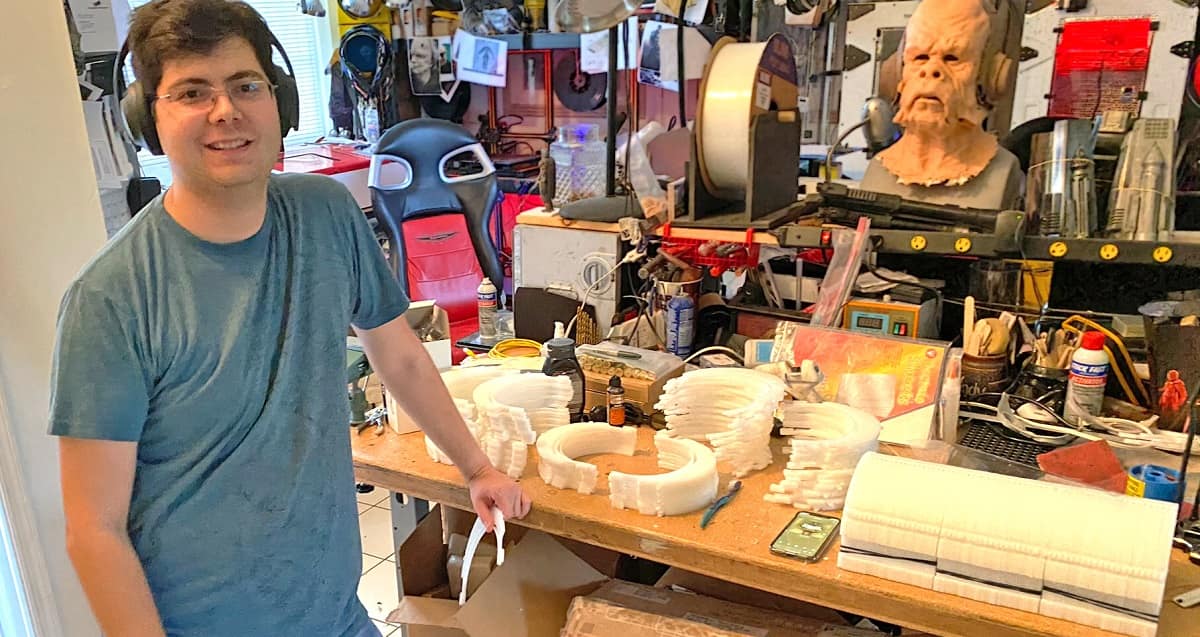 During the school year, Embry-Riddle Aeronautical University Mechanical Engineering graduate student Andrew McClary keeps very busy – as a peer mentor, lab monitor and manager of the Embry-Riddle Makerspace, a 3D printing lab for faculty and students in the College of Engineering at the Daytona Beach Campus.
This past year, he was president of the Kappa Mu Epsilon campus chapter, the mathematics honor society, as well as of the Pi Tau Sigma campus chapter, the international mechanical engineering honor society. In his free time, he also oversees bone marrow drives on campus.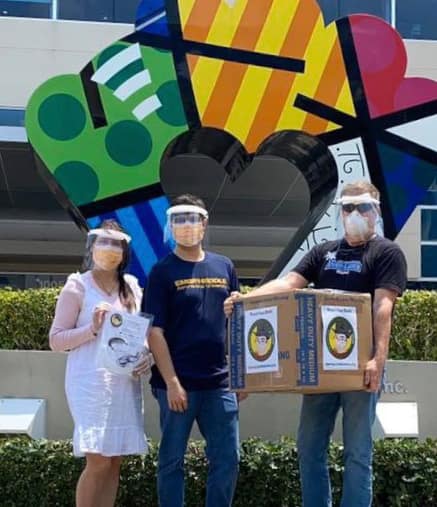 Andrew McClary and his family donated parts for more than 800 face shields to hospitals in South Florida.
Andrew is a maker, or a person skilled in coding, using embedded electronics, computer-aided design and all things software- and hardware-related. Like many makers, he has used this passion to create and experiment with his own designs and products — the most recent of which he hopes will make a positive impact in the lives of healthcare workers on the front lines of the Covid-19 global pandemic.
While sheltering at his family home in Boca Raton, Florida, McClary identified a design of parts for a 3D-printed face shield that could be manufactured in a fraction of the usual time by using a computer numerical control (CNC) machine router that automates cutting.
The McClarys approached the Joe DiMaggio Children's' Hospital Foundation with an offer to donate face shields made from these parts, and then, using donations from the family's Caring Like Nicholas Foundation and materials donated by ShopBot, a manufacturer of CNC routers, Andrew McClary launched the Project Face Shield nonprofit. Next, he invited students and staff from two local high schools to help with production.
In April, the McClary family took the parts for 800 face shields to the Joe DiMaggio Children's Hospital and the adjoining Memorial Regional Hospital in Hollywood, Florida, which is treating Covid-19 patients.
Through the Caring Like Nicholas Foundation, the design for the face shields has also been made available for free to the CNC maker community for non-commercial use. The files can be found on the foundation's web site. There is also a sign up page for makers who would like to donate time on CNC machines of their own.
"We are also fielding requests and coordinating with volunteer CNC makers around the country, pairing them with their local hospitals," said McClary. "We have many individuals and businesses who have donated money and materials for this project and, with everyone's help, we can continue to support healthcare workers across the country."
The Caring Like Nicholas Foundation's primary mission is to encourage people to register to be potential bone marrow donors, thus increasing the likelihood that some children in need of a bone marrow transplant will find a perfect match. The foundation is named after Andrew McClary's brother, Nicolas, who lost his battle to cancer in 2017. Visit the foundation's webpage to donate.
Posted In: Applied Science | Engineering