Grad Students Gain Hands-On Experience in Aviation Industry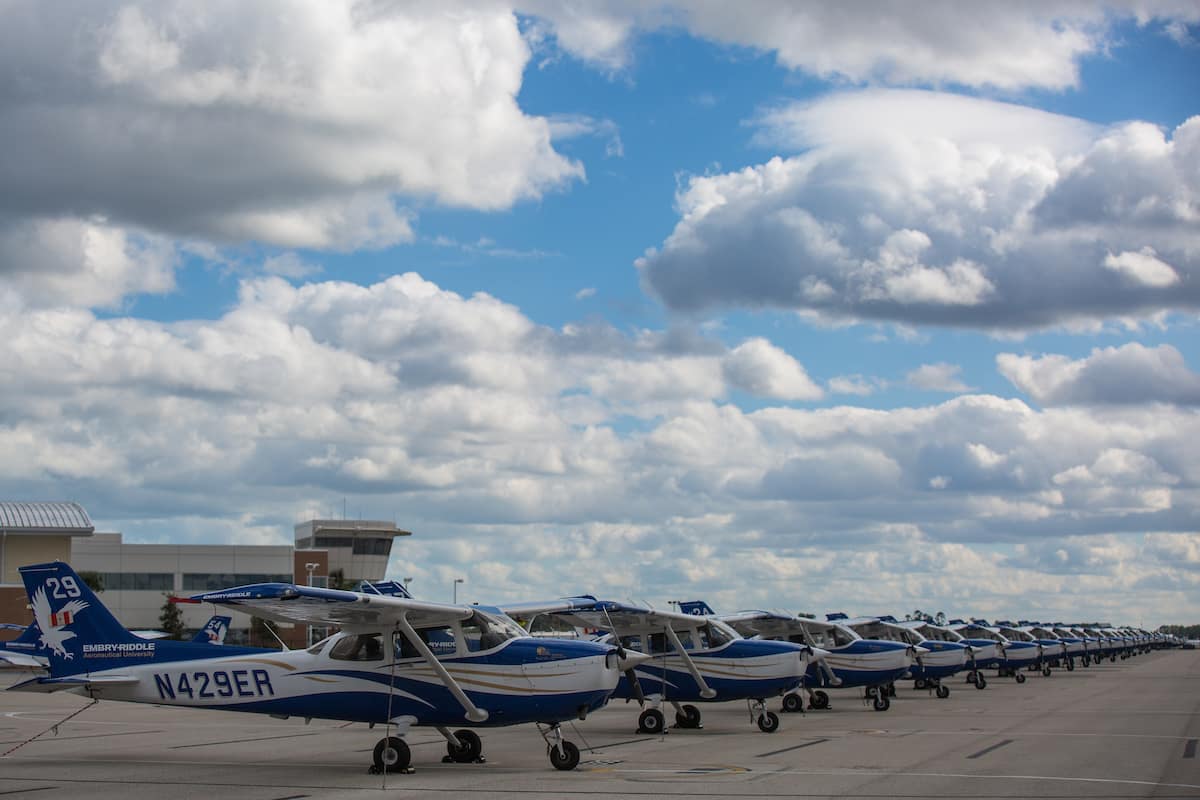 Graduate students at Embry-Riddle Aeronautical University gained valuable real-world experience last semester, working closely with upper-level employees at Textron Aviation, the manufacturer of Cessna and Beechcraft aircraft which also provides aircraft support for government, military and commercial customers.
"Textron was the best," said Oko Nelson, who before graduating from his Master of Business Administration (MBA) program in December served as project manager for the special topics class that worked with Textron Aviation to develop ideas for new products and services. "When questions would come up about the project, they would immediately set up a meeting."
Dr. John Longshore, associate professor in the David B. O'Maley College of Business, said the project was specifically designed to position faculty in supporting roles and have the students align themselves in self-directed project teams.
"Faculty acted as coaches, allowing the students to interface with the client without direct faculty involvement," said Longshore, who oversaw the class with colleague Dr. Farshid Azadian. "This greatly empowered the students."
Textron Aviation personnel with whom the Embry-Riddle students had interaction included the vice president of aftermarket innovation, the director of aftermarket services and a customer service engineer. Textron Aviation is the manufacturer of the fleet of Cessna Skyhawk training aircraft used by Embry-Riddle.
The project came about through recent Eagle alumnus Noah Eudy, who is now an aftermarket business development program manager at Textron Aviation. A friend of Nelson and himself a veteran of Embry-Riddle student consulting collaborations with industry, Eudy contacted Nelson about the possibility of Textron Aviation working with a student group.
Eudy said that personnel and time constraints sometimes prevent his work group from exploring all of their ideas. "Graduating from Riddle, I knew that class projects would be a good way for us to get some of those ideas developed and give students some good experience," he said.
The project began with operations and systems data provided by Textron, according to team captain Chuan "Cici" Chen, who is in the second year of her MBA program at Embry-Riddle. Working with that data, the team proposed two products for Textron customers using various aircraft data systems. The details of the products are being kept confidential.
In addition to business students, students from the College of Engineering also participated.
"The cross-college mixing of skills required to execute the project enhanced the learning experience and added substantially to product outcome," said Longshore.
"We really learned how to work as a team," said Nelson, who now works full-time at commercial aircraft lessor Azorra. "You learn how to narrow things down. At first, you have no vision, but you develop a defined plan, a scope of work, the course of execution."
All involved deemed the project a huge success, especially the "client," Textron Aviation.
Brian Adams, vice president of aftermarket operations, said the project "exceeded our expectations by presenting new ideas and business opportunities that we previously were not considering."
Adams said he was especially impressed by the diversity of the team.
"Embry-Riddle was able to bring a team of students from various different backgrounds, experiences, skills and degree programs. I think this diversity of thought improved the quality of the project results," he said. "We were concerned that the broad scope and open format of this project would be a problem for the students, but instead, this removed any constraints and bias that may have influenced the result.
"We were so impressed that we have sponsored two more projects and are exploring other opportunities to increase engagement between our organization and Embry-Riddle."
Eudy emphasized the benefits to both the students and the company.
"From the students' perspective, getting to network on a weekly basis with industry is extremely valuable," Eudy said. "From the company's perspective, obviously we are getting some help from multiple brilliant minds that will be entering the industry soon. This is extremely valuable to us because it allows us to see things from different angles that we may not have thought of before. We are also getting the Textron Aviation name out there to try and attract some of the students to our company after they graduate."
Dr. Shanan Gibson, dean of the David B. O'Maley College of Business, agreed that the project offered a wide range of benefits.
"One reason business students choose our programs is the opportunity to engage with industry leaders and add value on issues of real substance," said Gibson. "Dr. Longshore's class challenged students to couple their growing knowledge of data analytics with an understanding of Textron Aviation's business strategies to provide relevant and insightful business recommendations. The return on investment is in the student learning, industry relationship expansion, and eventual revenue we hope Textron Aviation manifests from our students' work."
Posted In: Business | Engineering