GE Digital Establishes New Scholarship at Embry-Riddle to Support the Future of Flight Safety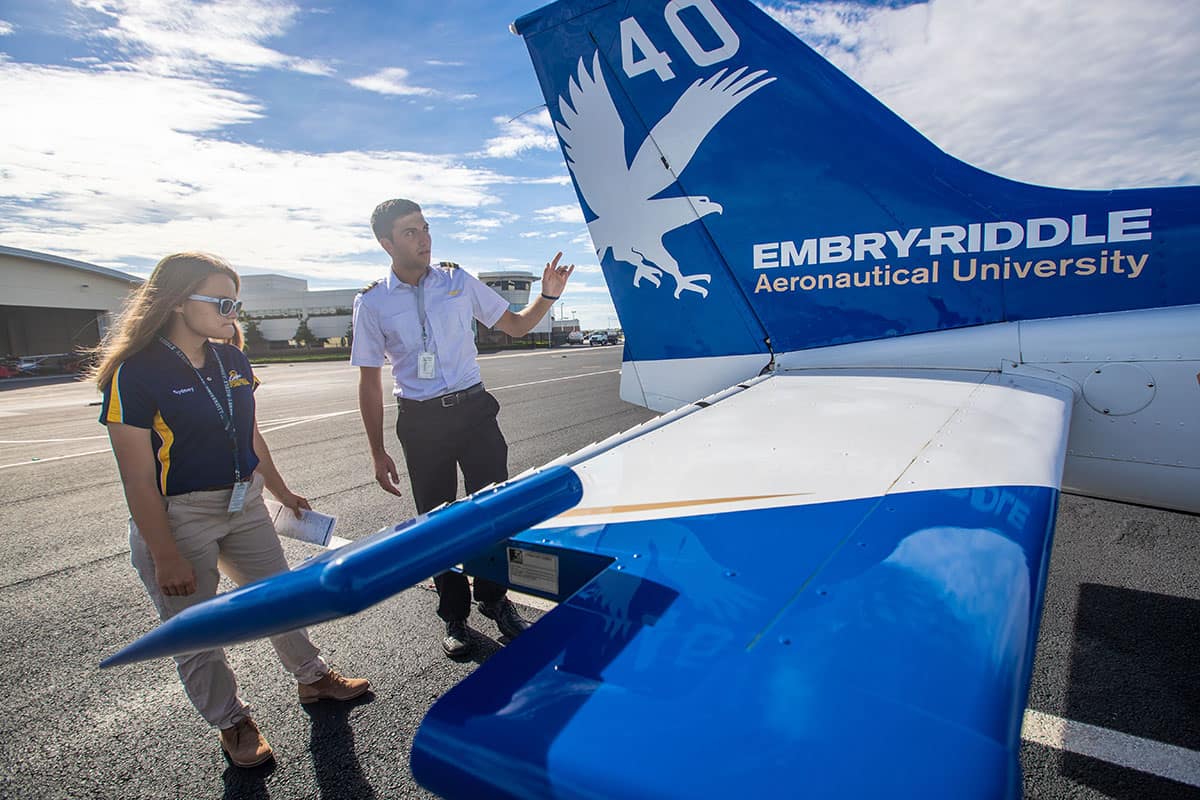 GE Digital and Embry-Riddle Aeronautical University initiated a partnership in 2020 when the university adopted GE Digital's Safety Insight® software, which includes Flight Operations Quality Assurance (FOQA) technology to enhance flight safety operations on their flight line and create dynamic learning experiences with their data analytics curriculum.
Now, GE Digital is going a step further to support the future safety of flight with its creation of the GE Digital Endowed Scholarship Fund at the university.
"At GE, we come to work each day excited about inventing the future of flight," said Andrew Coleman, General Manager of GE Digital's Aviation Software business. "To make that a reality, we must make our world better for future generations and our aviation industry accessible to everyone from all walks of life. Critical to that is developing students who will lead this industry moving forward. We are proud to launch this initiative with Embry-Riddle to prepare students to solve some of the toughest aviation challenges we've ever seen through the use of digital software solutions."
The new endowed scholarship will help promote career pathways in safety and data analytics by supporting Embry-Riddle students who are pursuing degrees in these areas at the Daytona Beach, Florida, campus.
"Our relationship with GE Digital continues to grow as we work together to promote aviation safety through data analytics and sustainability," said Dr. Alan Stolzer, dean of the College of Aviation. "We greatly appreciate GE Digital's support of students who are pursuing careers that will rely on innovative software and analytics aimed at keeping our skies safe."
The GE representatives met in 2020 with Embry-Riddle's three College of Aviation deans (Daytona Beach, Prescott and Worldwide campuses), plus the deans for the College of Engineering and the David B. O'Maley College of Business at the Daytona Beach Campus. They toured the university's Flight Operations building and its Flight Simulation Center and discussed ways in which GE Aviation and the university could collaborate.
"GE Digital is committed to promoting aerospace safety through the use of data and analytics," said Coleman. "Our solutions help airline operations, safety managers and pilots improve flight safety with multi-system flight data collection and analytics to help optimize operating procedures and overall airline safety."
"The use of Safety Insight's Flight Operations Quality Assurance [FOQA] technology, the gold standard of flight data monitoring, ensures Embry-Riddle students are highly competitive for safety and risk-management roles at every major airline in the world," said Stolzer.
By providing students and faculty with access to GE's leading flight data analytics platform, the GE-Embry-Riddle partnership is also improving aviation safety education by opening doors to additional applied learning and research opportunities.
Embry-Riddle uses the software in its aviation safety education courses and programs on all its campuses and in its operations to improve efficiency for flight and fleet maintenance in the university's flight departments, Stolzer said.
The FOQA technology also offers data visualization with animation capabilities, empowering students to look for trends and detect precursors to incidents or accidents. The university's Flight Data Analysis Lab allows for collaboration with industry and aviation experts and offers professional education for aviation safety professionals.
"This software gives us a huge competitive advantage over other flight and educational programs," said Stolzer.
About GE Digital
GE Digital transforms how our customers solve their toughest challenges by putting industrial data to work. Our mission is to bring simplicity, speed and scale to digital transformation activities with industrial software that delivers breakthrough business outcomes. GE Digital's product portfolio — including grid optimization and analytics, asset and operations performance management, and manufacturing operations and automation — helps industrial companies in the utility, power generation, oil and gas, aviation, and manufacturing sectors change the way industry works. For more information, visit www.ge.com/digital.
Posted In: Institutional News