Future Electrical Engineer Takes Advantage of New MicaPlex Lab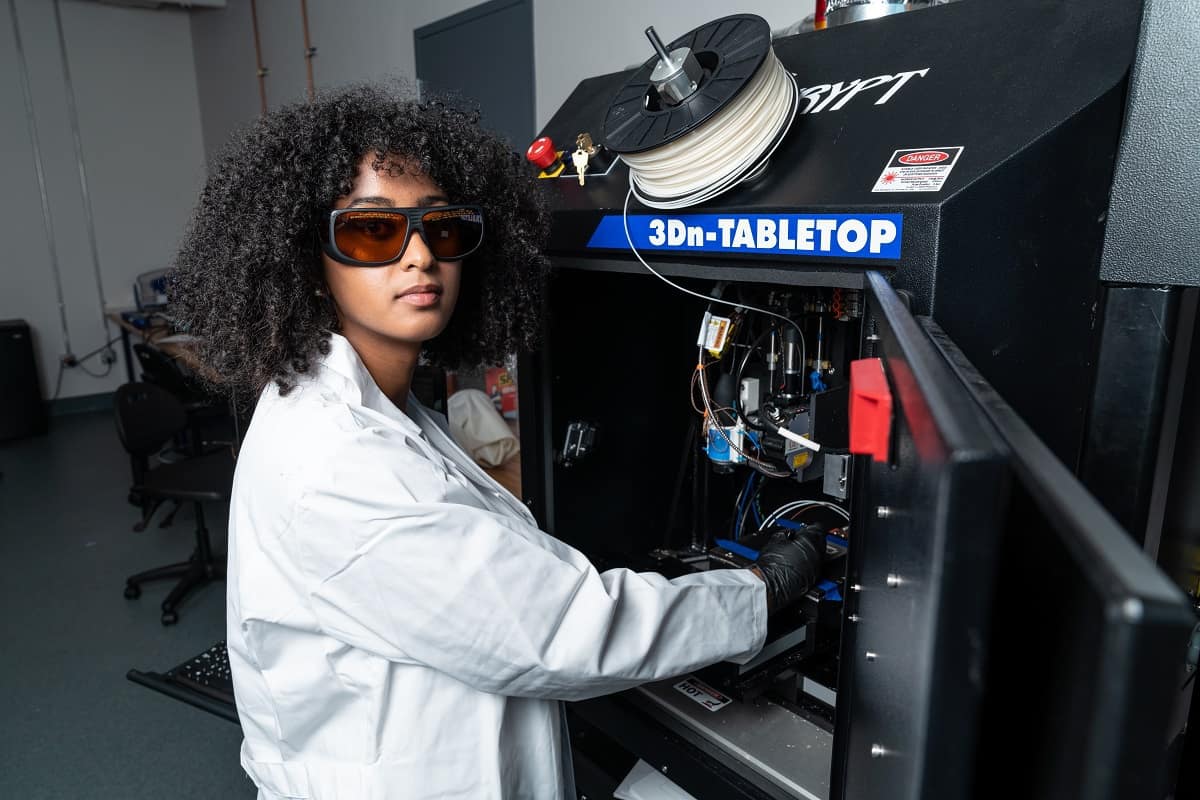 Growing up in the West African country of Cameroon, Sofia Mvokany started learning English by watching movies and TV shows.
Today, at age 22, she's working toward her Electrical Engineering degree by studying the finer points of laser micromachinings with Dr. Eduardo Rojas in the Embry-Riddle Wireless Devices and Electromagnetics (WiDE) Laboratory.
The newly opened facility, located in Embry-Riddle's John Mica Engineering and Aerospace Innovation Complex, or MicaPlex, gives students like Mvokany access to a design room with state-of-the-art software, advanced manufacturing equipment including 3D printers, and a testing area. The lab even includes an "echo-free" or anechoic chamber, which absorbs sound and electromagnetic waves to enhance the testing of devices.
As an aspiring engineer, it made sense for Mvokany to set her sights on Embry-Riddle. She started her classes at the university in 2018. She expected that ERAU would open doors for her – and she was right.
"I was fortunate enough to win a grant from the Institute of Electrical and Electronics Engineers and the National Science Foundation through Project Connect 2019 to be able to participate to the International Microwave Symposium this past June in Boston," she said. "I had the amazing opportunity to sit at the same table as electrical engineering giants and learn more about what it means to succeed in the industry and in the lab."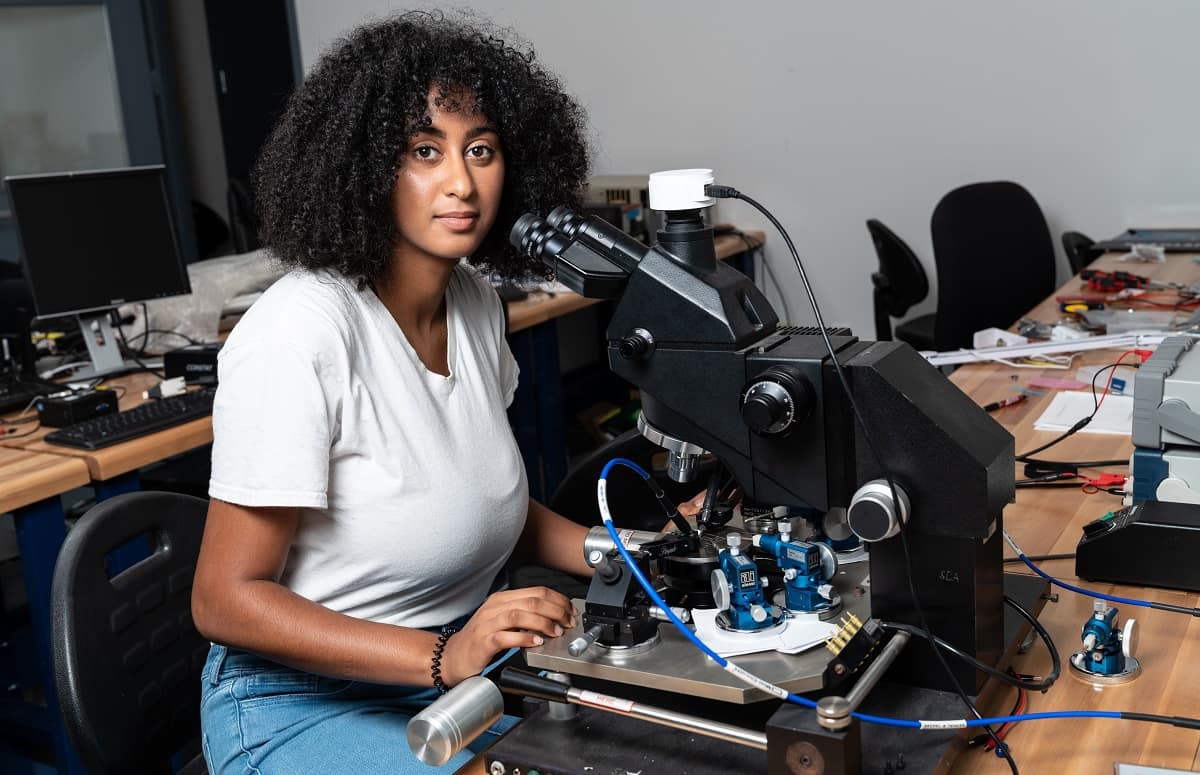 Embry-Riddle student Sofia Mvokany is pursuing a degree in Electrical Engineering with Dr. Eduardo Rojas, who runs the Wireless Devices and Electromagnetics (WiDE) Laboratory (Photo: Embry-Riddle/Daryl LaBello)
A Passion for Engineering and Entrepreneurship
She's now a long way from trying to learn basic English phrases and she's also a long way from home. But Mvokany would not want to be anywhere else.
"I still have a long way to go, but thanks to Dr. Rojas and the WiDE lab, I am learning more every day," Mvokany said. "I would like to further my education, earn a Master's degree in Electrical Engineering and an M.B.A. degree to be able to marry my passion for engineering with entrepreneurship."
Those passions were probably passed to Mvokany from her parents, who were hydraulic engineers. Her Russian mother and her father, a Cameroon native, met at college in Kharkiv, Ukraine where they both earned Master's degrees.
Raised mainly by her mom in Yaounde, Cameroon's capital, Mvokany grew up speaking French and nurturing her hereditary love of science. At 18, she grabbed a chance to move to New York City and attend the CUNY Borough of Manhattan Community College, where she earned an A.S. degree in Engineering Science.
Opportunities to grow and network, combined with her challenging course work, make Mvokany grateful she's now studying at Embry-Riddle. She credits the school and its faculty for helping her chart a clear course for the future.
"After participating in the International Microwave Symposium, I had much more clarity on my professional path for the upcoming years," she said. "It allowed me to find my way and understand that I would like to deepen my expertise in radio frequencies and microwaves. Throughout my career, I am interested in exploring research and the industry and eventually I want to open up my own company."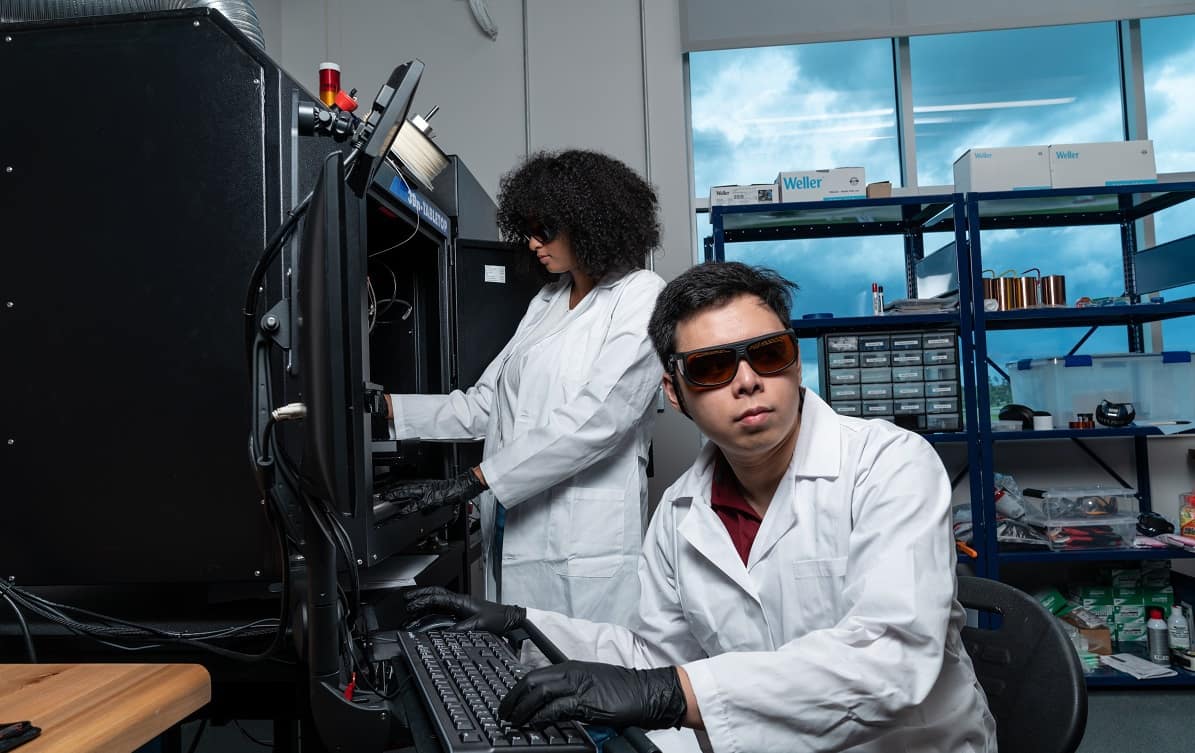 Students Sofia Mvokany and Seng Loong (Hanson) Yu use a state-of-the-art additive manufacturing system integrated with a femtosecond laser for 3D high-frequency electronics in Embry-Riddle's new Wireless Devices and Electromagnetics (WiDE) Laboratory. (Photo: Embry-Riddle/Daryl LaBello)
Helping Students Find Jobs
Rojas, an assistant professor in electrical and computer engineering, has deep expertise in radio-frequency circuits, additive manufacturing using 3D printers, antennas, monolithic microwave integrated circuits, and material science for high-frequency circuits. The new WiDE Lab focuses both on discovering the best new geometries and materials for fabricating wireless circuits and antennas, and developing applications to improve efficiencies, he said. For example, he has been actively involved in efforts to advance wireless avionics systems.
As of September 2019, Rojas will be working with about 14 students, including three Ph.D.s and a half-dozen Master's students. He takes pride in the diversity of students in his lab and in the industry-relevance of their skills.
"I consider that part of my success is in making sure the students can quickly find highly technical jobs when they graduate," Rojas said. "We want to make sure they gain the skills that the industry needs, and we work closely with industry partners to ensure that what we teach students in the lab is going to translate into what they will need to do in the industry."
Posted In: Applied Science | Computers and Technology | Engineering | Research