"The year I joined the Army is the year they were in kindergarten. It's an odd feeling," said Walsh, now 31, and an Aeronautical Science major studying to become a commercial airline pilot.
Dan McCabe, 30, who served in the Army for almost seven years as a mechanic, had a similar adjustment period when he left military life in April 2013. He was deployed to Iraq and additional duty stations working on Humvees and other vehicles.
Following service, McCabe spent three years at various jobs before enrolling at Embry-Riddle in January 2016 in the Homeland Security degree program. When he first started, he went to class, did his homework and went home. It felt almost like a job, he said, until he joined the Student Veterans Organization (SVO) on the Daytona Beach Campus with students who have his same military experience.
Both McCabe and Walsh also found camaraderie at Embry-Riddle's Veteran Student Services, which provides a host of assistance from helping veterans apply for benefits to tutoring, counseling and textbook lending. Now McCabe, who is president of the Student Veterans Organization, and Walsh, the veteran representative on the Student Government Association, are helping other veterans adjust and spreading awareness of services on campus.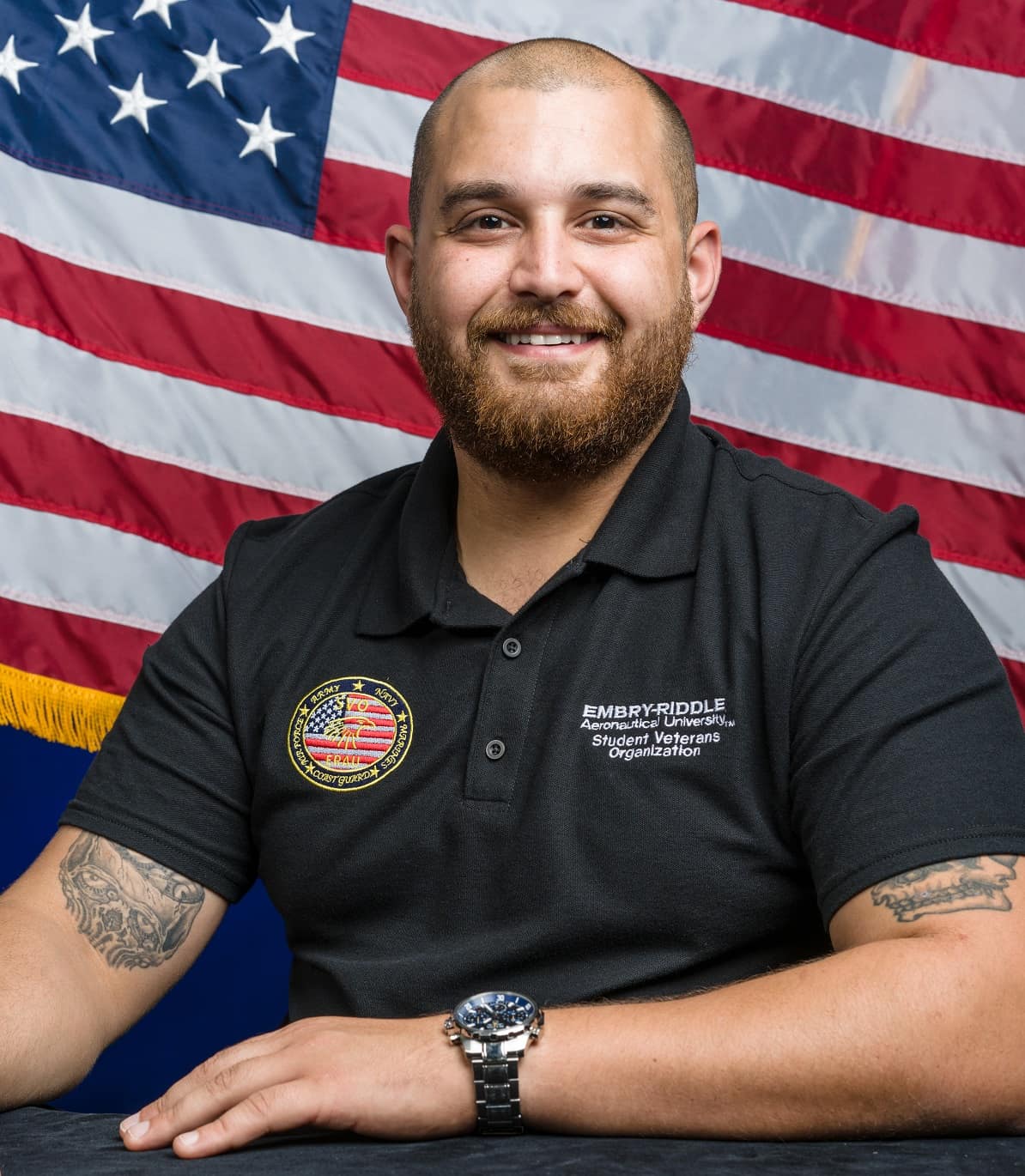 "When you get out of the military, it's a different mindset and lifestyle," McCabe said. "We always had direction and we had a purpose. That can be difficult to find when you leave. We try to aid with that."
The veteran leaders not only believe veterans can benefit from being more involved in the college experience, but hope the general student population will interact and participate more in activities with veterans to help bridge the age gap.
"Anytime there's a veteran's event, I want to try to get everybody involved. Everybody is an Eagle first," said Walsh, who is also now in the Army National Guard.
Embry-Riddle's Daytona Beach Campus has 710 students who are veterans, active duty, dependents of veterans or selected reservists, which makes up 12 percent of the student population on campus. The university has repeatedly been designated as a top Military Friendly School for its commitment to embracing military students and dedicating resources to ensure their success in the classroom and after graduation.
To help reach more veterans and the overall student population, the Student Veterans Organization is participating in more activities on campus from tailgating at sporting events to helping with campuswide activities, including most recently helping to sponsor the True to the Blue 5K during Homecoming. The event benefited the Ashley Guindon Memorial Scholarship. A Marine Corps veteran and alumna, Guindon died in the line of duty on Feb. 27, 2016 - her first day as a Police Officer in Prince William County, Va.
On Nov. 6, the Student Veterans Organization is sponsoring a free public showing of the movie Almost Sunrise at 7 p.m. in the Willie Miller Instructional Center Auditorium. The documentary about resilience and recovery follows two Iraq veterans, who struggle with depression upon returning home, and their journey on a 2,700-mile walk across America. The student organization hopes veterans and other students will see that Post-Traumatic Stress Disorder (PTSD) is manageable. One of the veterans in the film, Anthony Anderson, will also share his experiences at the event.
At Embry-Riddle's Veteran Student Services, where the Student Veterans Organization has an office, both McCabe and Walsh have received various services. Veterans are provided assistance in receiving their Post-9/11 GI Bill benefits along with Embry-Riddle's Yellow Ribbon Scholarship, which combined provides for 100 percent of tuition and fees for those who qualify. Veteran Student Services also provides students with private study areas, tutoring by fellow student veterans, use of computers and printers, a snack area and notary public services.
"The people who work there are great," Walsh added. "They are very patient and spell everything out for you since the paperwork can be complicated."
In addition to providing advisory counseling and referrals, Veteran Student Services also monitors the progress and eligibility status of students; assists them in resolving problems that may arise at the university or the Department of Veterans Affairs; fosters peer connections and coordinates university and community support.
A new program is lending textbooks and calculators to veterans. Career help is also provided once a week, assisting with resumes, cover letters, internships and other resources.
Dawn McGowan, director of Veteran Student Services, who teaches a course for veterans, tells the students to "Take advantage of everything the university has to offer. Don't become isolated."
A Veterans Ambassador Program, made up of student veterans, provides peer mentoring while a Faculty-4-Veterans group of faculty across campus gives students professional and academic guidance. Speakers from various organizations in the community also come talk to veterans, including the Daytona Beach Vet Center and Daytona Beach VA Outpatient Clinic.
"Veteran Student Services gave me the opportunity to talk to other veterans which made the transition from military life smooth and manageable," said Steven Singleton, who started at Embry-Riddle in the fall of 2013 after 23 years in the Army. He received assistance with applying for Vocational Rehab & Employment benefits and other services.
Singleton, who worked on OH-58D helicopters, was in the Gulf War; spent three separate one-year tours in South Korea; and two combat tours in Iraq. He received his bachelor's degree this past spring in Aerospace and Occupational Safety and is seeking a Master of Science in Aeronautics specializing in Aviation Safety Management Systems.
Tyler Warner, 25, a junior majoring in Computational Mathematics as well as Computer Science, works as a student assistant in Veteran Student Services answering questions and processing paperwork. He was in the U.S. Marine Corps serving in an artillery unit as a surveyor/field meteorologist for four years before enrolling at Embry-Riddle in 2015.
"I want to pass on to the other veterans the smooth transition that I was able to receive," Warner said.
Going back to college in his 50s was also an adjustment for U.S. Navy veteran Mark Angiolillo. He started at Embry-Riddle in Fall 2016 majoring in Aviation Maintenance Science after raising a family and holding various jobs since his military service. Angiolillo served in the Navy for seven years until 1989, including as a flight deck director moving aircraft around the flight deck, preparing for launches and receiving aircraft. Veteran Student Services has been "invaluable," he said, not only coordinating his benefits, but referring him to Embry-Riddle's Disability Support Services, which assisted him with a desk that allows him to stand and sit because of medical issues.
"The veterans at Embry-Riddle are a close-knit group of people who respect one another and support one another and I feel that is partly due to the comfort level felt at Veteran Student Services. They are amazing, friendly and personable," Angiolillo said.