From Construction to the Flight Deck: 'I Asked Myself If This Was What I Really Wanted'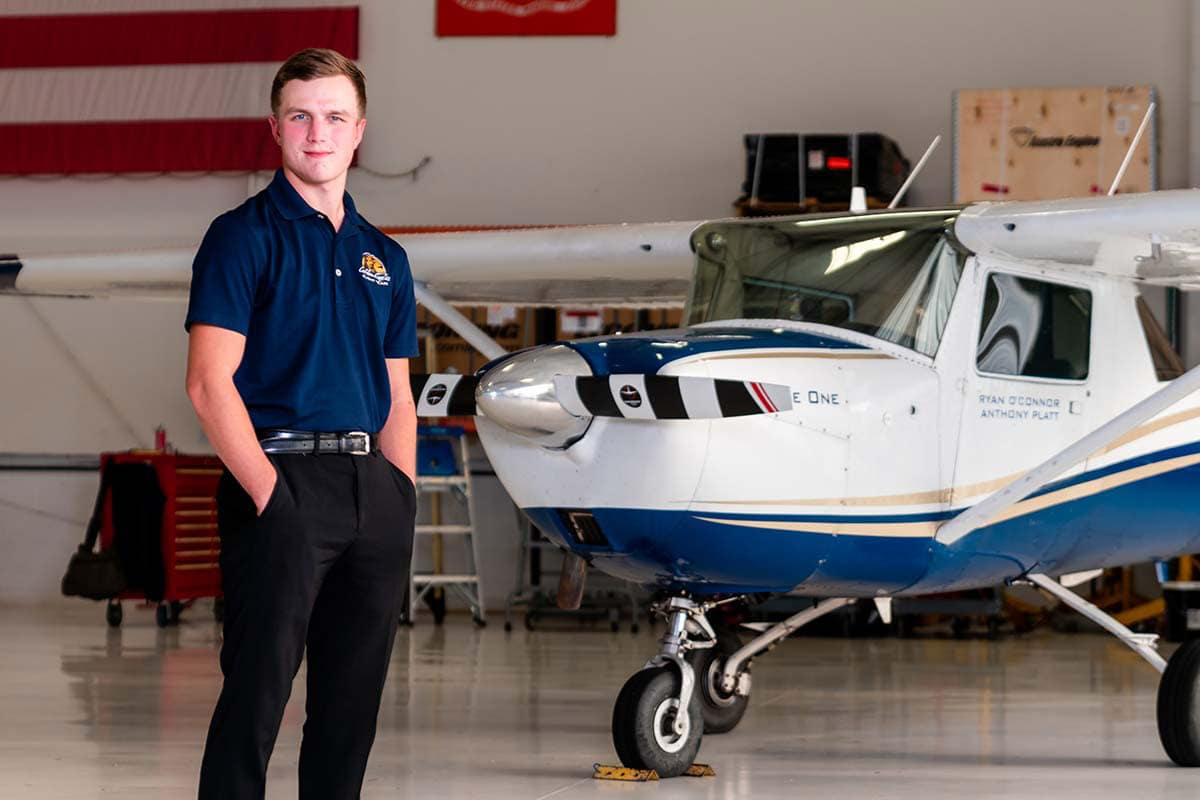 Douglas Niemela was grinding concrete at midnight, on a school night, when he decided to change his life.
"I grew up in a blue-collar family and always expected that I would be a construction worker, welder, mechanic or something similar," he said.
So he got a job in trade, almost without thinking about it, and went through the motions. He has helped build houses from the ground up. He spent a summer logging in Alaska.
But on that particular night, doing that particular job, something clicked.
"I asked myself if this was what I really wanted," said the Snohomish, Washington, native, and a fellow worker suggested he apply for college. "It was a pivotal moment."
Eleven months later, Niemela started his first term at Embry-Riddle Aeronautical University where, recently, he was awarded a Wings Club scholarship, in addition to a second scholarship from AOPA (Aircraft Owners and Pilots Association).
"I fell in love with flying because it requires training, schooling and an education, but it still is hands-on," he said, adding that he is currently the captain of the Golden Eagles Flight Team and served as the senior coordinator of a ground event that swept its competition earlier this year. "This is my last year on the team and I plan on leading us to back-to-back national championships in 2022. Being a part of this organization has given me a large amount of pride that comes with representing this school."
Prescott Campus Flight Chair Parker Northrup echoed that sentiment.
"We are really proud of our students who grow professionally and become leaders like Doug has with the Golden Eagles," he said. "He serves as a great role model for what we want our students to emulate."
Niemela's background in construction has even offered an extra level of insight into his current career path, as he begins his senior year in the Aeronautical Science program at the Prescott Campus.
"No building will stand if the foundation is weak, and that is also the case with flight training," he said. "Building a strong foundation is paramount at the beginning of any new flight rating, and it is very fun as an instructor to see the benefits of focusing on the fundamentals as it corresponds with student progress."
But the journey here hasn't always been easy.
"There are many times when the career change has been difficult," Niemela admitted, citing cost concerns. "Fortunately, we have a fantastic financial aid department that will do everything they can to help students such as myself succeed."
Lori Kelly, financial aid counselor who has worked closely with Neimala, cited his drive and clarity of purpose as the primary forces behind his success.
"Douglas made the effort to come ask for help — that is the first step," she said. "He is truly a dedicated student, very organized and knows what he wants. I was happy to do whatever I could to help him achieve his goals here."
After graduation, Niemela will start his career as a first officer for Horizon Air. After a few years, he plans to shift to flying 737s, "do something exciting like firefighting" or fill one of various pilot-leader roles, such as chief pilot or line check airman.
"Doug's story is an inspiration to all of us here at Embry-Riddle," Prescott Campus Chancellor Dr. Anette M. Karlsson added. "Because of his positive attitude and can-do spirt, he's been a successful student, a national champion and I am know he will be a great airline pilot. I can't wait to be a passenger onboard one of Doug's Horizon Air flights."
*Did you know that 51 new scholarships, totaling $1.18 million, were created last year at Embry-Riddle, bringing the total number of scholarship funds available to Eagles to 285? These programs help 96% of Eagles either land a job or enroll into graduate school within one year of graduation. Interested in helping future generations of students achieve their dreams? Visit Philanthropy and Alumni Engagement.
Posted In: Aviation