Four-Star General Inspires Worldwide Campus Spring Graduating Class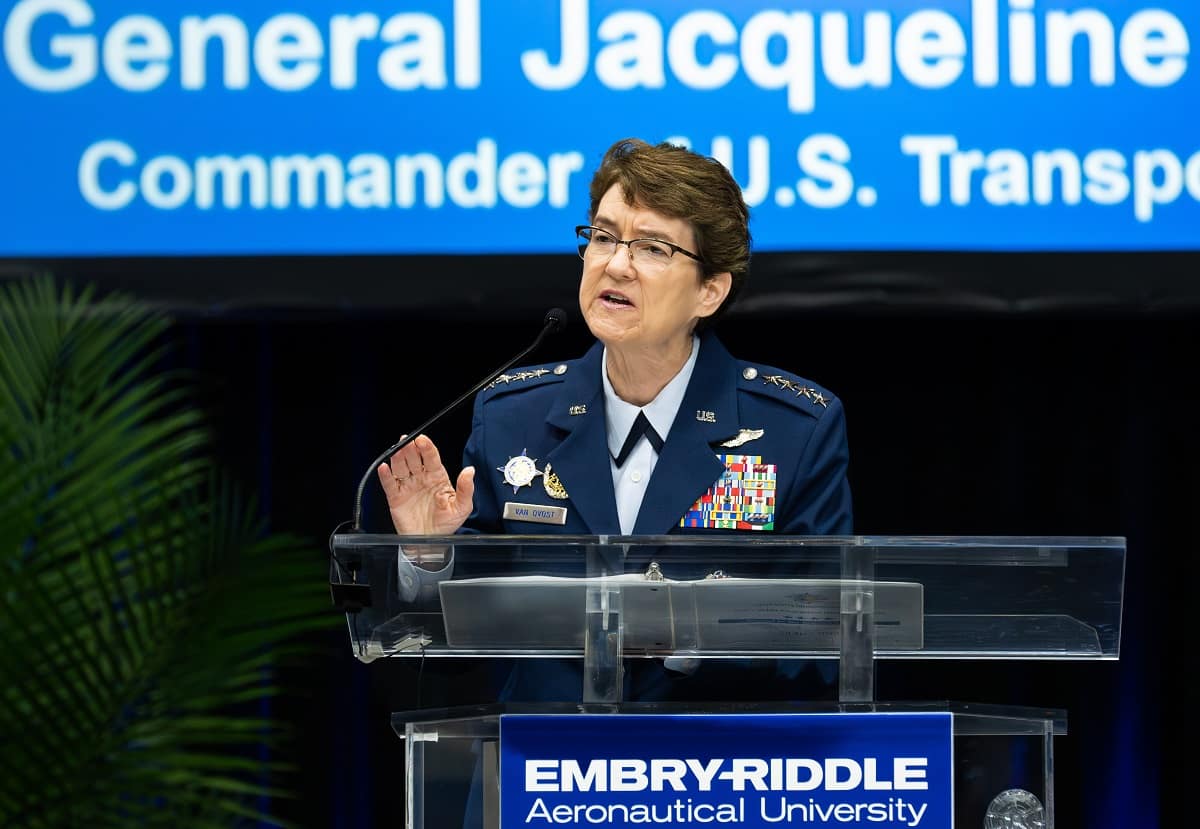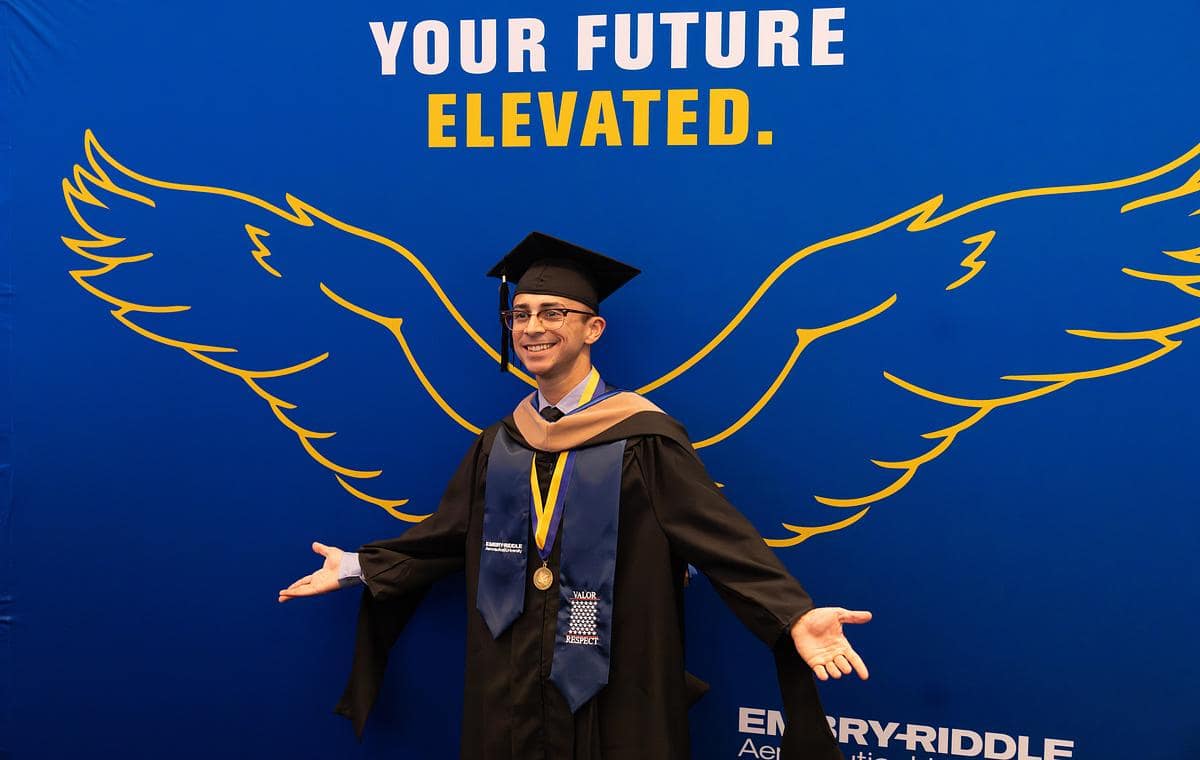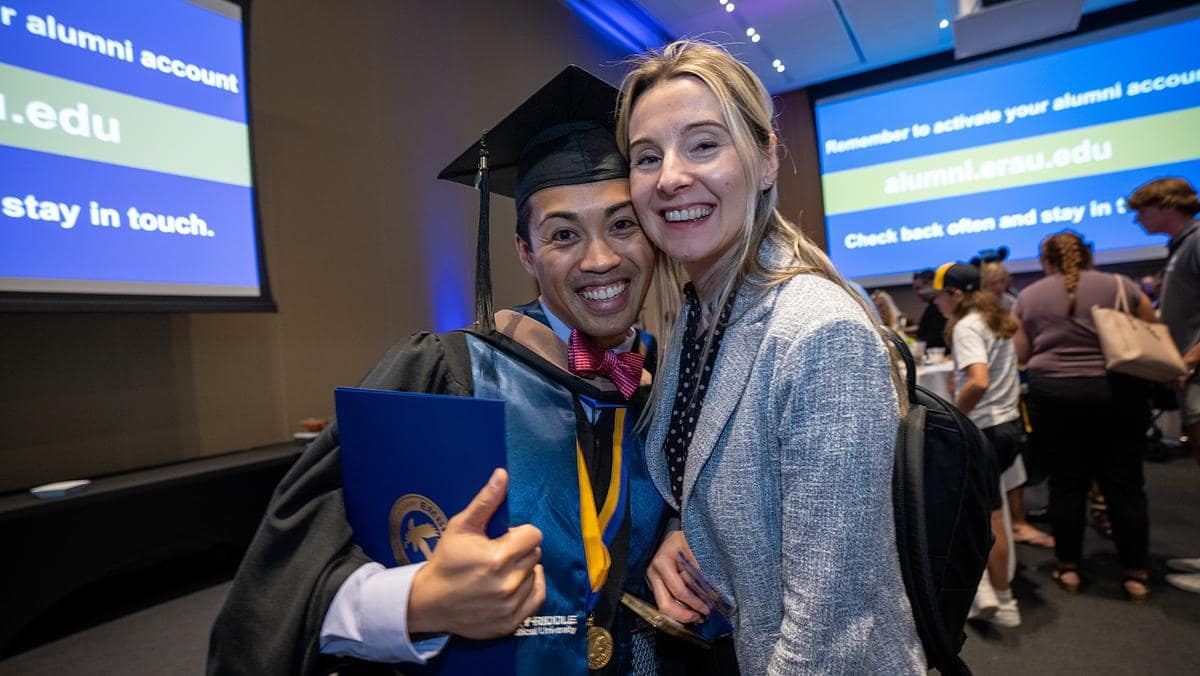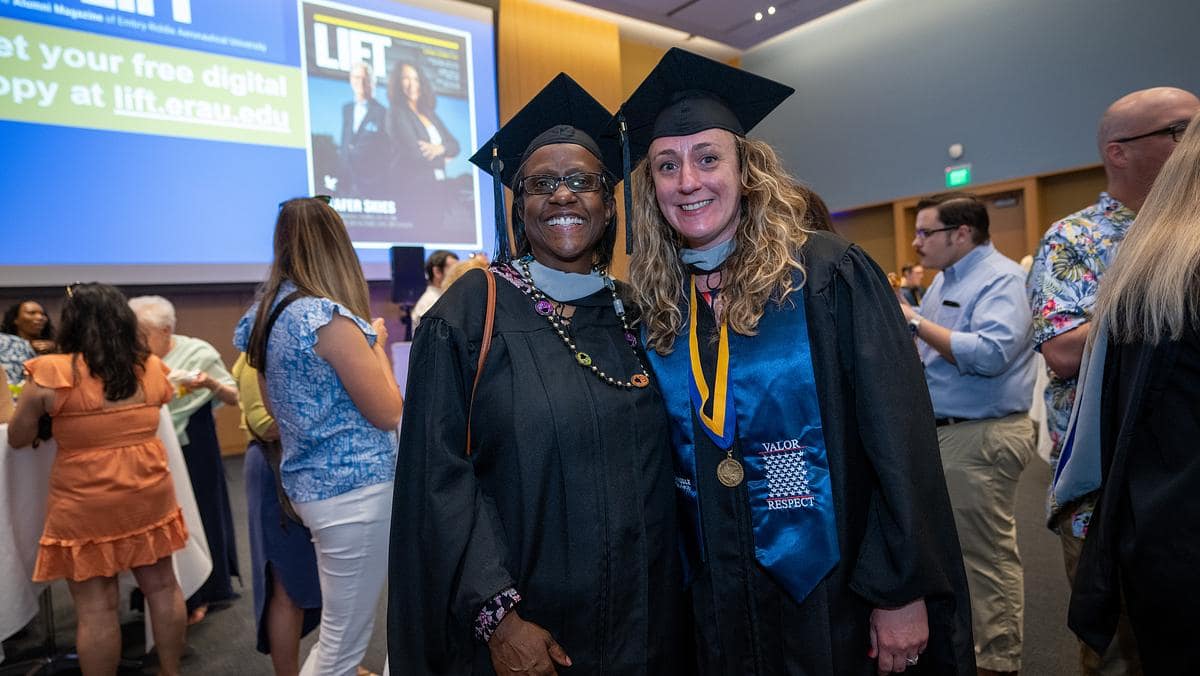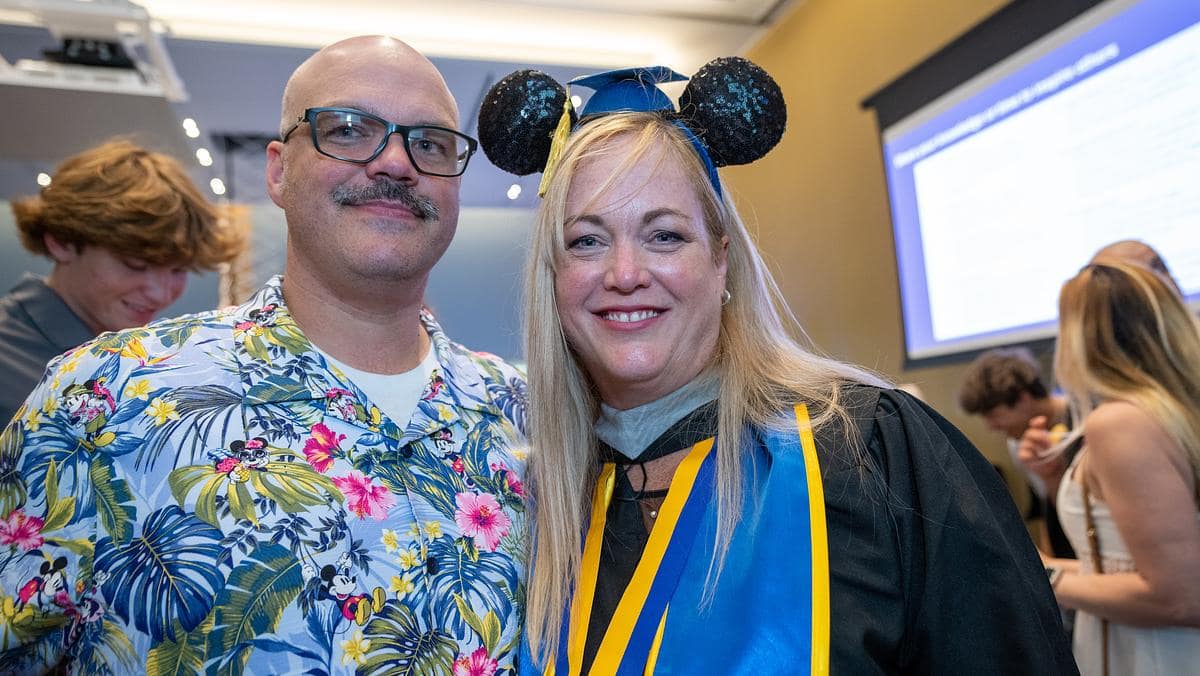 Nearly 300 graduates from Embry-Riddle Aeronautical University's Worldwide Campus gathered April 28-29, 2023, to don their caps and gowns, walk the commencement stage and earn their diplomas.
"I commend you for your dedication," Embry-Riddle President P. Barry Butler, Ph.D., told the graduates, many of whom were nontraditional students who earned their degrees later in life, while also juggling work and family. "Your perseverance will serve you well as you move forward."
A total of 272 students earned degrees at the Worldwide commencement ceremony. That number included 136 undergraduates (who walked the stage on April 29), and 136 master's degree earners (who attended a hooding ceremony April 28).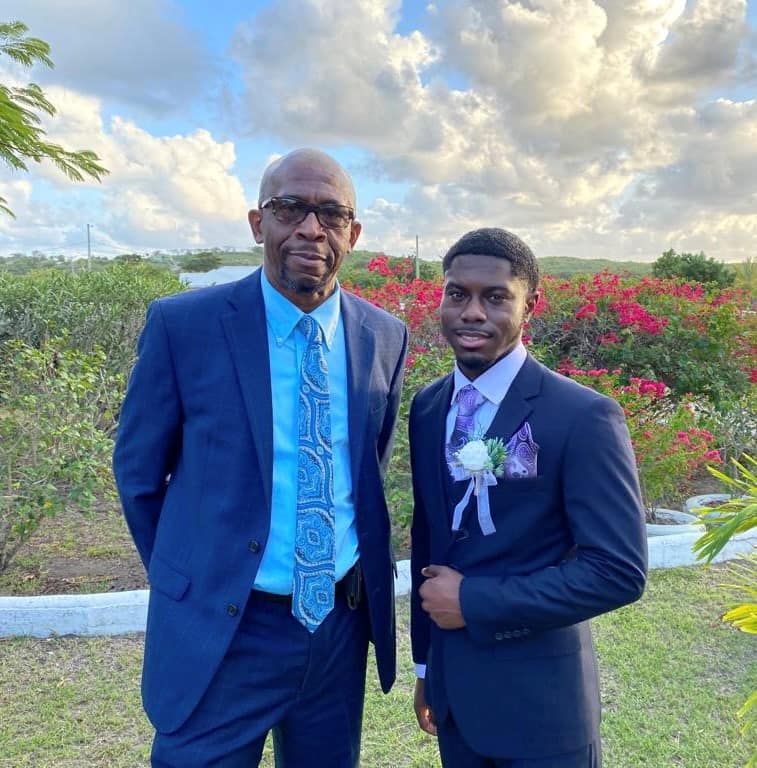 Father and son, Fabian Martin Sr. and Fabian Martin Jr., each earned master's degrees
at Embry-Riddle's spring commencement ceremony. (Photo: Fabian Martin Sr.)
Two standout students in attendance were Fabian Martin Sr. and Fabian Martin Jr., a father-son pair who each received Master of Business Administration in Aviation degrees. Both are working professionals already embedded in the field — the father, also an alumnus who previously earned a bachelor's in Aviation Maintenance Science from Embry-Riddle in 2020, currently serves as the head of quality, safety and security for an airline; the son works as an airframe and powerplant line maintenance technician.
"We both plan to take our experiences and knowledge attained during the program at Embry-Riddle to an airline executive position," Fabian Martin Sr. said. His son's goal is to eventually become a vice president of maintenance and engineering for a major airline.
Naturally competitive, the Martins spoke almost every day during their graduate programs, which served as a motivator to them both.
"At the end of each semester, we assured each other that success was at hand," Fabian Martin Sr. said. "At the end of the program, I had a 4.0 and my son had a 3.9, which I think was quite remarkable."
In his address to the graduating class, Worldwide Campus Chancellor John R. Watret, Ph.D., FRAeS, congratulated the degree-earners on achieving the kind of remarkable success embodied by the Martins.
"Each of you is here today because of your commitment and determination to push yourselves toward greatness," he said. "You've grown beyond where you've started."
The event's keynote address was delivered by United States Air Force Gen. Jacqueline D. Van Ovost, who has been lauded by Butler as a trailblazing role model. Currently one of only four women serving at the U.S. military's highest rank, she is also the Air Force's only active-duty female four-star general.
General Interest
Ahead of graduation day, Gen. Van Ovost visited Embry-Riddle's Daytona Beach Campus, on April 27, for a tour of the facilities and simulation centers, to meet ROTC cadets and to host a development session with female Flight students. She then delivered the keynote address at commencement.
"We celebrate today not merely as the successful culmination of academic achievement but as a day signifying your great potential to make a difference in this world," Gen. Van Ost told the Eagle graduating class. "If you seek success beyond today, opportunities beyond tomorrow and the mastery of your craft into the future, you must continue to set your goals high."
Gen. Van Ost encouraged the class to "dare greatly," as they commit to lifelong learning and "redefining the art of the possible."
"Among you are the individuals who will reimagine a future that will leverage technology still in their infancy, like AI and machine learning, technologies that will lay the groundwork to solve challenges yet to come — but only if you aspire to do something greater," she said. "Staying competitive in your career and living the fulfilling life that you were meant to live requires you to get uncomfortable, and to have the courage to break out of the norm and shoot for the stars."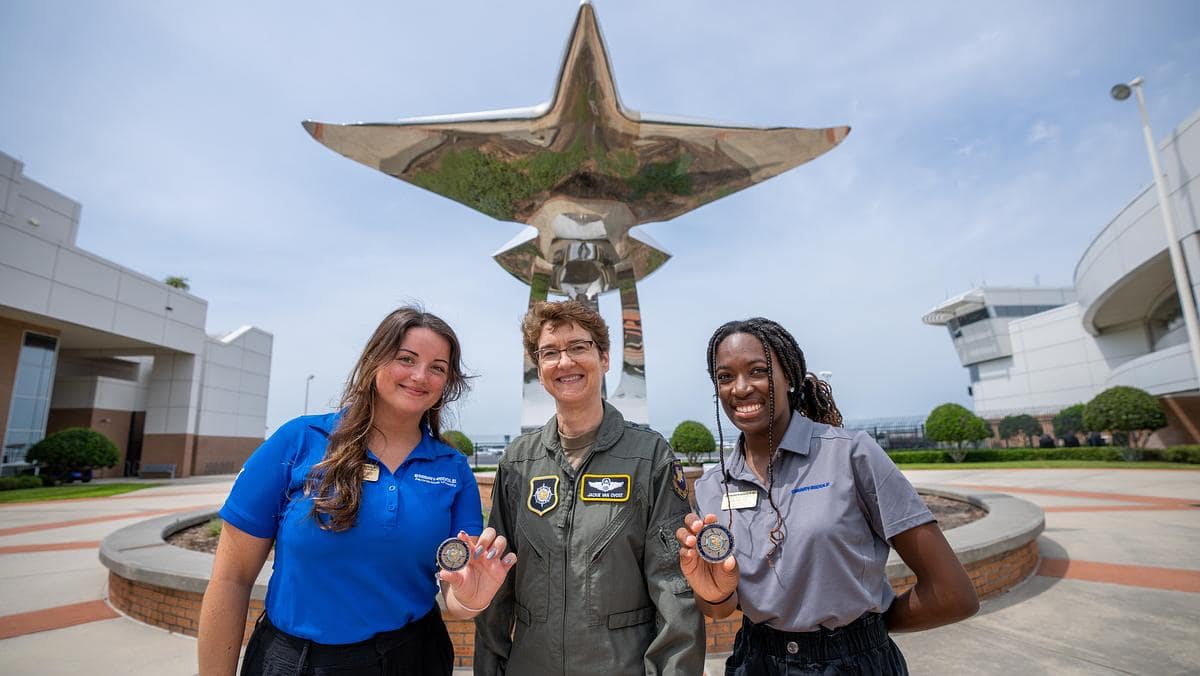 Gen. Jacqueline D. Van Ovost (center) toured Embry-Riddle's Daytona Beach Campus last week, ahead of commencement,
led by student Ashley Bass (left) and Faith Lee (right). (Photo: Embry-Riddle/David Massey)
Gen. Van Ovost currently leads U.S. Transportation Command (TRANSCOM), whose mission is to protect and sustain the combat force around the globe. When she took the post in 2021, she became only the second woman to lead one of the Department of Defense's 11 combatant commands.
During her Air Force career — which spans more than three decades — she has commanded a refueling squadron, a training wing and the Presidential Airlift Wing. She also graduated from the Air Force Test Pilot School and is a command pilot with over 4,200 flying hours in more than 30 aircraft.
Gen Van Ovost has a diverse operational and training background, which includes the command of an air refueling squadron, a flying training wing, the Presidential Airlift Wing, and Air Mobility Command. She has held several staff and joint assignments, where she spent time as an advisor to senior military leaders on acquisitions, operations, plans and policies. Each of these experiences has afforded her a full picture of the current global strategic environment.
She holds a bachelor's degree in aeronautical engineering from the U.S. Air Force Academy and is a graduate of the U.S. Air Force Test Pilot School. Gen Van Ovost earned a master's degree in mechanical engineering from California State University and a master's of strategic studies from the Air War College. An accomplished pilot, Gen Van Ovost has more than 4,200 military flight hours in more than 30 aircraft.
"The agility necessary to solve complex problems facing our nation … can be realized by the higher education this institution provides," she said, addressing Embry-Riddle's impact in the global community. "Through the great flexibility of a Worldwide Campus, our globally stationed service members and citizens from around the world have access to a prestigious education. Thank you."
Posted In: Institutional News