Former Airbus Americas Executive Outlines Top Five Future Challenges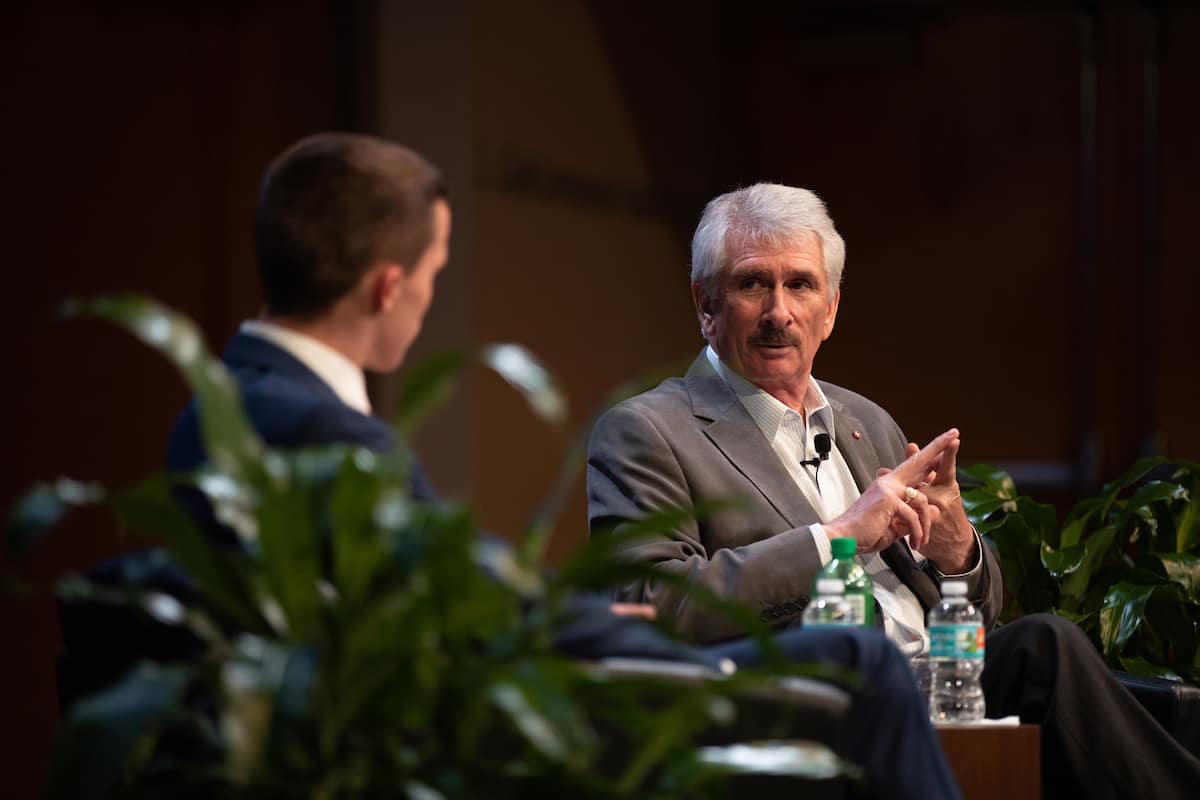 For Embry-Riddle students hoping to score plum aviation and aerospace positions, former Airbus Americas CEO and President Barry Eccleston shared a "shopping list of exciting things to work on" during his first-ever visit to the Daytona Beach Campus on Sept. 24.
Topping Eccleston's list of future engineering challenges were urban air mobility, pilotless flight, more environmentally friendly aircraft, factories of the future, and space exploration, from the moon to Mars.
"I love it when people tell me it can't be done," he said in a candid talk about his career, including highlights such as flying over the English Channel in F-4 Phantom aircraft and spearheading the sale of more than 200 Airbus planes to American Airlines. "If someone tells you it can't be done, that's your challenge."
In the 1950s and '60s, "the old mantra was faster, further, higher," he told an auditorium packed with students at a Presidential Speaker Series event, organized by the Office of the Provost. "Today, it is cheaper, quicker and more reliable."
An aeronautical engineer and pilot who recently earned his instrument rating at age 71, Eccleston led Airbus Americas for 12 years before retiring in 2018. He also served as vice president and general manager for Honeywell's Propulsion Systems Enterprise and as Honeywell's vice president of commercial aerospace across Europe, the Middle East and Africa. In addition, he held positions with Fairchild Dornier Corporation, Rolls-Royce and International Aero Engines.
Seeking Inspiration
Eccleston graduated from Loughborough University in England in 1969, the year the first Boeing 747 took off. The Concord supersonic airliner also debuted in 1969, and that same year, Apollo 11 landed on the moon. "There was no lack of inspirational people and programs," he recalled of that time. After graduating, Eccleston joined the Graduate Apprenticeship scheme at Rolls-Royce.
Today, the top U.S. aircraft manufacturers, Airbus and Boeing, are not currently developing new models, Eccleston noted. "But don't forget," he added, "the majority of the money today is coming from the commercial business. We will still need to build better and cheaper airplanes." In an industry that has seen eight straight years of growth, pilots, aviation maintenance professionals, engineers and innovators are in high demand, he said.
Inspiring new technological challenges are on the horizon, Eccleston said, citing the critical need to reduce the environmental impacts of flight: "This doesn't mean making airplanes that are 10 percent more efficient, but rather, new forms of energy. It means hybrid airplanes, electric airplanes, maybe hydrogen airplanes."
Pilotless aircraft currently face tough opposition, but as public attitudes change, new unmanned technologies will find broader use in stages, perhaps first for cargo deliveries, Eccleston said, and "in places like Dubai and Singapore, it will happen more quickly."
Confidence, Humility, Trust, Integrity
Eccleston's talk, moderated by Jim Myers, an Embry-Riddle sophomore pursuing a degree in Aviation Business Administration, included effective leadership strategies as well as frank discussion about bouncing back from career low points. He urged today's students to be confident yet also humble, and to put personal integrity above all else.
"Assume the people you meet are good people," he said. "Listen to your customers. Trust your people. Establish great teams. You may be the greatest mind in the room, but remember that collectively, you're even smarter." As a business leader, he added, once a decision is made, stick to it and "ensure that everyone is rowing in the same direction."
Noting that being honest about personal failures can help others, Eccleston described two "down times" in his career — first, when he moved to Canada to run a factory without fully learning the ropes first, and later, when the terrorist attacks of Sept. 11, 2001 caused customers to cancel or postpone airplane orders, effectively putting his firm out of business. At the factory, Eccleston said, he didn't address bottom-line issues quickly enough, put his trust in the wrong people, and didn't recognize the need for tough cost-cutting measures. After Sept. 11, Eccleston was out of work for six months before he joined Honeywell.
Eccleston said that Embry-Riddle students have an advantage in the job market. "If you're in the aviation industry, Embry-Riddle is the go-to place," he said. "Those of you who are here are already on the right track."
The Presidential Speaker Series on Embry-Riddle's Daytona Beach Campus welcomes industry leaders, prominent alumni and trailblazers in aviation, aerospace and related fields. Each 90-minute dialogue is free and open to students, faculty, staff and the community.
On Oct. 30 at 6:30 p.m., Mauro Atalla, vice president for engineering and technology at Collins Aerospace will share his insights in the Henderson Welcome Center, Duva Ballroom.
Posted In: Aviation | Institutional News