For Cool Projects and Jobs, Students Flock to Flexjet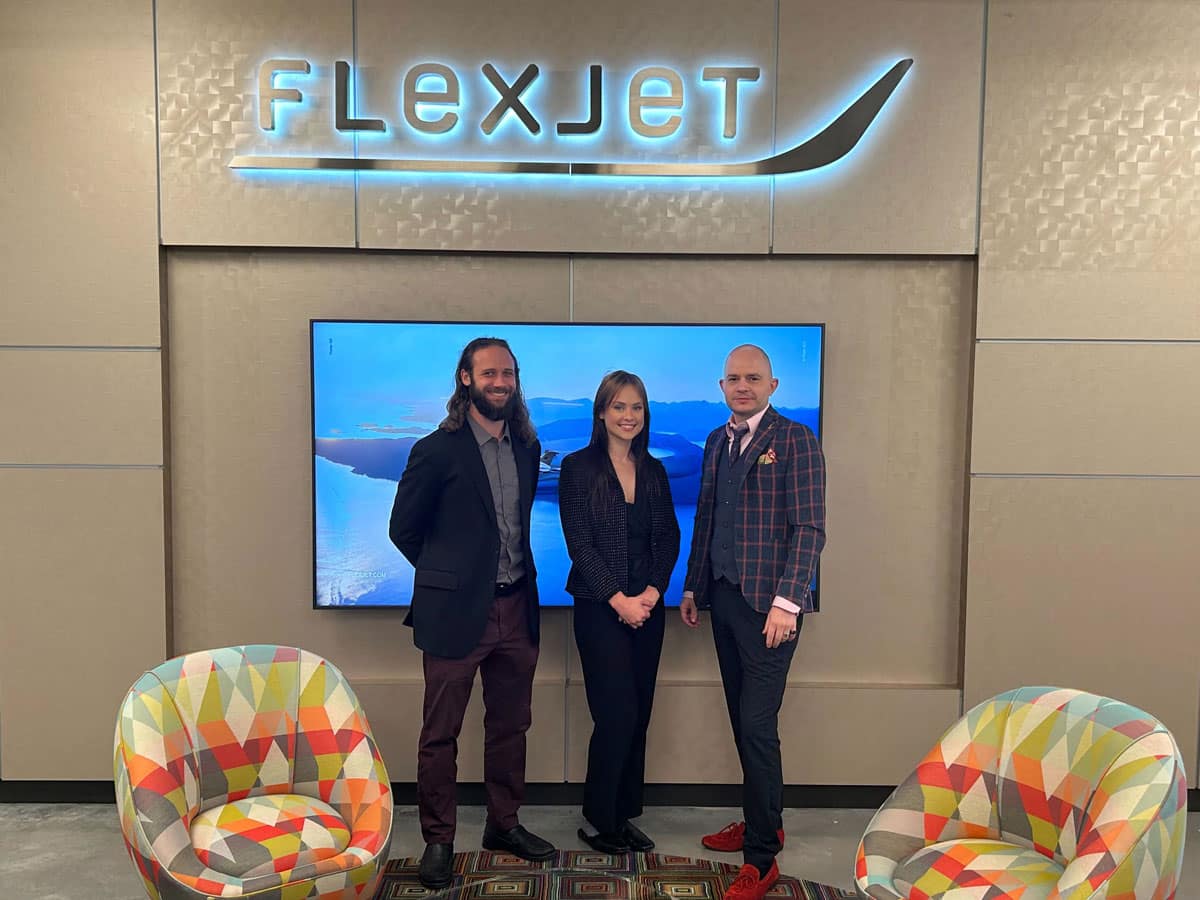 Annaelise Swanson, a rising senior at Embry-Riddle Aeronautical University, is training ChatGPT, the scary-smart new artificial intelligence (AI) tool, to answer questions about aircraft, safety standards, services and more.
The project is part of Swanson's internship with Flexjet, a subscription-based private aviation leader at Embry-Riddle's Research Park in Daytona Beach, Florida. Swanson is teaching ChatGPT to respond to frequently asked customer questions.
At Flexjet, such projects frequently lead to full-time job offers. The company keeps turning student interns into employees, creating high-paying jobs in Volusia County. So far, Flexjet has hired eight full-time employees through an extensive internship pipeline that has served 28 students to date, reported Michael Campobasso, the company's Innovation and Career Center manager.
Currently, six Embry-Riddle students are interning at Flexjet. All of them, including Swanson, are working on innovative, real-world projects.
Flexjet Interns Make a Difference
"Every single person in this office — whether they're an intern, part-time or full-time — every single person is working on production-level, system-critical, business-critical technology that has to function every day in order for the customer to fly, in order for our operations to work," Campobasso said.
For her internship, Swanson is helping Flexjet create a new sales and marketing tool by repurposing ChatGPT. Because the technology is "open source," anyone can use it to develop tools for specific uses. Swanson's work requires front-end as well as back-end software development. Her biggest hurdle was to improve the accuracy of ChatGPT's answers.
"There are multiple ways for ChatGPT to process the information and find the right answers," said Swanson. "We had to decide which approach was best, cost-wise, time-wise and accuracy-wise. Initially, it would take a while to find answers, and it wouldn't always find the right stuff, but we found a new, less expensive option that works better."
Swanson said her Flexjet internship has broadened her skill set. "It's been a great, hands-on learning experience for me," said Swanson, who grew up in Port St. Lucie, Florida. "I came to the internship with a knowledge of Python and C [coding languages], but then I was trained on Flexjet's entire system. Being able to say I've worked on AI will help my career."
A Computational Math major, Swanson noted that the better she gets at coding, the less time she will need to spend on those tasks. That will leave more time for her favorite part of the project — math. Swanson caught the math bug in high school, when she fell in love with calculus and received encouragement from her high school teachers.
Promoting Industry Opportunities
At Embry-Riddle, Swanson credits Dr. Mihhail Berezovski, associate professor of Mathematics, with putting her on a path to the Flexjet internship. "He's created a lot of job opportunities for students," she said. "He's working with 20 students this summer. He's always busy."
Under Berezovski's direction, Swanson worked on neural networks for a class project on industrial mathematics. She also received support through Embry-Riddle's Summer Undergraduate Research Fellowships (SURF) program to undertake a second, yearlong project that involved image processing.
Campobasso commended Berezovski's emphasis on providing industry opportunities for his students. "He is all about it, and he works super hard," Campobasso said. "He supports us and also works to engage other good industry partners."
Berezovski, coordinator of the Data Science track for Embry-Riddle's Bachelor of Science in Computational Mathematics degree, focuses on solving practical problems in collaboration with industry partners and colleagues from other disciplines.
Through a course called MA390, Research Projects in Industrial Mathematics, juniors complete projects beyond the classroom, always in concert with industry partners. Those experiences are essential because "real companies use real data sets, which are always messy," Berezovski noted. "These are not textbook data sets, so students have to learn how to work with it."
Graduates of the program find jobs as scientists, systems engineers, data coordinators, software engineers, analysts and much more, said Berezovski, who keeps track of 170 former students from the past eight years. "They get great jobs," he added. "They're with Lockheed Martin, Northrop Grumman, Google, Amazon, Textron Aviation, Rolls-Royce, Piper Aircraft and other top companies."
Other Embry-Riddle interns at Flexjet developed a real-world flight-tracking technology that's now on display at the company's headquarters, Campobasso noted. Those former interns, James Blake, Alex Hendrik and Hunter Gardner, are all working full-time at Flexjet now.
Yet another former intern and current Flexjet employee, Zackary Hagerty-Posell, is "playing a main role in working on the software for a big technology migration," Campobasso reported. Alumnus Benigno Digon IV is focusing on crew-schedule optimization technology.
As Swanson prepares for her senior year and graduation, her advice for incoming students is simple: "Prioritize real-world experience," she said. "When you apply the information you've learned in classes, it sticks, and you know why it's important."