Flying to the Finish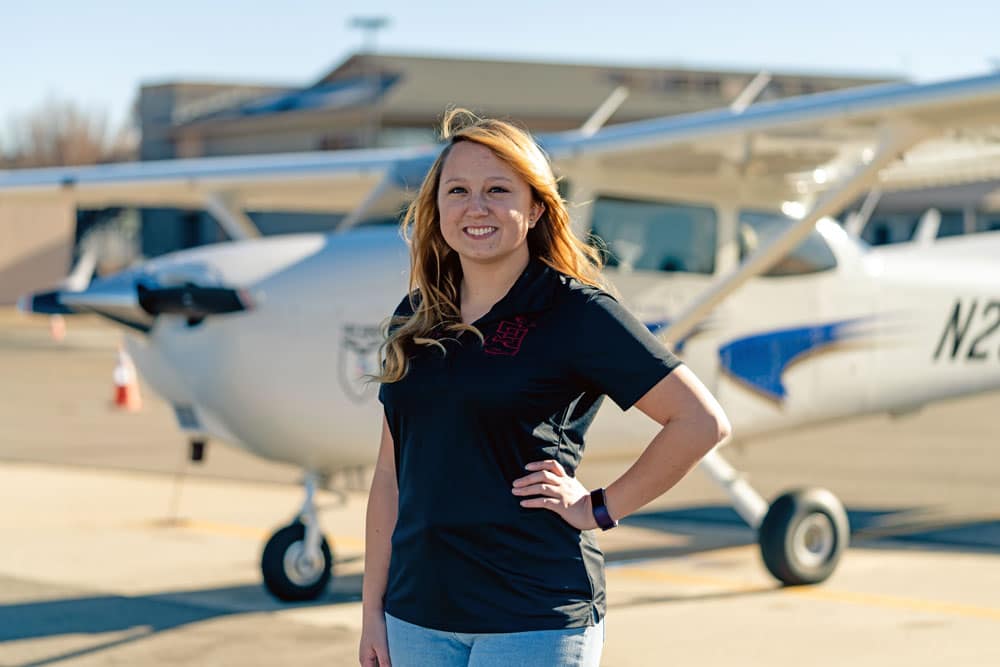 Growing up in Nevada, Autumn Tueller watched the annual Reno National Championship Air Races from her grandparents' backyard.
"The Air Races fueled my passion for the sky," said the Prescott Campus student, whose grandparents are both private pilots.
When a raging wildfire recently threatened her hometown, including her grandparents' home, Tueller worked loading fire retardant into relief planes and knew, then, exactly what kind of pilot she wanted to become.
"We had hundreds of structures threatened and I was less than a mile away from the fire line," she recalled. "And I was watching these tankers drop these perfect fire lines and save so many people I knew."
Tueller decided to major in aeronautical science at Embry-Riddle's Prescott Campus, but the only uncertainly was how to pay for it. She took out loans, which her grandparents and parents co-signed, and worked up to 41 hours a week while studying. But she still had semesters when she had to take a break from her flight training, because she just couldn't afford it.
Scholarships, including the Johan Schwartz Memorial Endowed Scholarship, Philip H. Elliott Jr. Endowed Scholarship and Russell F. Holderman Endowed Scholarship, have helped her continue her education.
"There have been time I didn't think I would be able to come back, but here I am," Tueller said. "Scholarships are the reason I am still here."
Besides juggling work and school, Tueller is active in the local Ninety-Nines chapter, an international organization for women pilots.
"My grandma was also a 99," she said. "She actually gave me her 99 pin that she got when she first joined."
Tueller also plays violin for the Prescott Pops Orchestra, when she is not working at the university's flight line and for another fixed-based operation at the local airport.
With its small classes and close-knit campus, the Prescott Campus has nurtured her dreams of becoming an aerial firefighter pilot and scholarships have kept her going financially.
"I'm so grateful for donors who support my passions and aspirations for higher education," Tueller said. "This support means everything to me."