Flight Simulation Icon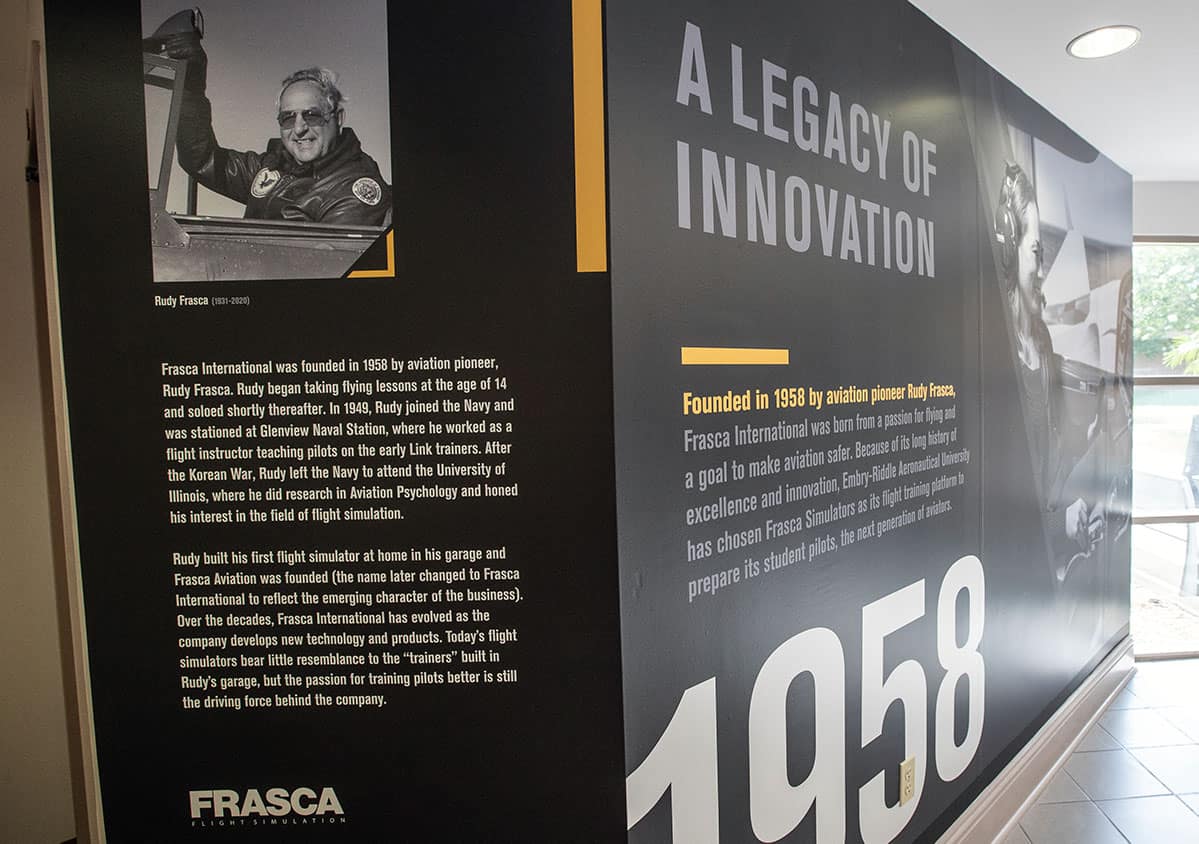 New COA display honors Frasca International Founder Rudy Frasca
Frasca International founder Rudy Frasca built his first flight simulator in 1958 in his garage.
The U.S. Navy veteran and aviation psychology researcher would go on to build his company into a world leader in the design and manufacture of flight simulators. Those simulators have helped train generations of Embry-Riddle flight students and continue to do so today.
"He's been such an innovator in the world of flight simulation, and he's been so influential," said College of Aviation Dean Alan Stolzer. "He was a charismatic and innovative giant in aviation, and his contributions to pilot training have been profound."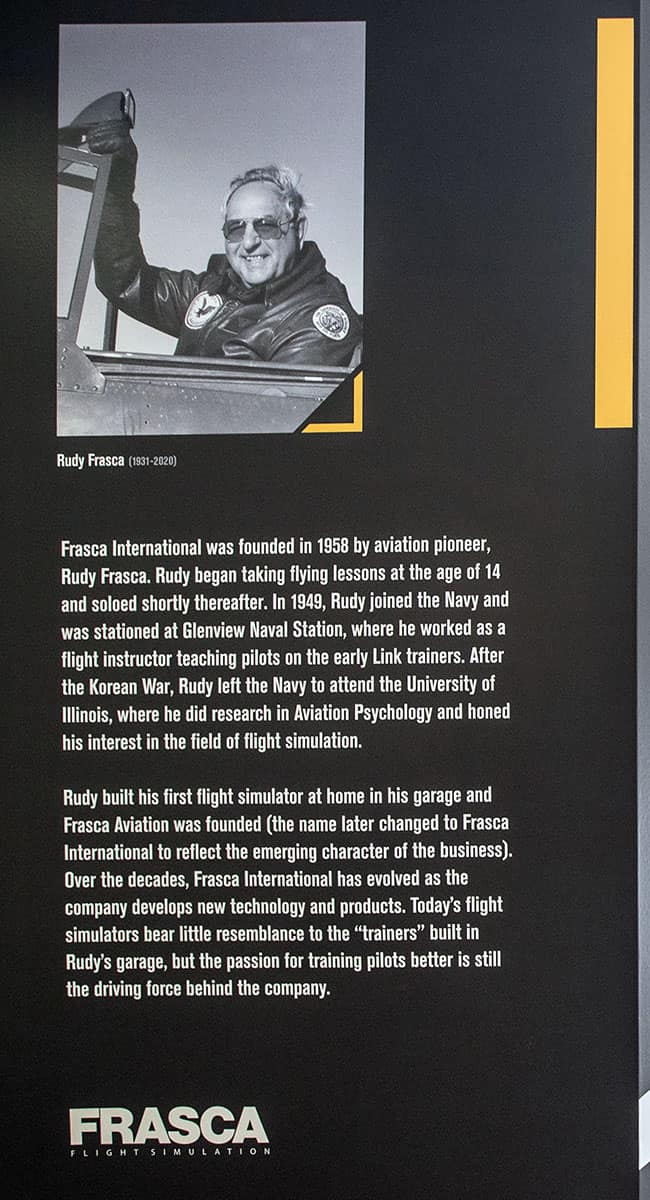 Embry-Riddle's College of Aviation is honoring Frasca and his impact on thousands of Embry-Riddle flight students with a newly installed informational panel in the college, which is supported in part by the College of Aviation Dean's Fund for Excellence. The display details the history of Frasca simulators and tells the story of their inventor, who passed away at age 89 on May 11, 2020.
"Making sure the students recognize the contributions he has made to flight instruction, innovation and safety is really important," said Stolzer, who personally knew Frasca for nearly 35 years and visited the Frasca International factory and Frasca Field in Illinois. "So the wall of recognition to him is a fitting tribute."
Rudy Frasca's legacy lives on daily at Embry-Riddle, where students continue to learn by using Frasca simulators, building their confidence and training as pilots in a controlled environment. The university and company have also worked together on research and innovations related to the simulators.
"We have collaborated with them over the years, doing new things with them on the Frasca simulator," Stolzer said. "We've just had a great relationship for a long time."
The ties with the Frasca family also remain.
Rudy's son, John Frasca, who is currently the president and CEO of Frasca International, Inc., is chair of Embry-Riddle's College of Aviation Industry Advisory Board. "It has been a really strong relationship," said John Frasca. "It is an honor to be working with Embry-Riddle."
He added that his father would be touched by the tribute to him at the Daytona Beach Campus.
"He would be very honored by the display and recognition of his accomplishments," John Frasca said.
As an icon in the aviation simulation industry, Rudy Frasca was known not only for his research and innovations but also for his outgoing warm personality.
"Rudy Frasca was part psychologist, salesman and engineer," Stolzer said. "He was an amazing guy."