Father and Daughter to Graduate with Master's Degrees in Engineering Management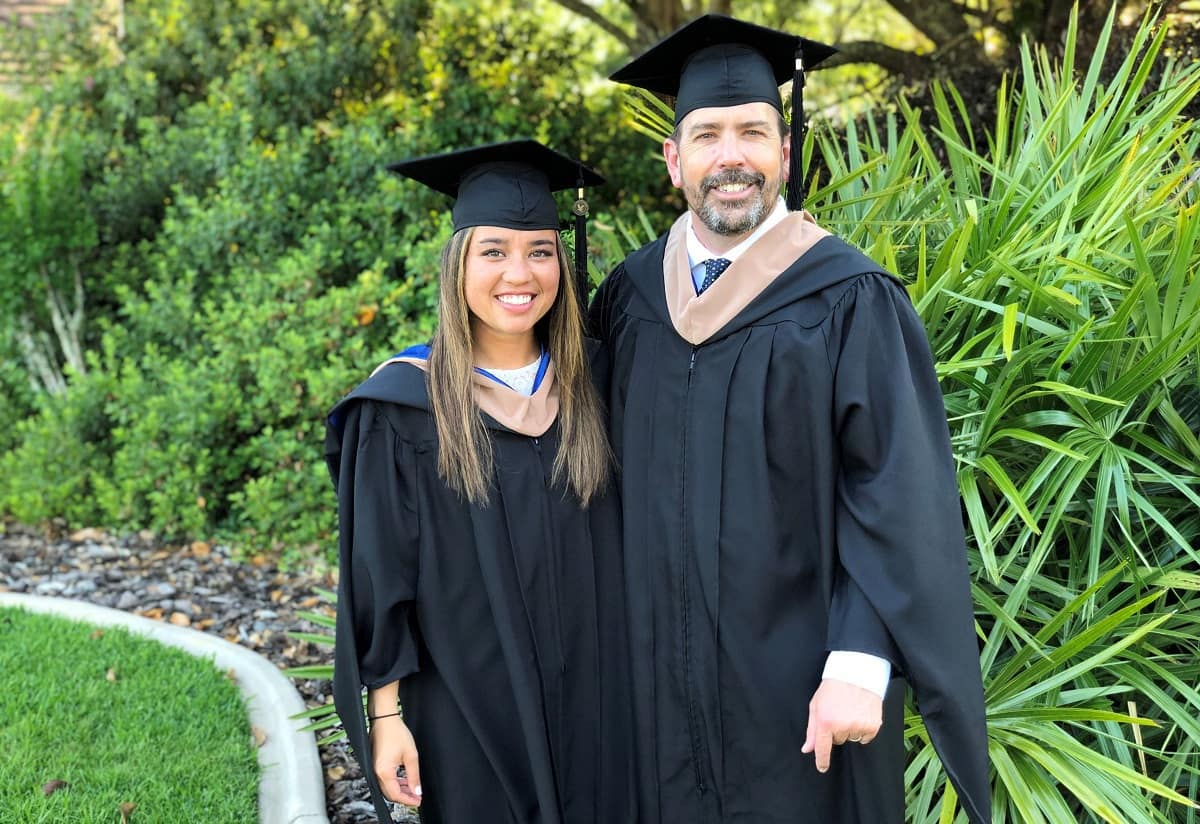 As soon as Lindsey Cromwell graduated from college in 2015, her father started telling her to get a master's degree. In the spring of 2016, she gave in — but only under one condition. "Okay, here's the deal," she told him. "I'll do it if you do it with me."
Three years later, both Cromwells will receive master's degrees in Engineering Management at the Embry-Riddle Aeronautical University commencement on Saturday, June 1, in Pensacola, Fla.
"Getting a master's degree in engineering with your daughter is something that you don't usually get the opportunity to do," said Lindsey's father, Brian.
The Embry-Riddle commencement ceremony in Pensacola will include 116 undergraduate and graduate degree candidates. It will take place at 1 p.m. at the National Naval Aviation Museum at 1878 S. Blue Angel Parkway. Among the graduates are 43 active or reserve service members and 58 veterans of the United States armed forces.
Retired U.S. Navy Captain and fighter pilot Kevin Miller, owner/principal of MPK Defense Consulting and best-selling author of action-adventure novels such as Raven One, will serve as guest speaker. Also speaking at the ceremony will be Embry-Riddle President P. Barry Butler and Embry-Riddle Worldwide Chancellor Dr. John R. Watret.
`Continue to Learn on a Daily Basis'
The two Cromwells took all of their classes online through Embry-Riddle's Worldwide Campus. Both father and daughter were working full time — she as a civilian research portfolio manager for the U.S. Air Force Research Laboratory on Eglin Air Force Base, and he as the vice president of product development and site manager at FLIR Systems, Inc., an infrared camera company. They signed up for one class per nine-week term, only taking breaks during the summers. Brian will graduate with a 4.0 GPA. Lindsey is just .09 points behind him — because she got barely below an A, an 89, in the very first class they took together for this degree.
"Dad and I are very Type-A, motivated, competitive individuals, so we always tend to make a game out of things and have healthy competition," Lindsey said.
Father and daughter said they wanted to thank their wife and mother, Marife, for putting up with their long study sessions over the past three years. They also thanked their employers for support that helped them to further their education.
Brian said getting this degree felt "drastically different," compared to when he got his bachelor's degree and first master's. For example, as an undergraduate at the University of Memphis, Brian took Engineering Economics, a course he recently repeated at Embry-Riddle. Back in 1987, he said, the class was much more theoretical. At Embry-Riddle, by comparison, the class was more practical, providing tools that could be immediately applied in the workplace.
"The class at Embry-Riddle was much more applicable," he said. "It was about how to use what you've got to get the job done."
Because Brian is in senior management at FLIR, his Embry-Riddle degree really was intended to "formalize his knowledge," he said, but it has already greatly improved his leadership skills.
"To stay relevant as an engineer and a leader, you must continue to learn on a daily basis," Brian said.
Lindsey, who is in the very early stages of her career, is open to "any and all opportunities that may come my way, given my undergraduate and graduate degrees."
"I am still in my first role post-college, so I look at the world as my oyster," she said.
Lindsey and Brian are delighted to have had the opportunity to work together on earning their degrees. They say the arrangement sprang naturally out of a close relationship.
"I have always been a daddy's girl," said Lindsey. Her younger brother and mother are also very alike, Lindsey said, "so Dad and I always say that we have to stick together."
Posted In: Engineering