Fall Commencement Ceremonies to Take Place in United States, Asia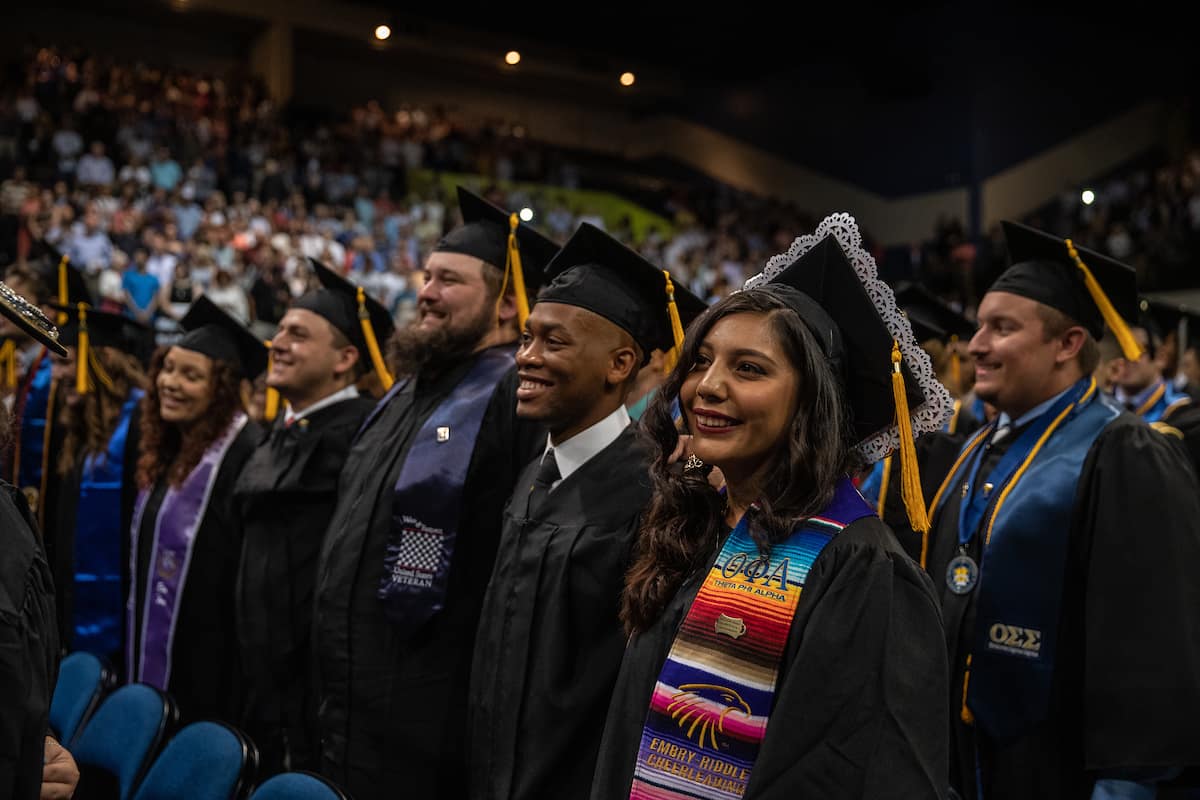 A total of 967 Eagles will participate this month in Embry-Riddle Aeronautical University Fall 2019 Commencement Ceremonies, which will take place in Arizona, Florida and Singapore.
Prescott, Ariz. Campus
A cohort of 244 students representing Embry-Riddle's Prescott and Worldwide campuses will graduate at the university's fall commencement 9 a.m. Saturday, Dec. 14, at the Findlay Toyota Center in Prescott Valley, Ariz. ROTC commissioning ceremonies will also take place during event.
The Prescott Campus Commencement guest speaker will be Arlando S. Teller, State Representative for District 7 in the Arizona House of Representatives. Teller, an Embry-Riddle Aviation Business Administration graduate ('95), has worked for the City of Phoenix's Aviation Department, the California Department of Transportation and the Navajo Nation's Division of Transportation.
For more information on the Prescott/Worldwide commencement, visit prescott.erau.edu/campus-life/graduation. A live streaming broadcast of the ceremony will be available at erau.edu/graduation.
Daytona Beach, Fla. Campus
The undergraduate commencement ceremony for both the Daytona Beach Campus and Worldwide students attending the Florida event will take place at 10 a.m. Monday, Dec. 16, at the Ocean Center, in Daytona Beach. Four hundred eighty-three undergraduates will receive bachelor's degrees.
Former NASA astronaut and retired U.S. Navy Capt. Pierre J. Thuot will deliver the keynote address at the undergraduate commencement. Thuot has orbited the earth 437 times while logging 654 hours in space on three separate missions — aboard Space Shuttles Atlantis in 1990, Endeavor in 1992 and Columbia in 1994. This included 17 hours of space walks, which earned him the U.S. national and absolute world records for extravehicular duration in space, which he held from 1992-2001. Thout is a graduate of the U.S. Naval Academy and TOPGUN, the Navy's Strike Fighter Tactics Instructor Program.
One hundred thirty-five students will also receive graduate degrees, including 10 doctoral students, at the hooding and commencement ceremony to be held 3 p.m. Monday, Dec. 16, in the ICI Center on the Daytona Beach Campus.
Embry-Riddle associate professor of Aviation Maintenance Science Mitch Geraci will deliver the graduate commencement address. Geraci joined Embry-Riddle in 2006 after more than 17 years with United Airlines. He holds a Master of Science in Aeronautics from Embry-Riddle.
Commissioning Ceremonies for ROTC units at the Daytona Beach Campus are also scheduled:
Army ROTC on Friday, Dec. 13, 10 a.m.
Air Force ROTC on Tuesday, Dec. 17, 10 a.m.
Navy ROTC, Tuesday, Dec. 17, 1 p.m.
A live broadcast of the Daytona Beach ceremony will be available online, at portal.stretchinternet.com/erauadmin. Find more information on the Daytona Beach commencement and commissioning ceremonies at daytonabeach.erau.edu/campus-life/graduation.
Embry-Riddle Worldwide Asia, Singapore Campus
The Worldwide Asia Commencement Ceremony took place Friday, Dec. 6, at the Singapore Aviation Academy. The fall graduating class of 105 brings the total number of graduates from the Embry-Riddle Worldwide Asia Campus to over 500 since its first commencement in 2012.
Media Contacts
Prescott: Jason Kadah, Communications Director, Embry-Riddle Aeronautical University, Prescott, Ariz.; (928) 777-6731; jason.kadah@erau.edu.
Daytona Beach: James Roddey, Director of Internal Communications, Embry-Riddle Aeronautical University, Daytona Beach, Fla.; (386) 226-6198; james.roddey@erau.edu.
Posted In: Institutional News