Exploring 'Blue Oceans' – Presidential Research Fellow Launches Two New Projects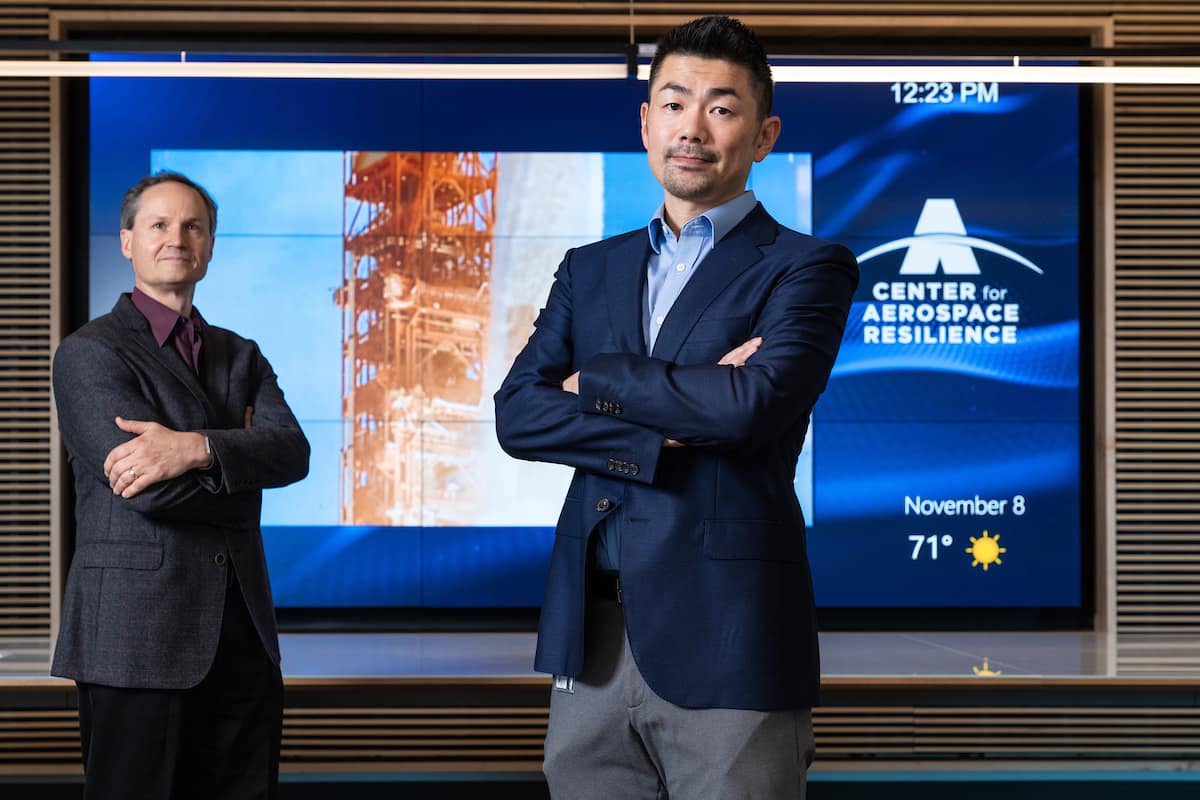 In his quest for transformative ideas, Dr. Kenji Yoshigoe, the first named Presidential Research Fellow at Embry-Riddle Aeronautical University, doesn't want to swim in the same crowded currents with many other researchers. He prefers to avoid the so-called "red ocean" – highly congested research areas – and bring students with him into less explored areas.
"I want to work in unexplored areas of investigation, in the blue ocean," said Yoshigoe, who arrived at Embry-Riddle in April 2021. "There are so many opportunities that no one has explored, and discovery is fun in those areas. You can come up with entirely new solutions to old problems."
Yoshigoe, a professor in the Department of Electrical Engineering and Computer Science will apply this interdisciplinary, out-of-the-box approach to two newly funded projects, for the Florida Department of Transportation (FDOT) Aviation Office and the U.S. Federal Aviation Administration (FAA), respectively.
For the FDOT project, supported by a grant of nearly $300,000, Yoshigoe will investigate automated ways to count takeoffs, landings and other airports operations.
Currently, staff in air traffic control towers collect operations data, but only nine of Florida's 129 public-use airports have full-time staff working in a tower. Accurate operations data are critical for informing airport master plans, schedules, staffing and funding decisions, and more. Yoshigoe's assessment of technology-based solutions, guided by a self-developed ranking approach followed by actual system evaluation, will help the FDOT update its 2018 Operations Counting on Non-Towered Airports Assessment.
With a second grant of nearly $340,000, Yoshigoe will evaluate candidate technologies that could help air traffic controllers more effectively track diverse operations – including aircraft as well as spacecraft and drones. The work will support the FAA's vision for an Info-Centric National Airspace System.
Embry-Riddle Senior Vice President for Academic Affairs and Provost Lon Moeller noted that Yoshigoe's interdisciplinary approach, combining cybersecurity, machine learning and big data analytics, aligns well with several areas of research emphasis identified by University President P. Barry Butler, Ph.D. "Kenji is a wonderful addition to Embry-Riddle's portfolio of research assets," Moeller said. "He brings a wealth of interdisciplinary experience to the table that will generate research and learning opportunities for our students."
Yoshigoe, once described as "a linchpin in developing the network of supercomputers known as Arkansas Cyberinfrastructure," arrived at Embry-Riddle by way of Toyo University, one of the oldest private universities in Japan. In addition to research and teaching, his diverse experience has included oversight of a National Science Foundation-funded supercomputer center; development of wireless sensor networks that support the Internet of Things; and service as an academic department chair.
A native of Japan, Yoshigoe said he never imagined becoming a researcher or university professor, but as a young person, he was always curious, and he wanted to see more of the world. He earned a Ph.D. in Computer Science and Engineering (2004) at the University of South Florida, where he focused on making the internet faster and more scalable.
Following graduate school, Yoshigoe spent nearly 13 years at the University of Arkansas at Little Rock, where he received multiple promotions and became a tenured professor. Along the way, he headed up a High Performance Computing Facility, founded a Computational Research Center and directed a National Security Agency/Department of Homeland Security Designated National Center of Academic Excellence in Cyber Defense Education. After being recruited to help launch an initiative called "Information Networking for Innovation and Design," an elite college at Toyo University, Yoshigoe served as a professor there until the college's first freshmen graduated.
In addition to being a part of the Department of Electrical Engineering and Computer Science, Yoshigoe is also affiliated with the new Center for Aerospace Resilience, a unique innovation incubator that works to improve the safety and security of aviation and aerospace ecosystems.
Under President Butler's direction, Embry-Riddle has hired two Presidential Research Fellows so far – Yoshigoe and Dr. Barbara Holder, associate professor in the School of Graduate Studies within the College of Aviation on the Daytona Beach, Florida, campus. (Look for more information on Dr. Holder in a future profile article.)
Regarding his new grant-funded projects, Yoshigoe said he is approaching the work with humility. He notes that he has no background in aviation or aerospace, but adds that, in fact, being a blank slate can lead to new ways of thinking.
"You can't just look at technologies in the aviation domain," he said. "You need to look around for some solution that is a best-use case, maybe in a totally different field. You could get some hints about an approach to your problem that no one else has imagined."
Yoshigoe's advice to students? "If you look for new knowledge across different domains in an interdisciplinary way, you can find interesting correlations to your research problem," he said. "You can get past the red ocean, to all the new ideas in the blue sea."