Entrepreneurs Lean In to Help Emerging Leaders Learn

Embry-Riddle alumni found new endowed entrepreneurship scholarship to mentor the next generation of innovators
Aspiring entrepreneurs at Embry-Riddle continue to benefit from the mentorship provided by a brain trust made up of Eagle alumni, including Vince Monteparte ('87), Neil Carew ('08) and Greg Johnson ('93).
These three respected business leaders have now sweetened the deal as founding donors of the Center for Innovation and Entrepreneurship Endowed Scholarship. This lead gift has begun a fund expected to reach $250,000 to $300,000 with additional commitments from advisors and supporters of the Center, part of the David B. O'Maley College of Business.
Their initial individual $50,000 gifts will fund full-time undergraduates or graduate students who enrolled in Entrepreneurship 1. Eligibility requires a 2.5 GPA. The same student may not qualify for successive scholarships. Students must also compete in the start-up showcase, TREP Expo, in the fall.
Dr. Ramy A. Rahimi, director of the Center for Innovation and Entrepreneurship and assistant professor of Entrepreneurship recognizes the value of real-world perspectives.
"Success stories and mentorship from our Eagles hold immense inspirational value for students," he says. "'Teaching stories' showcase the transformative power of innovation and entrepreneurship, while mentors provide guidance and support.
"The availability of scholarships and resources demonstrates a commitment to fostering inclusivity and providing opportunities for aspiring entrepreneurs to turn their ideas into successful ventures. Collectively, these elements inspire, empower and motivate individuals to pursue their entrepreneurial dreams and make a positive impact in the world of aviation, aerospace, space and beyond."
Amy and Vince Monteparte
The metric for success? Leaders prepared to pay it forward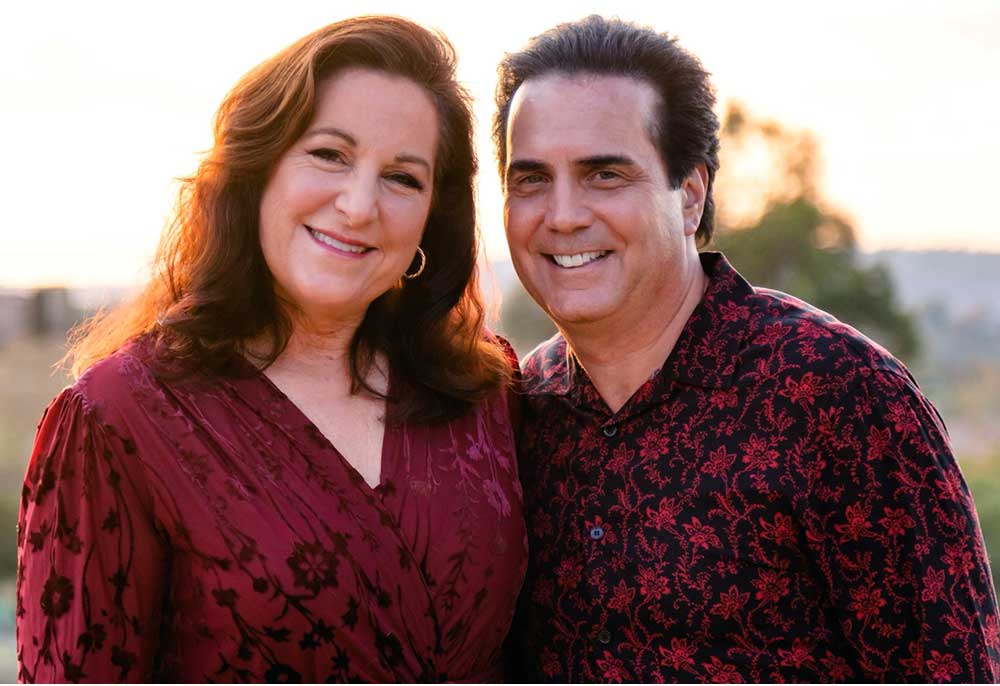 As firstborn children from entrepreneurial Italian families, Amy and Vincent Monteparte grew up talking shop around the dinner table. Today they are very much on the same page when it comes to putting their values into action.
"We will be happy if in five to 10 years, students who benefitted from the scholarship come back and say, 'You changed me and put me on a path so that now I can pay it forward in some way,'" Amy says.
"After years of having my calendar booked two years in advance with almost no vacation, I sold the company and realized I had time to share my knowledge," Vince says. "Going back to my alma mater was my first thought. If it wasn't for Embry-Riddle, I wouldn't be where I'm at today. There is a financial commitment and time commitment I'm able to give now."
Jessica and Neil Carew
Key selling points? A multidisciplinary perspective and inclusive attitude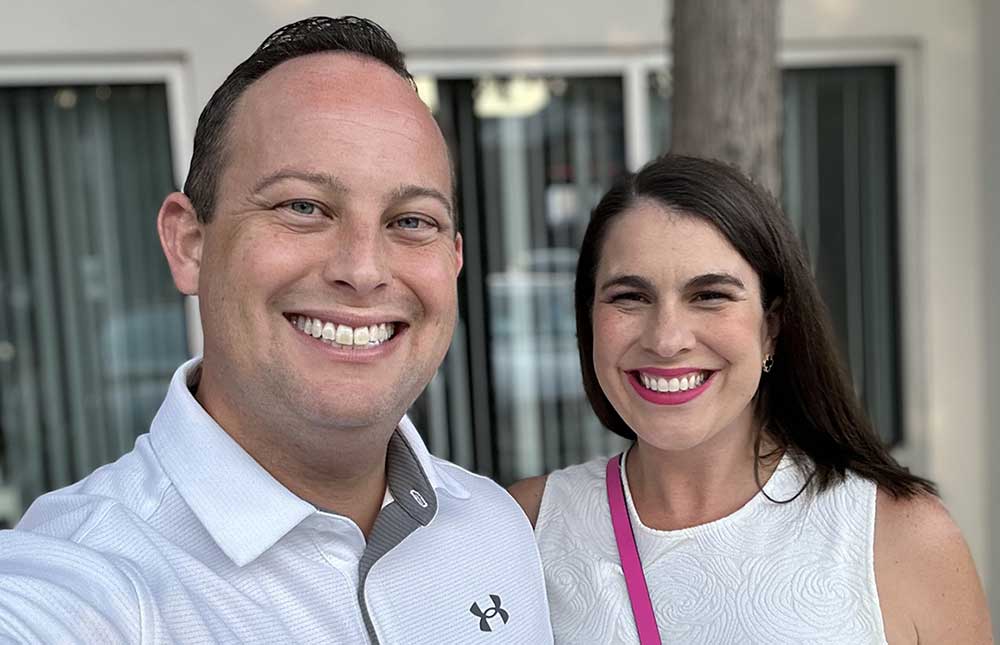 Neil Carew sees a multidisciplinary perspective as a strength of Embry-Riddle's entrepreneurship program, remembering that as a senior working on an aircraft design for Gulfstream, the business college helped him understand returns on investment from an engineering perspective.
"I appreciate how the school and Dean Gibson have been striving to make stronger connections between the business college, engineering college and aviation college," Neil says.
As an executive with a Dallas-based software company and drawing on her expertise in private equity and IT services, Jessica Carew hopes to see more women leverage a knowledge of finance and operations to launch successful tech businesses.
Elise and Greg Johnson
Their business plan? Add support to add value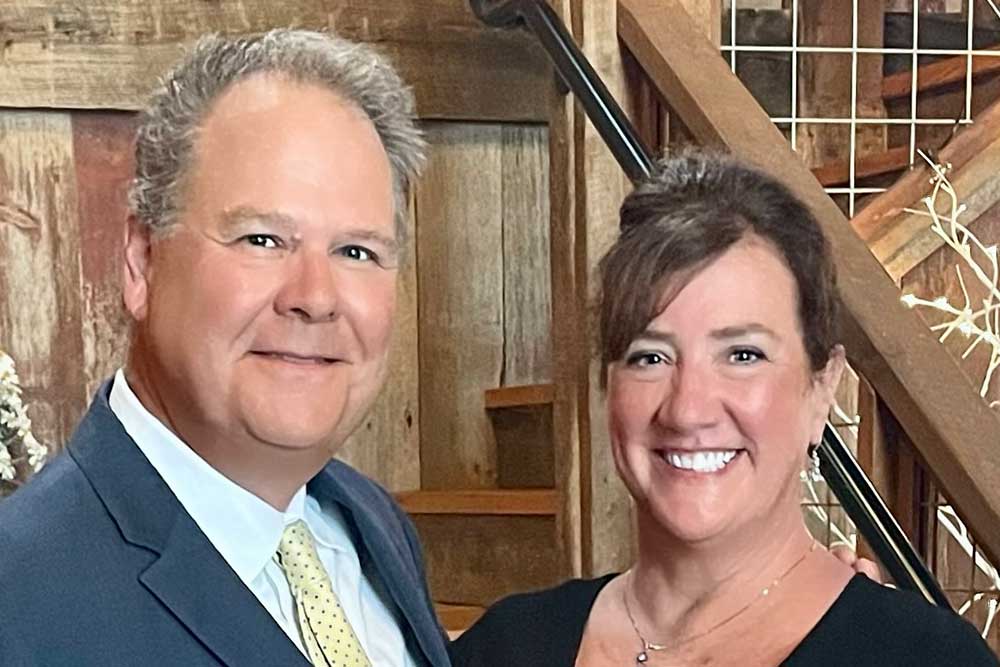 Greg and Elise Johnson prioritize education, as parents and business owners. Elise has volunteered extensively across her local school system and a multitude of extra-curricular activities since their children were young. Both of the Johnsons recognize the power of passion. Greg sees their investment in entrepreneurial education as a way to create change agents with the business equivalent of "the right stuff."
"Students need to depart Embry-Riddle with skills, but also with the mindset to go build new stuff," Greg says. "Entrepreneurship is not always founding a company — it can take the form of leading change within organizations by thinking entrepreneurially. Wherever our graduates go, we want them to go forward prepared to make things better and create value in new and unique ways."
Professor and Dean Shanan G. Gibson recognizes the depth of contribution from these founding donors. "I am so appreciative to Vince, Neil, Greg and their families. Each has been exceedingly successful forging unique entrepreneurial paths and each has shown enormous generosity in their willingness to invest in the next generation of Eagle entrepreneurs' success.
"They are more than just benefactors. They are hands-on leaders who have repeatedly rolled their sleeves up and actively engaged in making our Center for Innovation and Entrepreneurship a best-in-class incubator for business ideas that will change the future."
Support the Center for Innovation and Entrepreneurship Endowed Scholarship by givingto.erau.edu/CIE. Contact Mary Lynn Ulch at 304-918-7478 or mary.ulch@erau.edu.