Engineering Students Complete Yearlong Project to Build 3D Printed Replica of Prescott Campus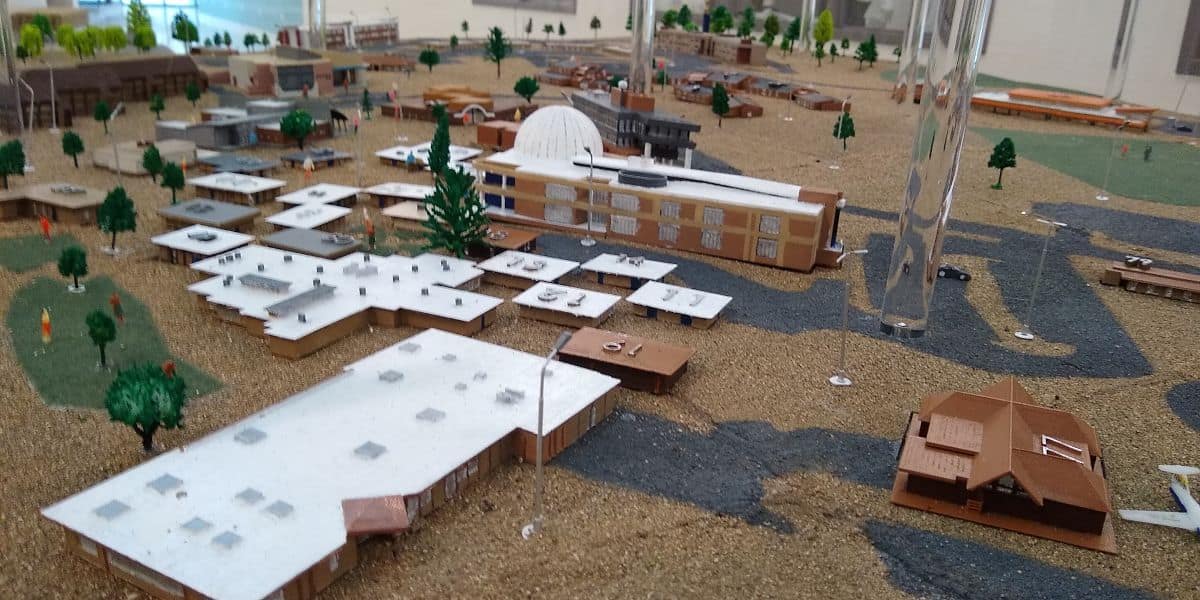 It is a location that cannot be found on a Google map, and it was made by a tool many believe will bring on the next "industrial revolution." The 340:1 3D digital model of Embry-Riddle Aeronautical University's Prescott Campus was conceptualized and produced completely by College of Engineering students, faculty and staff in the campus' Rapid Prototyping (RP) Lab, one of the most advanced collegiate labs of its kind in Arizona.
The project took approximately 11 months to complete. The process consisted of CAD modeling of campus buildings and topography, 3D printing, painting/landscaping/assembly of those buildings and topography, lighting design and fabrication of the enclosure.
"The purpose of the project was for students to gain practical, hands-on experience on a meaningful real-world project," said Dr. Mehran Andalibi, associate professor of Mechanical Engineering and director of the campus' RP Lab. "We also wanted to offer a demonstration of what our lab can do, as well as to create a monument for our campus that adds to the beauty of our STEM building."
Featuring three industrial-level printers and more than $200,000 worth of equipment, Embry-Riddle's Rapid Prototyping Lab has the capability of printing with almost any type of plastic on the market — with high-resolution and large or small-size prints, to 3D scanning and digitization, to multi-color prints. The lab also has a printer that can print an advanced aerospace plastic called PEEK, which is used in the aerospace and medical industries.
"This project taught me about real-world design," said Embry-Riddle mechanical engineering student Sarah Guinn. "We worked on correctly scaling our designs and making sure the entire project was as realistic as possible in size and coloring. We had many buildings to create and we learned how to use SolidWorks effectively due to the large scale of the project."
In addition to the aviation/aerospace industry, 3D printing is now regularly used to produce medical equipment. In April 2020, amidst the global coronavirus pandemic, Andalibi, along with the help of Embry-Riddle machine shop technicians, used RP Lab equipment to make hundreds of multi-use face shields for local health professionals and first responders.
"I am very happy with the end result of this project," added Andalibi. "We've received so many compliments from visitors to our STEM building. Many of them even stopped and took 'selfie' photos in front of the model."
Learn more about this and other Embry-Riddle labs.
Posted In: Engineering