Embry-Riddle Selected for National EcoCAR Challenge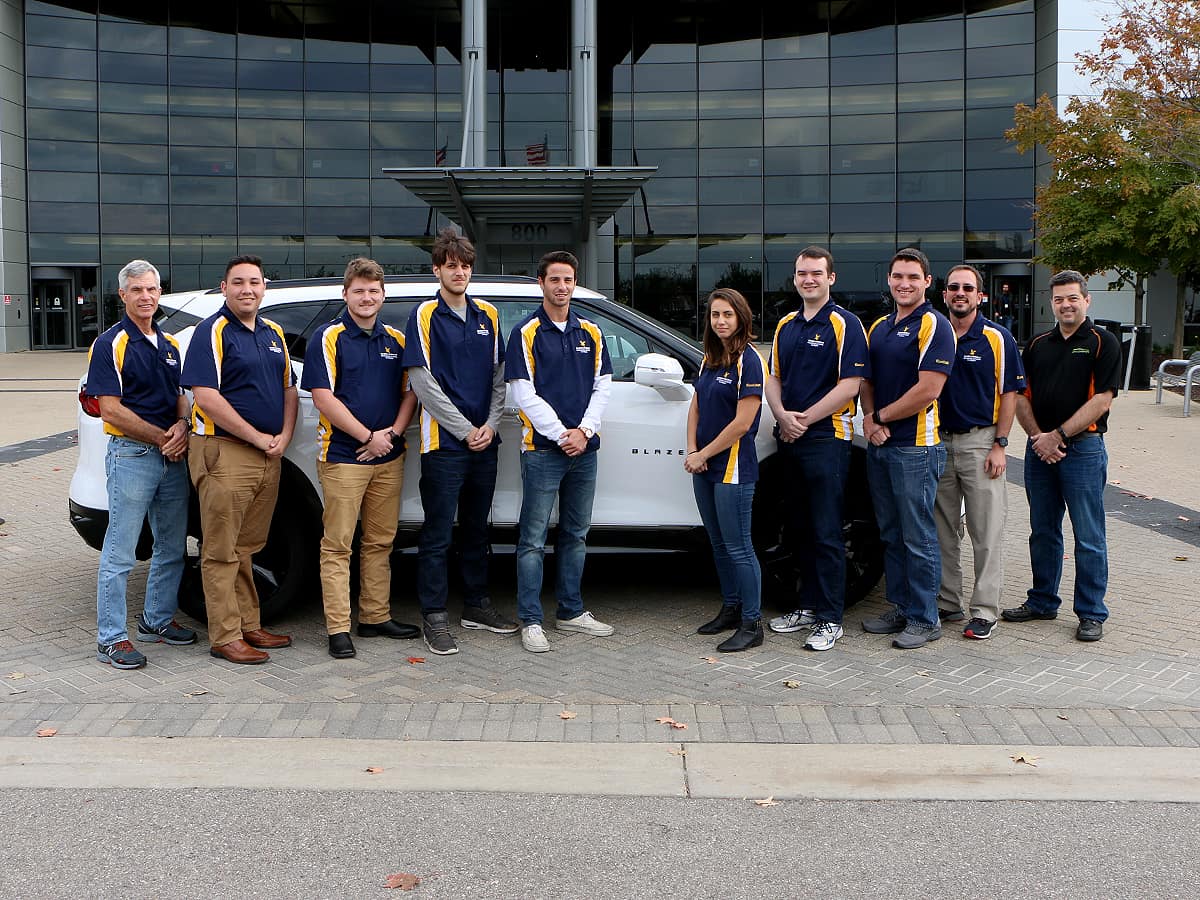 Embry-Riddle Aeronautical University is one of 12 North American universities tasked with re-engineering a 2019 Chevrolet Blazer into a connected and automated hybrid vehicle as part of the new four-year EcoCAR Mobility Challenge.
EcoCAR is a collegiate automotive engineering competition sponsored by the U.S. Department of Energy (DOE), General Motors (GM) and MathWorks, and managed by Argonne National Laboratory. Aimed at developing a highly skilled workforce and the next generation of automotive innovators, students gain hands-on experience, teamwork and leadership skills by designing and building next-generation mobility solutions to meet the nation's future energy and mobility challenges.
This will be Embry-Riddle's 11th year competing in EcoCAR and similar advanced vehicle technology competitions. The Embry-Riddle team, known as the EcoEagles, placed second overall in the EcoCAR 3 competition in 2017, marking its fourth consecutive top five finish. The team received two awards in 2018 during the final year of the challenge involving a Chevrolet Camaro, including top place for the lowest well-to-wheel greenhouse gas emissions.
"We have four years ahead of us and a lot of work to do," said Dr. Patrick Currier, associate professor and associate chair of the Mechanical Engineering Department and lead faculty advisor.
The competition challenges EcoCAR teams to re-engineer a 2019 Chevrolet Blazer by incorporating advanced propulsion systems, electrification and connected and automated vehicle technology that will improve the energy efficiency, safety and consumer appeal of vehicles. Currier said the competition will include removing the current powertrain, engine and transmission and re-engineering it into a hybrid vehicle. Efficiency will play an important role in the redesign since the target market is for a fleet of carsharing vehicles.
Between 50 and 100 students from Embry-Riddle's Daytona Beach Campus will work this year on the design part of the competition, which will culminate in May. Students participate from throughout the campus, including senior design classes in mechanical engineering, and students from the Colleges of Arts and Sciences, Business and Aviation. Other College of Engineering departments are involved in the competition as well.
"The Electrical, Computer, Software and Systems Engineering Department supports EcoCAR by providing assistantships to graduate students and material support for students on the department's capstone design project team," said Dr. Tim Wilson, professor and chair of the Department.
A unique part of the challenge, Currier said, will be the second phase of the competition where teams will use onboard sensors and wireless communication from the vehicles' surrounding environment to improve overall operation efficiency. The vehicle will be outfitted with connected and automated vehicle technologies, Currier said, such as radar, lidar and cameras. The re-engineered vehicle will have combined automated functions, like acceleration and steering, but the driver will remain engaged with operating the vehicle and monitoring the environment at all times.
The vehicle will be equipped with collision avoidance capability to detect traffic and infrastructure communication to predict in advance, for example, when a stop light is going to turn red to allow gentle braking or to change speeds to avoid sudden stops.
"The sensors we integrate will allow our vehicle to communicate with external objects (cell phones, stop lights, other vehicles) to improve the vehicle's efficiency, safety and drive quality," added Christopher Paton, Embry-Riddle Mechanical Engineering senior and the engineering manager for the challenge.
Robert Consolo, project manager for the Embry-Riddle team, who is seeking a master's in mechanical engineering, said designing a semi-autonomous vehicle where the customer feels comfortable with the car making decisions will also be essential.
Currier said the competition gives students a realistic engineering experience and training for a future career in the automotive and aerospace industry, among others.
"A student who goes through this competition has a much better engineering background coming out of school than a student who is not on the team," Currier said. "It's similar to running a car company within a university in terms of the type of work they are doing."
EcoCAR, which builds on a 30-year history of DOE Advanced Vehicle Technology Competitions, encourages teams to use Model-Based Design, a mathematical and visual design approach using MATLAB and Simulink which is widely adopted in the automotive industry, to quickly and cost-effectively manage projects, collaborate on designs and develop complex embedded systems.