Embry-Riddle Graduate Students Complete Microgravity Campaign with Project PoSSUM and the National Research Council of Canada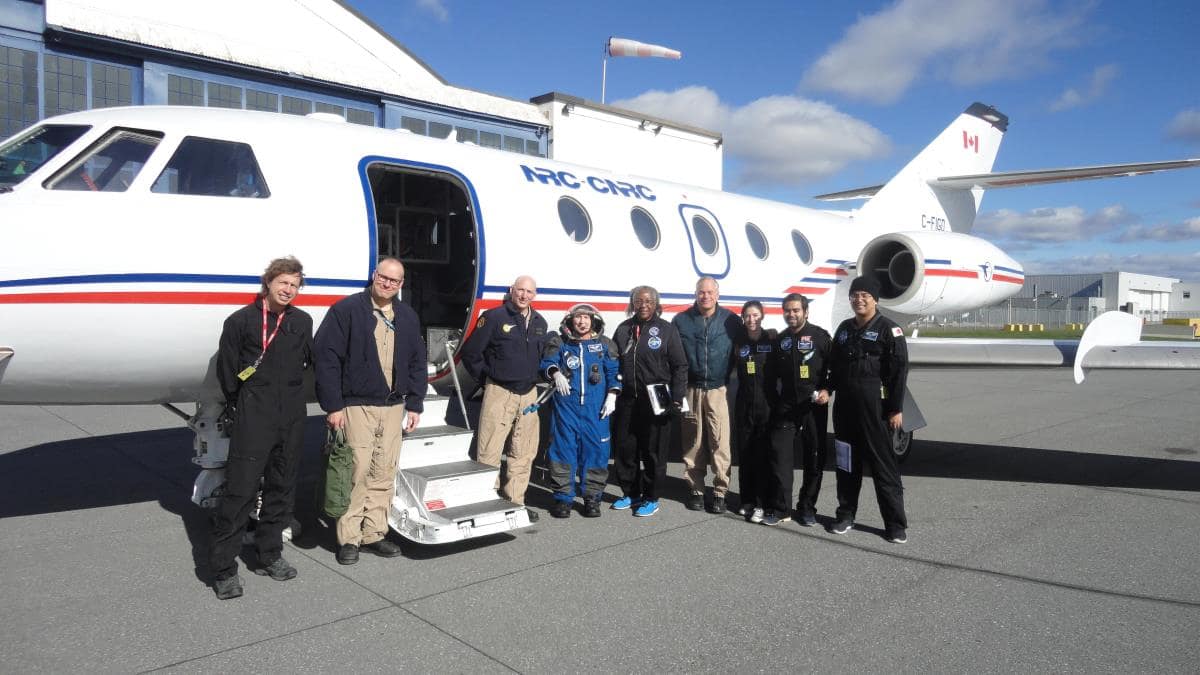 Embry-Riddle Aeronautical University's graduate students Karen Brun and Heidi Hammerstein recently joined other Scientist-Astronaut candidates at the National Research Council of Canada's Flight Research Laboratory in Ottawa, Ontario to participate in parabolic microgravity flights, which provided an opportunity for them to perform unique testing in a weightless environment simulating that of space.
Hammerstein and Brun are members of Project PoSSUM, a non-profit research and education organization that conducts upper-atmospheric and space technology research and communicates the science through various educational outreach programs. This is the fourth time Project PoSSUM, which stands for Polar Suborbital Science in the Upper Mesophere, has partnered with the National Research Council of Canada (NRC) at their Flight Research Laboratory to conduct microgravity flights.
This campaign boasted eight individual research experiments and involved 11 organizations over a span of four flights in October. Among the organizations involved were Final Frontier Design, a space suit company based in Brooklyn, N.Y., who were testing an affordable alternative to current intra-vehicular activity (IVA) spacesuits and the Canadian Space Agency's bio-monitoring garment system, which is being tested for use on the International Space Station (ISS).
The microgravity flights are a good way to illustrate how ordinary tasks can increase stress on the body in a weightless environment. This was also the first time the Canadian wireless biosensing patches had been tested in microgravity. The sensors register stress by monitoring a person's pulse and blood pressure, breathing rate and blood oxygen saturation levels.
Brun served as biomedical monitor for the second flight in the four-flight campaign. Hammerstein, a four-time veteran of microgravity space suit evaluations with Project PoSSUM, served as the test subject in the space suit on the flight. The biometric harness system that Hammerstein tested in her space is now being utilized on the ISS by Canadian astronaut David Saint-Jacques.
"The true benefits of Project PoSSUM's suborbital research program are that it provides a unique platform to collaborate with space industry leaders, and it also serves as an incubator for PoSSUM team members to share concepts for future exploration." said Brun
Project PoSSUM invited graduate and undergraduate students, professors, industry professionals and the Canadian Space Agency to take part in crafting experiments for the campaign. This approach led to a number of different topics being studied, from fluid mechanics, to planetary sciences and life support systems. The ability to test the performance of a pressurized space suit demonstrates a unique capability that Project PoSSUM introduces to microgravity research.
Project PoSSUM is working to train and educate citizen scientists to conduct research on future missions on-board commercial suborbital spacecraft. For those interested in getting involved, the next PoSSUM scientist-astronaut candidate class will be held
at Embry-Riddle Aeronautical University in Daytona Beach, Florida
from March 23-30, 2019. Interested individuals should apply online at
www.projectpossum.org
.